Weeknight Wonder: Shrimp Scampi

I think I may have mentioned it once or twice that my daughter loves shrimp. This was how my Simple Shrimp Tacos, Shrimp and Avocado Bites, and my Lemon Mascarpone Pasta with Shrimp. Then I had a thought. I completely missed the easiest dish I make her. A simple Shrimp Scampi. This dinner is ready in less than 10 minutes from start to finish and its as delicious as you can order in any restaurant.
This classic recipe makes a simple garlic, white wine and butter sauce that goes well with a pile of pasta or with a hunk of crusty bread. However, you make the dish, once the shrimp are added to the pan, the trick is to cook them just long enough that they turn pink all over, but not until their bodies curl into rounds with the texture of tires.
Shrimp Scampi
Prep time: 2 minutes
Cook time: 5 minutes
Total time: 7 minutes
What You Need
2 tablespoons butter
2 tablespoons extra-virgin olive oil
4 garlic cloves, minced
½ cup dry Sauvignon Blanc or vegetable broth
¾ teaspoon kosher salt, or to taste
⅛ teaspoon crushed red pepper flakes, or to taste
Freshly ground black pepper
1 pounds Jumbo shrimp, shelled
⅓ cup chopped parsley or chopped basil, I actually use both
Freshly squeezed juice of half a lemon
I like to serve with some crusty bread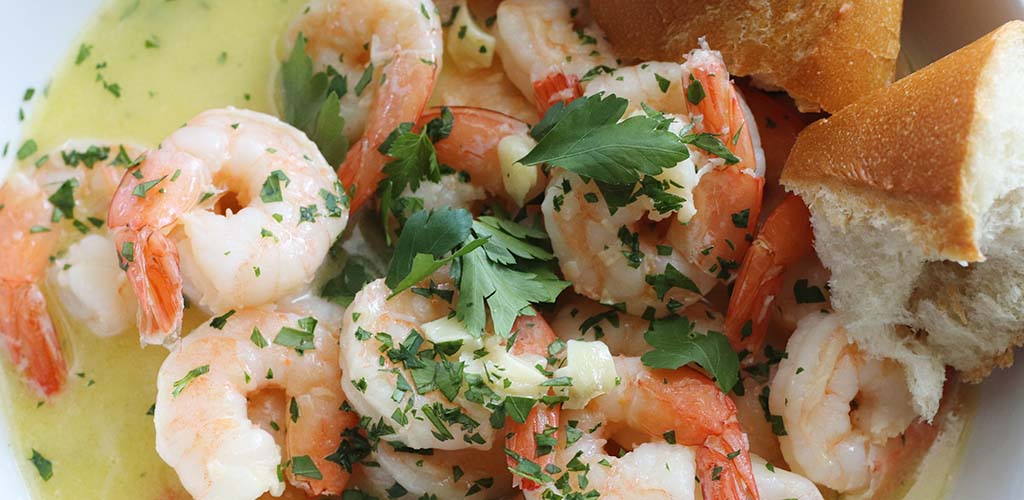 What You Will Do:
In a large skillet, melt butter with olive oil. Add garlic and sauté until fragrant, about 1 minute.
Add wine or broth, salt, red pepper flakes and plenty of black pepper and bring to a simmer.
Let wine reduce by half, about 2 minutes.
Add shrimp and sauté until they just turn pink, 2 to 4 minutes depending upon their size.
Stir in the parsley and lemon juice and serve over pasta or accompanied by crusty bread.
Recipe Tips:
As this is seafood, I recommend only storing in the fridge for 24 hours in an airtight container.
You can use the wine as the base even if you are serving to children as the heat will cook off any alcohol.
Now the last thing you have to do, as my daughter would say, is Eat, Eat.
You may also like:
Summer Sea Bass and Shrimp Ceviche