Shrimp and Avocado Bites

Happy National Avocado Day. Or if you are an avocado fiend like I am, "Happy Wednesday"!
It's time to bust out your avocado toast breakfast, some light guacamole for lunch and these perfect Shrimp and Avocado Bites for an appetizer before your dinner of avocado pesto. Did I say it's National avocado day yet?
These little bites are the perfect appetizer for any party because they are low stress and easy to make, yet really tasty. I love to make them for my children just to watch them Godzilla smash them to bits...did you pick up on the sarcasm there?
Shrimp and Avocado Bites
Prep time: 25 minutes
Cook time: 8 minutes
Total time: 33 minutes
What You Need
24 large raw shrimp, peels and tails removed
1 tablespoon olive oil
1 teaspoon salt
1 teaspoon grated lime zest
1 tablespoon lime juice
1 teaspoon garlic powder
1 teaspoon cumin
2 teaspoon chili powder
1 large California Avocado, diced
1/3 cup sour cream
2 tablespoons freshly chopped cilantro
24 tortilla chip scoops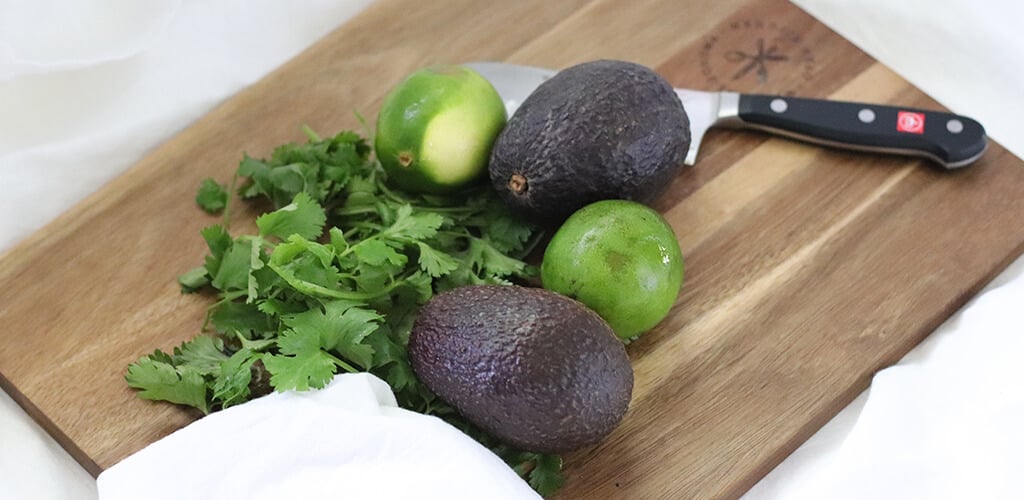 What You Will Do
Heat a sauté pan over medium heat.
Add 1 tablespoon of olive oil and heat.
Combine ½ teaspoon salt, lime zest, 1 teaspoon garlic powder, ½ teaspoon cumin, and 1 teaspoon chili powder in a small bowl. Toss shrimp in the mixture. Lay the shrimp in the sauté pan flipping 1 time at 2 minutes. Cook for 5-8 minutes total or until the shrimps turn pink and curl in on themselves. Do not continue to cook once the shrimp curls as the texture will become hard.
Remove shrimp from heat and place aside to cool.
In a mixing bowl combine the diced avocado, lime juice and remaining 1/2 teaspoon salt.
In another separate mixing bowl- combine the sour cream, 1/2 teaspoon cumin and 1 teaspoon chili powder.
Assemble the shrimp and avocado bites by placing a section of avocado mixture in a tortilla chip, followed by a 1/2 teaspoon of sour cream mixture, then top with the shrimp.
Sprinkle with the chopped cilantro. Enjoy.
If you decide to double the shrimp portions, double all ingredients as well. Make sure if you are doubling up that you make the shrimp in 2 batches. If you double up on spices and make one large batch the shrimp do not get coated as well and I have found it to make the shrimp way too spicy.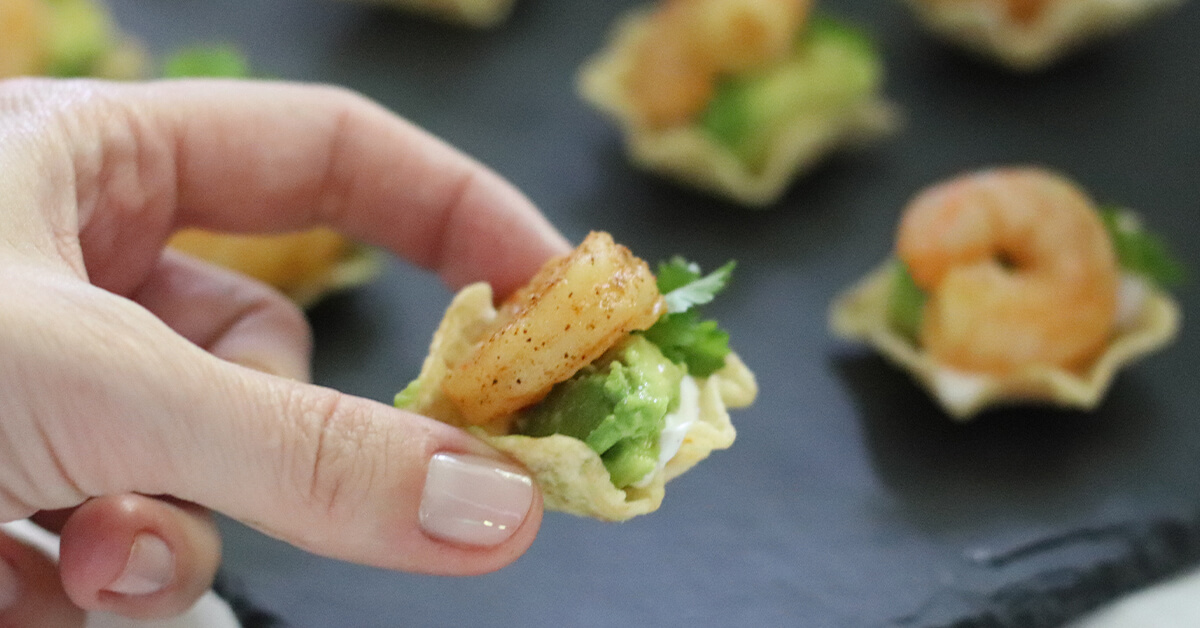 Now all you have to do is place on your fanciest serving tray and devour. Or as my daughter would say "Eat, Eat these Shark Bites!" We have a bit of a Baby Shark obsession in our house, so anything that can be shark related will be. Enjoy!
You may also like
Avocado Ice Cream