Summer Sea Bass and Shrimp Ceviche

My favorite foods during the summer are those that don't use the oven. I know that this must resonate with most people during these summer months. This is why I love this fresh, zesty and light-yet-filling ceviche. I love the combination of Sea Bass and Shrimp as they are very similar in texture and the citrus marinade adds a delightful sweetness to the overall dish. While this is technically an appetizer, you will find that it is so filling you can serve it as a meal as I do. Why make summer dinners any harder?
I hope you enjoy!
Summer Sea Bass and Shrimp Ceviche
Prep time: 20 minutes
Cook time: 3 hours
Total time: 3 hours 20 minutes
What You Need
For The Ceviche:
10 oz fresh, boneless and skinless Sea Bass fillet, cut into cubes
1-pound fresh uncooked shrimp (any size as long as its uncooked), cut into small pieces
1 shallot finely diced
1 mango, skin removed and diced
1 cucumber, peeled and diced
2 avocadoes, cubed
1 jalapeno chopped finely, with seeds removed
2 tablespoons freshly torn cilantro
1 tablespoon fresh chopped chives
Kosher salt and fresh ground black pepper
For The Marinade:
1 cup fresh orange juice, from 3-4 fresh oranges
½ cup fresh lime juice, from 4-5 fresh limes
1 teaspoon red pepper flakes
2 garlic cloves, minced finely
2 tablespoons olive oil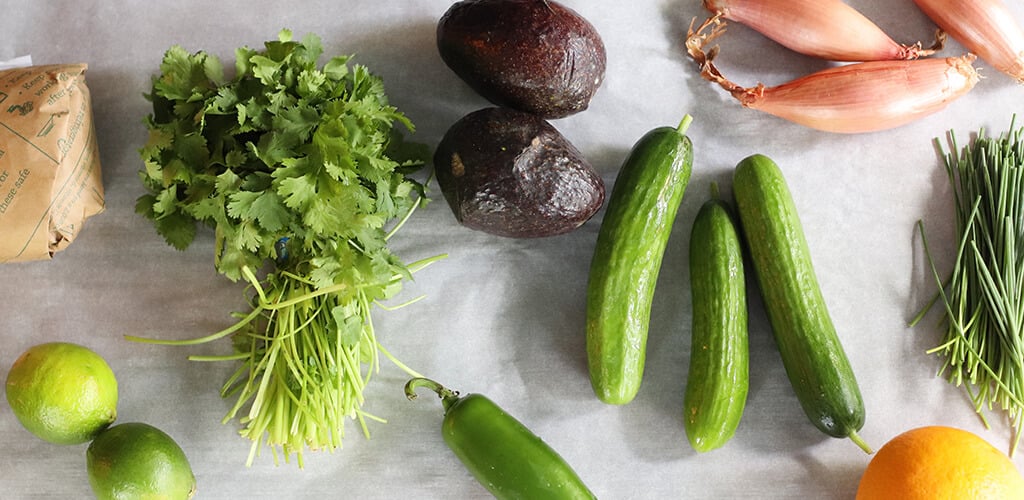 What You Will Do
Chop up both the Sea Bass and Shrimp and place into a large mixing bowl.
Dice up the shallot and mince up the garlic and place on top of the seafood in the mixing bowl.
Next juice both the orange juice and lime juice over the shrimp and sea bass, there should be enough juice to cover the seafood so it may "cook". If there isn't enough increase with 1 more orange juiced followed by 1 lime and continue.
Add the olive oil, red pepper flakes and kosher salt and black pepper and stir with a mixing spoon to combine.
Cover with plastic wrap or an air tight lid and refrigerate for at least 3 hours.
The seafood is ready when it looks fully "cooked" through. This means that the fish no longer look raw and is opaque. If it is not, cover again and return to the refrigerator for 1 additional hour.
Once the Ceviche has cooked drain the shrimp and sea bass of all of the juice.
While the ceviche is draining in a colander; chop up the mango, avocado, cucumber, jalapeno, chives and cilantro and place into a larger serving bowl.
Pour in the Sea Bass and Shrimp into the large serving bowl and toss to combine all of the ingredients.
Season with additional salt and pepper to taste, as well as more fresh squeezed lime juice if you like.
Serve immediately with tortilla chips, or any cracker of your choosing.
Enjoy!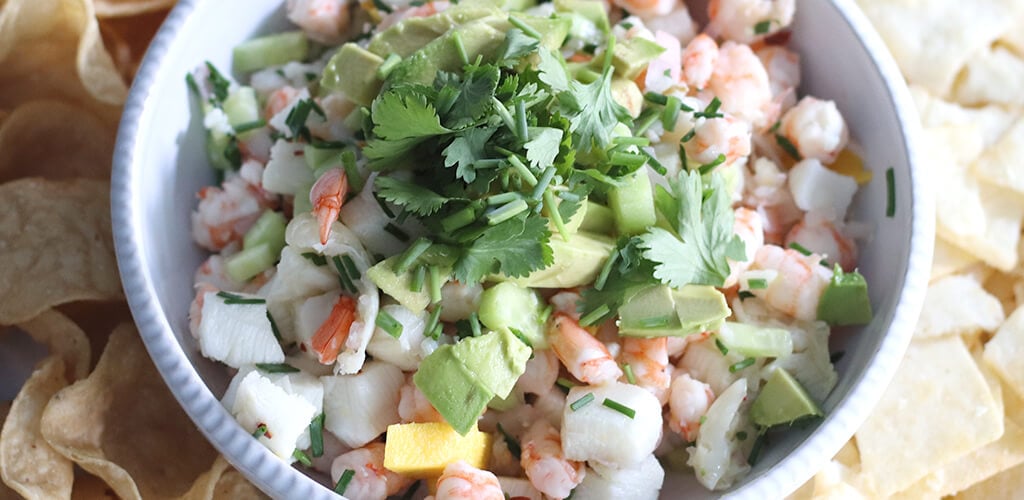 Recipe Tips:
This tip will seem a bit unconventional. However, if you are in any way nervous about the doneness of the ceviche you may simply place into a skillet over medium high heat for 3-5 minutes just to ensure the shrimp and sea bass is cooked through. If you do choose to do this, make sure this step is prior to combining your other fresh ingredients. After the ceviche has cooked simply strain in a colander and continue with the steps as listed above.
Now the last thing you have to do as my daughter would say is Eat, Eat.
You may also like
End Of Summer Corn and Avocado Salad