Simple Shrimp Tacos

Taco Tuesday anyone?
Whenever I hear that I always think the excitement is because they are going out to eat, since making tacos at home is typically somewhat time consuming, at least for me. But then I started making this weeknight wonder of a recipe I call Simple Shrimp Tacos using a baking sheet and totally changed my tune. These just might be the fastest tacos I've ever made and they are definitely the tastiest. As you may remember shrimp is my daughter's favorite food, but after a while you get a little tired with the same recipes, and viola this recipe is born.
Pretty much all you do is toss the shrimp with garlic powder, cumin, spicy chili powder, roast for a few minutes until pink, and then pile them into warm corn tortillas. Top with smooth avocado, and either Crema or sour cream, maybe even your family's choice of cheese and that is it! Your meal is complete. If you are looking for more than just tacos, I love to serve these with my Cilantro Rice for a little extra zing and taste combination.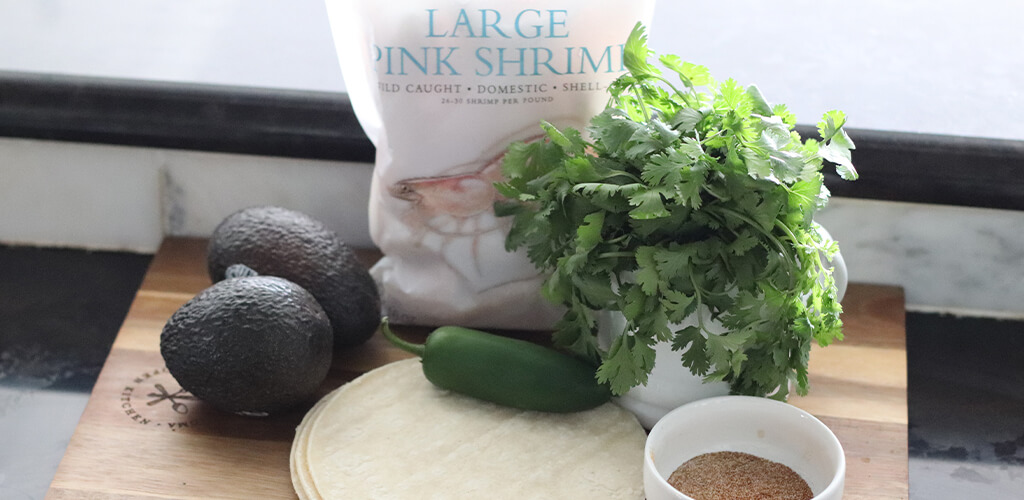 Shrimp Tacos
Prep time: 7 minutes
Cook time: 8 minutes
Total time: 15 minutes
What You Need
For the Tacos
Cooking spray
8 corn tortillas
1 pound uncooked peeled and deveined medium shrimp
1 ½ teaspoons ground cumin
1 ½ teaspoons garlic powder
1/2 teaspoon paprika
3/4 teaspoon chili powder
1/2 teaspoon kosher salt
Freshly ground black pepper
2 tablespoons of freshly squeezed lime juice (from 1 lime)
For the Garnish
1 medium avocado, sliced
Mexican crema
Sliced jalapeño if you like (I do not recommend serving to children)
Any cheese you like, I prefer Queso Blanco
What You Will Do
Preheat your oven to 400 Degrees Fahrenheit.
Pat the shrimp dry and place in a medium sized mixing bowl. Season with the cumin, garlic powder, paprika, chili powder, salt, and black pepper. Toss the shrimp with the spices in the bowl until each shrimp is evenly coated in the spices. Place aside.
Lightly coat a baking sheet with cooking spray. Place the shrimp from the mixing bowl on the banking sheet in an even layer, making sure that none of the shrimp are overlapping each other. Place the baking sheet aside.
Take the stack the tortillas and wrap in tin foil, place to one side.
At the same time place the baking sheet with shrimp and the foil packet of tortillas in the oven, on the middle rack.
Roast until the shrimp are opaque and pink, shifting them around about halfway through (at 3 minutes), cook for 6 to 8 min total. Pull out of the oven to cool.
Drizzle the cooked shrimp with the lime juice and toss to combine. Allow to cool for 5 minutes.
Fill the tortillas with the roasted shrimp, avocado, sour cream, and cheese if you like and serve immediately.
Recipe Tips:
Any leftovers you have will keep for 1 day stored in an airtight container in the refrigerator.
For the leftover tortillas, also place in the refrigerator in an airtight container or Ziplock bag. To reheat, these will need moisture. For the second day of cooking: Place a damp paper towel on the stack of tortillas before you wrap in tinfoil and place back in the oven to warm. Place back in the oven at 400 degrees Fahrenheit for 5 min total. This allows them to steam and become moldable again as opposed to dry and flaky.
For the leftover shrimp I recommend tossing with ½ a tablespoon of olive oil before reheating to also add some moisture to the shrimp. Place back in the oven on a baking sheet at 400 degrees Fahrenheit for 5 min total.
Now the last thing you have to do as my daughter would say is Eat, Eat. She will also say SHRRRIIIIMMMMMPPPPPPSSSSSS! However, I think I used that joke before. Enjoy!
You may also like
Italian Lemon Shrimp and Bean Stew