Winter Meals: Spinach Bake
At each and every pediatrician visit I have, the doctor always asks, "are your children eating a wide variety of foods especially leafy green vegetables?" This makes me want to punch him. It's said so cavalier, like it's the easiest thing in the world to get your kids to eat vegetables, especially the dark leafy green ones. Spinach is the hardest for me to get my children to eat, however with the iron and nutrients it contains, I definitely make sure it is a part of the family diet. I have tried MANY recipes before finally trying this one on a lucky whim! This is actually an Italian recipe from my Aunt Pam. It is a very traditional way Romans cooked their spinach, especially in the colder months when they have to stretch out their vegetables or use ones that are close to spoiling.
This recipe has certainly been a crowd pleaser in our house. My children may only be eating it because of the melted Parmesan and the "oh so teeny tiny" pine nuts. But -Hey Doc, they are eating leafy green vegetables!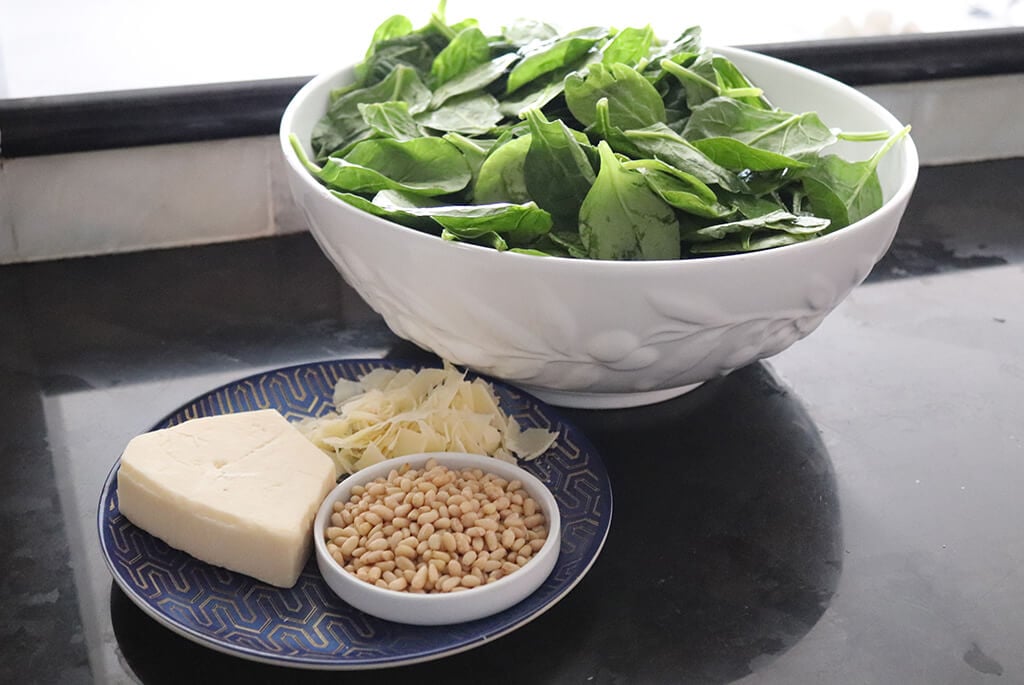 Spinach Bake
Prep time: 5 minutes
Cook time: about 20 minutes
Total time: about 25 minutes
What You Need
2 lbs. spinach, rinsed or packaged *
2 teaspoons olive oil
1/4 teaspoon Garlic Powder
2 tablespoons pine nuts
1 teaspoon minced garlic
Freshly ground black pepper
10 oz Parmesan cheese (you may use either freshly shaved or prior shaved- this is totally your preference)
* Yes, this is a lot of spinach but trust me that you will need this amount. You will be shocked at how much spinach wilts when it cooks.
What You Will Do
Preheat your oven to 375° F.
Add 2 teaspoon of olive oil in a large pot and warm.
Add your mixed garlic and sauté for 1 minute. Once you can smell the garlic it's ready.
Begin to add your spinach handfuls at a time and cook until it wilts over medium-high heat, about 3-5minutes. Depending on how fast you can throw your spinach in.
Move your spinach and empty into a large glass or ceramic baking dish (depending on your pot size you may need to do this in multiple batches, if that is the case make sure to split up the garlic equally among all portions that you are sautéing). Arrange the spinach so it fills the bottom of the dish.
Sprinkle the garlic powder over the top of the spinach.
Sprinkle Parmesan over the top.
Lastly, sprinkle the pine nuts over the top of your parmesan.
Bake uncovered for about 10-15 minutes (make sure to check at 10 minutes). The goal is just to cook the spinach bake until the Parmesan has melted and your pine nuts slightly browned.
Remove from heat and allow to rest for 5 minutes prior to serving.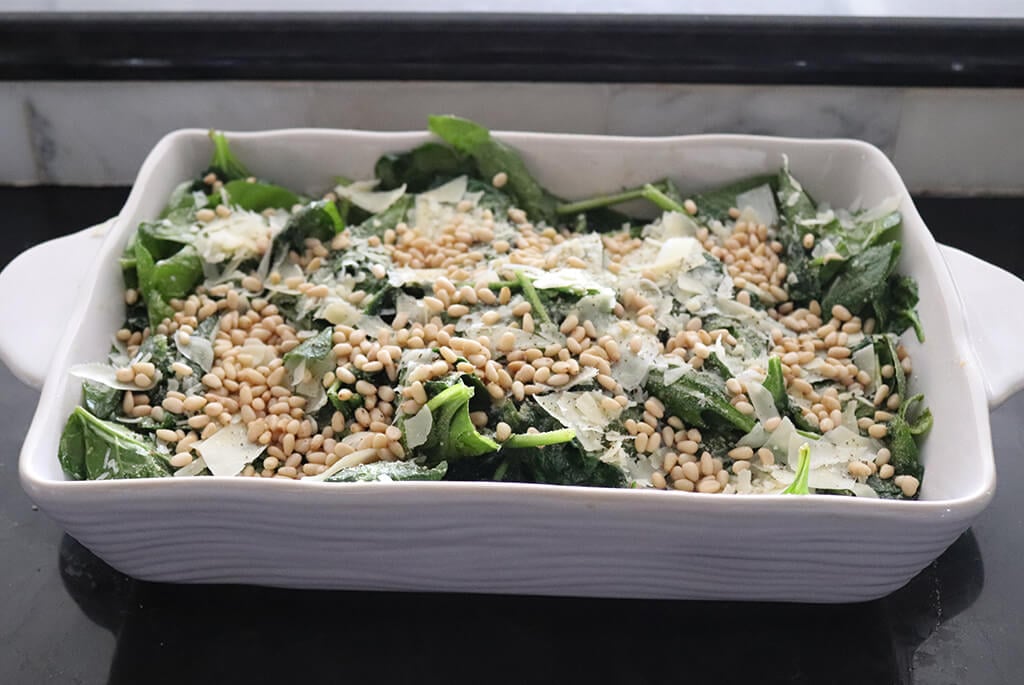 I regularly serve this in the winter months as I find the dark leafy greens are on sale. Trying to stick to a budget, a lot of my recipes and meals are made around foods I can buy in bulk. What is also nice is that this dish pairs perfectly with steak and chicken alike so it is something easy to add no matter your main course. I commonly serve this with my Fantastic Flank Steak recipe and Roasted Duck.
Lastly as my daughter would say Eat, Eat!
You may also like
Light n' Lazy Pot Roast Recipe