Feast Of Kings: Roasted Duck with Potatoes and Figs

I love to entertain. I know I sound like a crazy person as I have 2 children, both under 5, and entertaining can be a bit stressful even without kids involved. However, I love to cook and try new recipes out on people, and what better way then have people over! By doing this I have discovered some really interesting recipes that are delicious, beautiful, and easy to prepare. A new one to add to the list: Roast Duck with Potatoes and Figs. I know this recipe sounds like it is from the old days of Kingly feasts, but this recipe is just perfect for making at home. Just in time for your next holiday party!
I know duck may seem extremely daunting as it is typically served in French bistros with L'orange sauce, but you must believe me when I say it is so easy. Once again children will love this, or at least my kids really like it. Duck does tend to render more fat when cooking so all of the meat stays really moist. If you have never eaten duck, it has a similar taste to the dark meat of chicken or turkey, so not too different that people will be put off, but it is oh so tasty.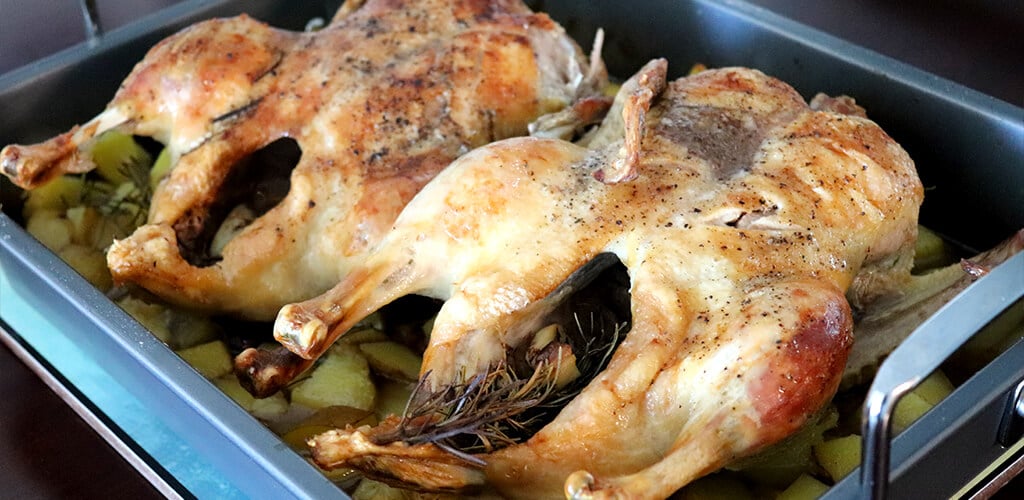 Roast Ducks with Potatoes and Figs
Prep time: 15 minutes
Cook time: 110 minutes
Total time: 125 minutes
What You Need
Two 5 lb whole ducks
6 large garlic cloves cleaned and quartered
1 large bunch of rosemary, divided in ½
Salt and freshly ground black pepper to taste
3 pounds small Yukon Gold potatoes, cubed
2 lb fresh black Mission or Turkish figs, halved or quartered depending on individual size
1/2 cup Chicken stock
What You Will Do
Preheat oven to 425° F.
Set the ducks, breast side down, on a work surface. Score fatty areas along backs and thighs with a paring knife, being careful not to cut into flesh and puncture the actual meat. Turnover and score fat again, concentrating mainly on breasts but extending to tops of legs.
Stuff ducks with garlic and all but 4 sprigs rosemary (2 sprigs in each duck); season generously with salt and pepper (much of the seasoning will melt away as the fat renders).
Place ducks, breast side down, in a large roasting pan on a roasting rack. Now pour in ½ cup chicken stock. Roast, rotating pan occasionally, until duck fat starts to render, the chicken stock will evaporate, and skin is golden brown. Total time should be about 40 minutes.
Remove pan from oven and transfer ducks to a platter or baking dish. Carefully pour rendered fat into a heatproof measuring cup.
Toss potatoes and ¼ of the cup of duck fat in roasting pan (save remaining fat for another use); season with salt and pepper. Shuffle the potatoes to perimeter and return ducks to pan, breast side up.
Roast until potatoes and dark meat are tender and an instant-read thermometer inserted into breasts registers 165°, cook time about 50–60 minutes.
Transfer ducks to a cutting board, cover with tinfoil, let rest at least 10 minutes before carving.
Meanwhile, add figs and remaining 4 rosemary sprigs to pan; toss well. Roast until figs are soft and juicy, 5–8 minutes.
Serve duck with figs and potatoes.
Now, the last thing you have to do as my daughter would say is to, Eat Eat and as my son would say, Quack. Then they both will instantly devour their meal and run around like hooligans as the party just begins! What can I say… Happy Holidays!!!!
You may also like
5 Minute Garlic Green Beans