Fantastic Flank Steak

When you want steak on a budget, flank steak is the way to go! This inexpensive cut of meat is made delicious thanks to one mighty marinade. The combination of olive oil, soy sauce, Worcestershire sauce, and brown sugar ensures a caramelized crust and deepens the steak's flavor so it tastes like a more expensive cut.
For the adults eating this steak I like to garnish it with arugula, then drizzle a little more lemon juice and cooked marinade onto it. For children eating this I leave those ingredients off as my daughter currently calls arugula "spicy lettuce".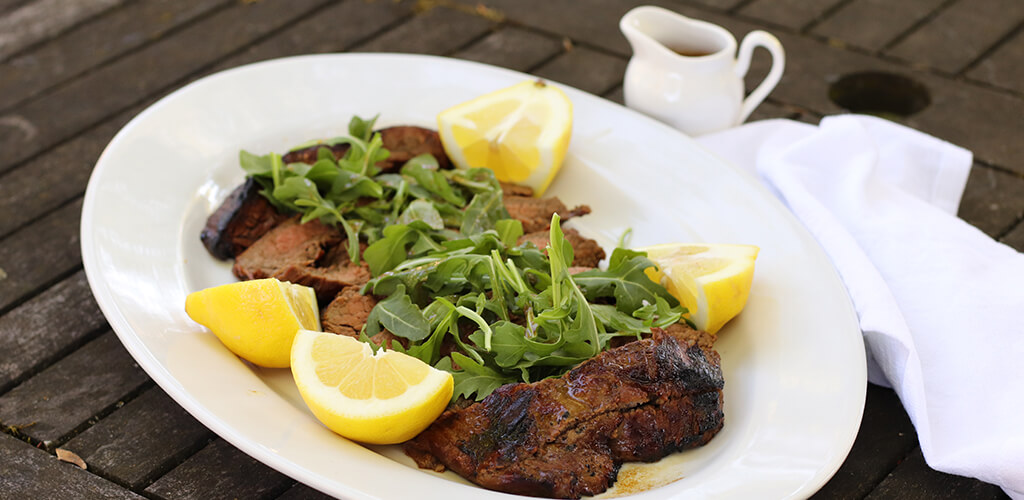 Flank Steak
Prep time: 75 minutes including 60 minutes for marinade
Cook time: about 10 mintues on the grill
Total time: 85 minutes
What You Need
¼ cup extra virgin olive oil
¼ cup soy sauce
¼ cup fresh lemon juice
2 tablespoons Worcestershire sauce
2 tablespoons packed light brown sugar
2 cloves of garlic minced
1 ½ lbs flank steak
2 ounces (about 2 handfuls) of arugula
Lemon wedges for garnish
Salt and pepper to taste
What You Will Do
Whisk together oil, soy sauce, Worcestershire sauce, brown sugar, garlic and lemon juice in a bowl.
Salt and pepper both sides of the flank steak.
Place the flank steak in a large gallon size ziplock freezer bag and pour marinade over steak.
Press out any air in the bag and seal. Leave at room temperature to marinate for at least 1 hour. Flip the steak at least one time while still in the bag to make both sides are equally submerged in the marinade.

Alternatively, you can marinate in the refrigerator for 6-8 hours. *Make sure to allow at least 30 min once you take the steak out of the fridge for it to come to room temperature before cooking.

Once fully marinated remove steak from bag, making sure to save bag and extra marinade as you will see we will be using later.
To Broil: Preheat oven broiler to high. Place steak on a sheet pan and place in the oven on the middle rack to cook. You will be turning the steak once halfway through. Cook till your liking, about 6 minutes per side for medium-rare. (Cooking time will vary due to thickness of your steak.) Let rest before slicing and serving.
To Grill: heat grill to medium-high heat. Place steak on grill, being careful that the dripping marinade doesn't cause a flare up and singe you. Grill until the internal temperate of your meat reaches 130 degrees (medium rare): this is about 5 minutes per side as again you will only turn your steak once.
Transfer meat to a cutting board and allow to cool 5 minutes.
Meanwhile, boil leftover marinade on high heat, stirring constantly. This creates an extremely flavorful reduction. Allow it to boil for at least 3 minutes to fully cook.
Slice meat against the grain and arrange on the platter.
Drizzle 1-2 tablespoons of the reduction over platter and dress with arugula and lemon wedges. Serve with reduced marinade.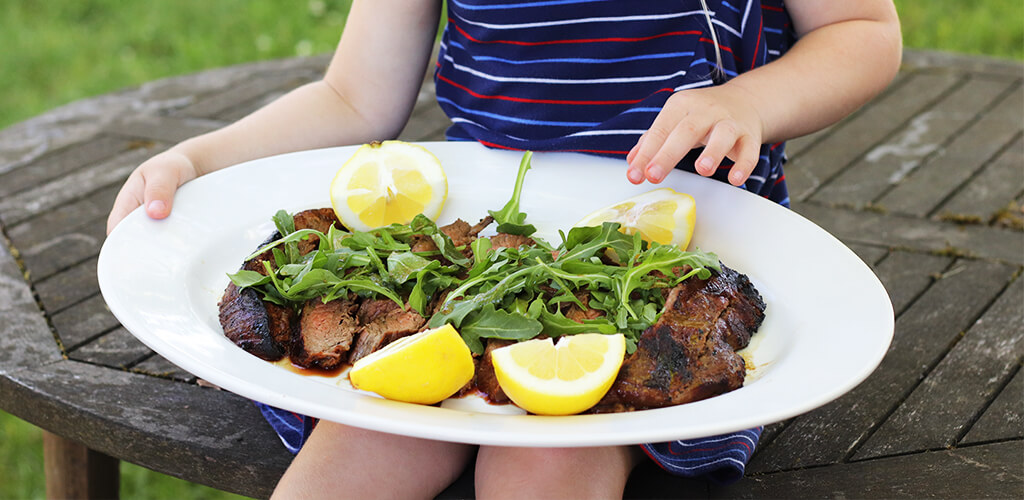 *It is always best to cook steak when it is all one temperature. Marinating in the fridge can make the inside of the steak cold and take more time to warm up – even in the oven. To ensure even cooking, allow the meat to rest and come to room temp.
I like to serve this dish with my Kid Friendly Caesar Salad and my 5 Minute Green Beans. (Recipe coming soon!)
Only thing left, as my daughter would say, is to "Eat, Eat!"
You may also like
Garlic Rosemary Smashed Potatoes