Valentine's Day: Kid Friendly Cranberry Yogurt Dip

This year Valentine's Day is on a Monday. I don't know about you but after a long day at work the last thing you want to do is spend hours cooking a meal for your family, partner, or yourself for that matter.
So, how about a zesty and refreshing dip accompanied with vibrant colors and crudités (this is French for assorted raw vegetables served as hors d'oeuvres) such as celery, carrots and blanched asparagus.
The colors of this appetizer are so gorgeous and filling you won't need a meal to cook to follow it. Bonus, this recipe only takes 5 minutes from start to finish.
This dip is equal parts Tzatziki sauce, my Greek Momma Goddess Dip and my Game Day Winner: Lemon Feta Dip. Top this dip with dried cranberries for a sweet topping that perfectly adds a chewy bite to this dish!
My children, fiancé, friends and family all love this dip! It truly is a crowd pleaser. Plus, the vibrant colors will match your Valentine's Day décor perfectly.
Valentine's Day: Kid Friendly Cranberry Yogurt Dip
Prep time: 3 minutes
Cook time: 2 minutes
Total time: 5 minutes
What You Need
For The Dip:
1 (16-ounce) container Greek yogurt
8 oz feta cheese
1 green onion
1 tablespoon fresh lemon juice
2 tablespoons fresh mint
2 tablespoons fresh dill
2 tablespoons dried cranberries, coarsely chopped, plus more for garnish
2 teaspoons kosher salt
1/2 cucumber, peeled
1 teaspoon Herbs de Provence for topping
1 teaspoon extra virgin olive oil
For The Sides:
4 large celery stalks (preferably the lighter ones from the hearts), cut into 1/2-inch dice (about 2 cups)
1 cup carrot chips
8-10 stalks asparagus, blanched
Sea salt crackers
Terra chips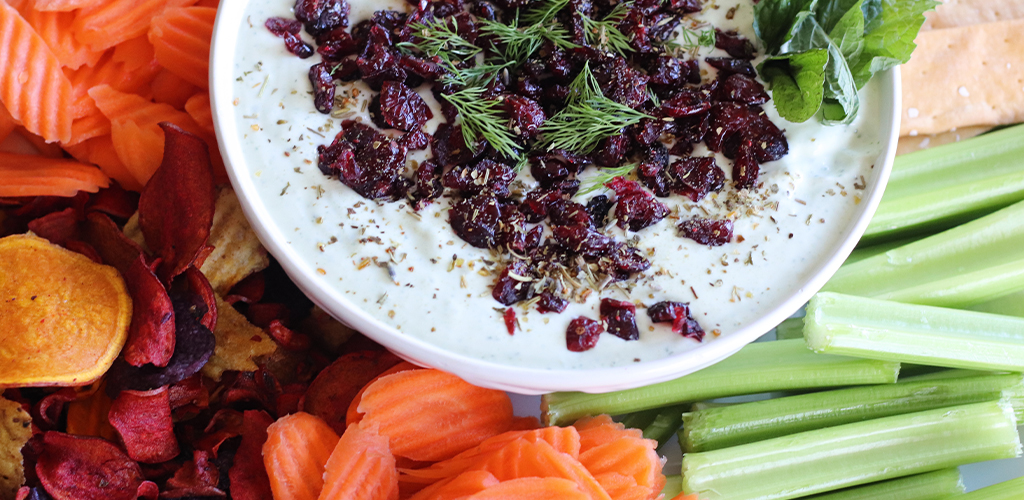 What You Will Do
Using a food processor place all of the fresh herb, extra virgin olive oil and vegetables into the food processor. This includes the mint, dill, cucumber, feta cheese, and salt. Pulse until combined.
Place in the Greek yogurt and lemon juice and blend until smooth.
Bring a small pot of water to a boil and place in the asparagus and cook for 2 minutes just to remove the bite. Remove from the pot and cool.
Spoon the dip into a serving bowl and top with the dried cranberries, fresh mint and fresh dill. Lastly sprinkle more kosher salt, pepper and Herbs De Provence over the top.
Serve with any combination of crackers, chips or vegetables that you like.
Recipe Tips:
The dip can be refrigerated in an airtight container for up to 3 days.
Now the last thing you have to do, as my daughter would say, is Eat, Eat.
From my family to yours, and no matter how you celebrate or don't, we want to wish you a Happy Valentine's Day!
You may also like
Quarantine Cooking: White Bean Dip