Greek Momma Goddess Dip

The holidays are over and so is my focus on heavy meals and comfort food. I like to move back into the light, crisp flavors that include a lot of vegetables as the focus of the meal. This helps to regulate any holiday weight gain I may have incurred as well as to get my children back to their normal eating routine.
This Greek Momma Goddess Dip (as I call it because I think I'm cleaver) is stunning in color and flavor. The Greek flavor in this dressing comes from using dill and feta. Make it and watch it do a disappearing act on vegetables, pita chips or anything else you can you can dream up to put it on.
My children love to eat this dip on baby corn, but this is a great way for me to slip vegetables into their diet without them noticing.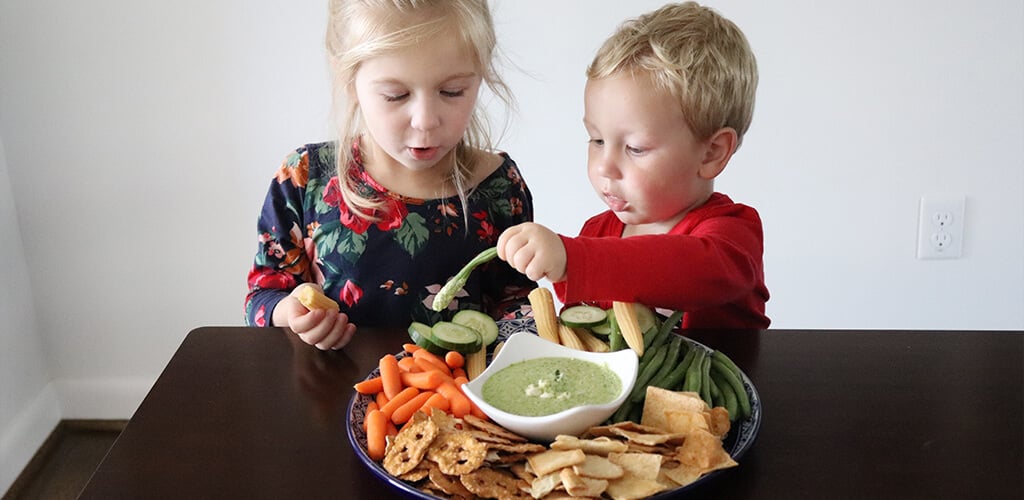 Greek Dip
Prep time: 25 minutes
Cook time: 0 minutes
Total time: 25 minutes
What You Need
½ cup packed fresh dill
½ cup packed fresh mint
½ cup packed fresh parsley
⅓ cup packed fresh basil
2 garlic cloves, chopped
1 ½ tablespoons freshly squeezed lemon juice
Pinch kosher salt, more to taste
½ cup extra virgin olive oil
½ cup crumbled feta cheese
½ cup Greek yogurt
Raw chopped vegetables or pita and pretzel chips
What You Will Do
Place dill, mint, parsley, basil, garlic, lemon juice and salt in a food processor and process until finely chopped.
You will need to use a spoon to push the herbs back down and pulsate.
With motor running, drizzle in the olive oil until fully incorporated.
Add feta and process again until smooth; pulse in yogurt.
Taste dip and add more salt, if desired.
If you like a creamier, richer dip, more traditional dips will add mayonnaise and pulse to combine. I am not a fan of mayonnaise, and so I use an extra 2 tablespoons of olive oil to smooth out the consistency.
Serve dip immediately with vegetables or pita chips or you can cover and store in refrigerator for up to 3 days.
I serve this dip for my New Year's brunch, when I know the focus of my family and friends is to get back to our clean eating lifestyle. This dip also makes a great accompaniment to lamb, which you will see in my upcoming Easter Lamb recipe in which I serve this dip on the side!
Now, the last thing you have to do as my daughter would say is Eat, Eat. As my son would say Grinch, Grinch… So happy the holidays are over so I can pack that movie away till next year! #momwin
Here's wishing you all a great start to a happy and healthy New Year 2020!
You may also like
Italian Sausage Stuffed Mushrooms