Game Day Winner: Lemon Feta Dip

One thing I always end up throwing out when cleaning my refrigerator is multiple containers of feta cheese. I always purchase way too much as I personally love Greek food and feta cheese, then forget I have it. So in the trash it goes as I could never use all I had. That was until I started making a dip with my leftovers. This is the perfect feta fix and a great light appetizer for your friends, family, and yup you guessed it, even your children!
On top of being tasty this recipe is so simple and easy! Just a quick spin in the food processor, a little olive oil and cream cheese to take feta from crumbly and coarse to airy and spreadable. Whipped feta is wonderful on its own, but for a smokier sweetness to make it extra special, flavor the dip with pine nuts that have been toasted in the oven. Serve with pita chips, pita bread, buttery crackers, or sliced vegetables such as celery, green beans, asparagus, carrots, broccoli and cauliflower. It really goes well with anything!
I actually serve this as a dip at my family's and friends Super Bowl parties. As much as I love buffalo sauce on chicken wings with ranch, I definitely like to mix up the flavors on the traditional Super Bowl spread. I like to give a healthier option for those watching their caloric intake, especially after the holiday season. This dip is a great appetizer for any Superbowl party you may be going to!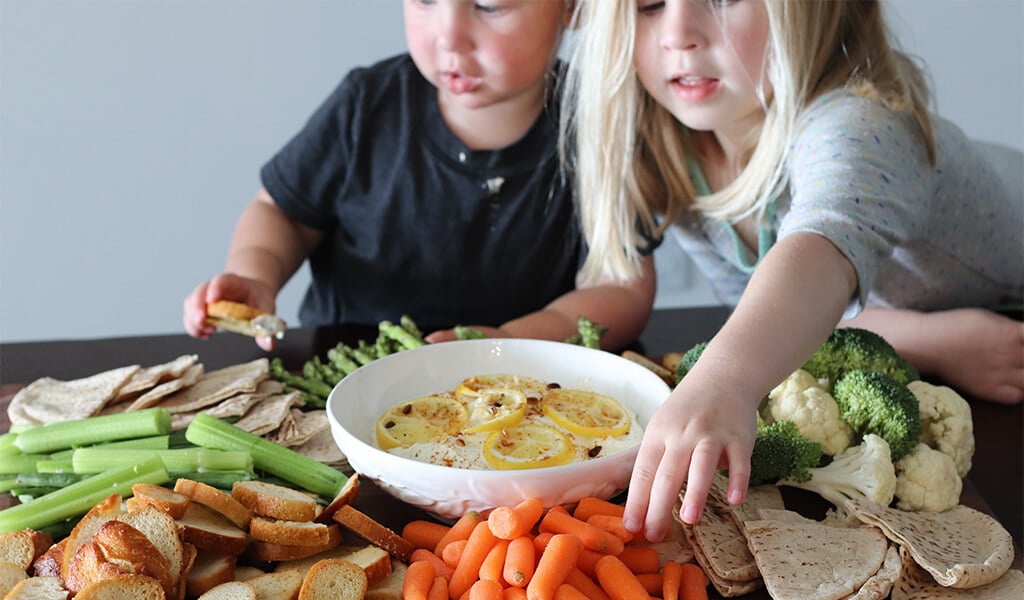 Lemon Feta Dip
Prep time: 20 minutes
Cook time: 5 minutes
Total time: 25 minutes
Ingredients
1 ½ lemons, plus more to taste
2 tablespoons pine nuts
⅓ cup plus 3 tablespoons olive oil
10 ounces feta cheese (about 2 1/2 to 3 cups)
4 ounces cream cheese, at room temperature
¼ teaspoon black pepper, plus more for garnish
¼ teaspoon cayenne, plus more for garnish
1 tablespoon hot water
Directions
Heat the broiler on high.
Juice 1 whole lemon into a mixing bowl to get 3 tablespoons juice and set aside.
Cut the remaining 1/2 lemon into 3 to 4 thin slices.
In a separate medium bowl, toss together the lemon slices, pine nuts and 1 tablespoon olive oil. Place on sheet pan and broil until pine nuts are almond colored as opposed to white, tossing occasionally, 5 minutes total. Transfer to a cutting board to cool slightly. The lemons are only heated up to help release the sugars so they do not need to be fully cooked and wilted.
In a food processor, add the feta, cream cheese, remaining 1/3 cup plus 2 tablespoons olive oil, reserved lemon juice, black pepper, cayenne and hot water. Purée until very smooth, then add almost all of the pine nuts (save just a few and chop roughly for a garnish). Pulse to combine, leaving some chunky pine nut pieces, if you like that texture. Taste for lemon, adjusting as needed.
Transfer to a bowl, then garnish with the broiled lemon slices, the reserved pine nuts, black pepper, salt (if needed) and a pinch of cayenne.
Now all you have to do as my daughter would say is Eat, Eat. Happy Super Bowl weekend!
You may also like
Greek Momma Goddess Dip