Roasted Potato, Shallot and Brussels Sprouts Salad

This salad is excellent any time of year. However, my favorite dish to serve this with is my Easy Roasted Lamb. I find that the potatoes and brussels sprouts with the light lemon vinaigrette pair perfectly with the robust lamb flavors.
The small fingerling potatoes make this dish feel hefty and so this could be a dinner salad in itself. While some people may like raw brussels sprouts as a salad base I find them a little too rough, so I like to treat them like Kale and slightly boil first to soften through.
Roasted Potato, Shallot and Brussels Sprouts Salad
Prep time: 5 minutes
Cook time: 20 minutes
Total time: 25 minutes
What You Need
For The Salad:
1-pound small fingerling potatoes, halved
1 pound brussels sprouts, trimmed and thinly sliced or shaved.
2 garlic cloves, chopped finely
3 tablespoons extra virgin olive oil
1–1/2 teaspoons kosher salt
3/4 teaspoon black pepper
2 shallots, thinly sliced
For The Vinaigrette:
1/4 cup extra virgin olive oil
2 tablespoons lemon juice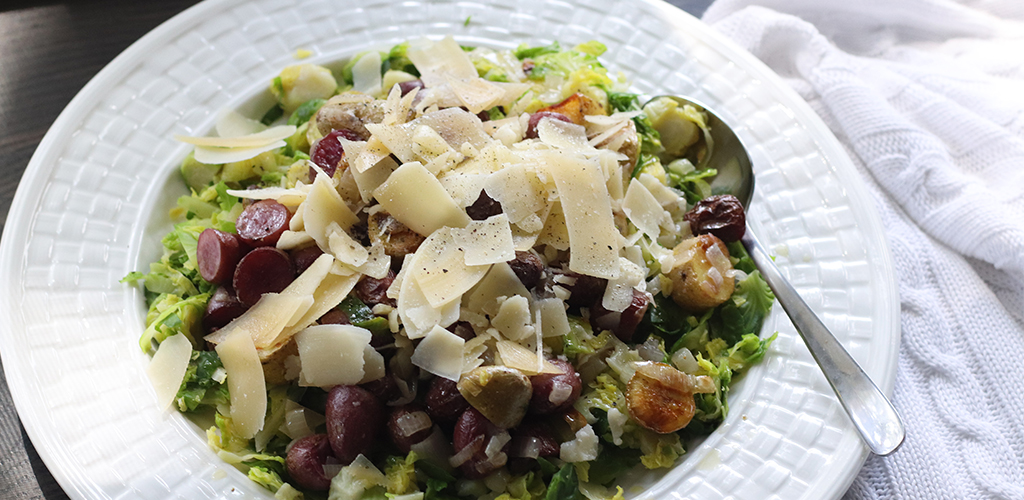 What You Will Do
For The Salad:
Chop up the brussels sprouts thinly.
Bring a pot of heavily salted (2 tablespoons) water to a boil. Place the Brussels Sprouts into the water and boil for 2-3 minutes, just to allow the Sprouts to slightly soften.
Drain the sprouts and place on a paper towel to dry.
Preheat the oven to 450° F.
Chop up the potatoes, garlic, and shallots.
On a baking sheet pan, toss the potatoes, garlic, and shallots with 1 tablespoon olive oil, 1 teaspoon salt and 1/2 teaspoon pepper. Spread them out into a single layer with the new potatoes cut side down. Roast the potatoes until they are golden brown on the edges and tender in the middle, about 20 minutes.
Remove from the oven and allow to cool.
In a large bowl, combine the roasted potatoes, brussels sprouts, shallots, garlic and parmesan cheese and toss together.
Top with the vinaigrette and serve immediately.
For the Vinaigrette:
In a small dish combine the lemon juice and olive oil and whisk together.
Drizzle the vinaigrette into the salad.
Recipe Tips:
This will stay in the refrigerator for 3 days in an airtight container.
Now the last thing you have to do, as my daughter would say, is Eat, Eat.
You may also like:
One Pot French Onion Soup