Quarantine Cooking: White Bean Dip

If you are like me and my family right now you are laying low at home trying to use everything in your pantry and refrigerator to delay trips to the store. Each night in my house has become an episode of Chopped: Quarantine addition.
Okay, contestant, you have these 5 random ingredients, now make a meal your family of four will eat.
Luckily, the other day, I came across an old recipe and I had all the ingredients! This white bean dip is something I have made before, but tweak it each time depending on the occasion. This dip is the Italian version of hummus, and in my opinion, it's got a smoother texture and is tastier. This can be served as a dip or served on top of cooked pasta or rice to make a fast meal.
I normally would make this with pita chips, but there were none available at the grocery store, so I subbed with English muffins as that's what I had. I honestly like the depth of flavor and crunch the English muffins offered even better than a traditional pita chip. So win there! This only takes 6 minutes (if that) to prep and 10 minutes to cook.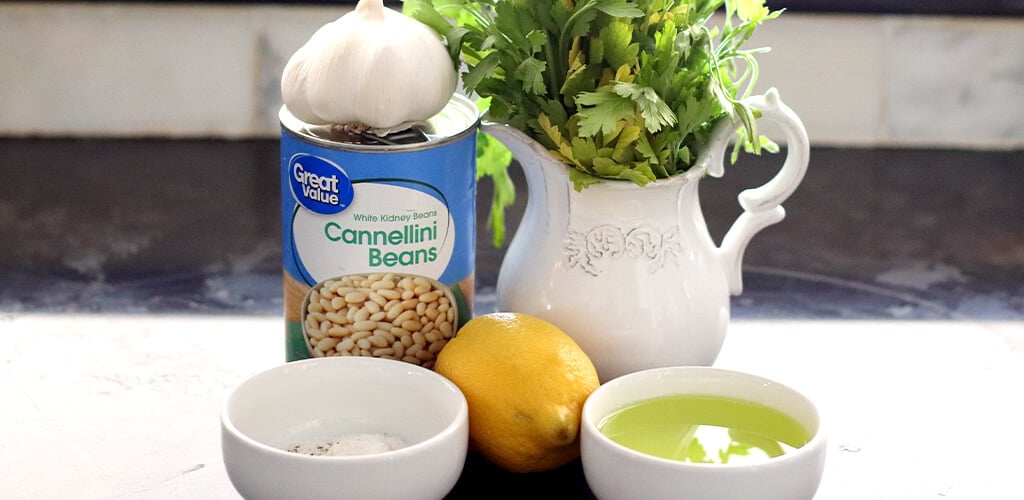 White Bean Dip
Prep time: 6 minutes
Cook time: 10 minutes
Total time: 16 minutes
What You Will Need: Fresh Ingredients and Pantry Substitutes
4 English muffins, or pitas, gluten-free bread, or any bread you have on hand split horizontally in half
2 tablespoons plus 1/3 cup olive oil
1 teaspoon dried oregano
1 1/2 teaspoons salt, plus more to taste
1 1/4 teaspoons freshly ground black pepper, plus more to taste
1 (15 ounces) can cannellini beans, drained and rinsed
1/4 cup (loosely packed) fresh flat-leaf parsley leaves or 2 tablespoons dried parsley
2 tablespoons fresh lemon juice (from about 1/2 lemon) or bottled lemon juice works just as well. I see no flavor difference
1 small garlic clove or 1 tablespoon garlic powder
What you will do
Preheat the oven to 400°F.
Cut each English muffin (or bread option you have available) into wedges.
Arrange the wedges evenly over a large baking sheet.
Brush the wedges with 2 tablespoons of the oil, then sprinkle with the oregano and 1 teaspoon each of the salt and pepper. Bake for 5 minutes, then turn the wedges over and bake until they are crisp and golden, about 5 minutes longer.
Take out and allow to cool.
In the food processor or blender, combine the beans, parsley, lemon juice, garlic, and the remaining 1/2 teaspoon of salt and 1/4 teaspoon of pepper.
Pulse on and off until the mixture is coarsely chopped. With the machine running, gradually mix the remaining 1/2 cup of oil until the mixture is creamy. You may add more olive oil if you like an extremely smooth dip or sauce.
Season the puree with more salt and pepper to taste.
Transfer the puree to a small bowl and top with some freshly minced parsley or cilantro and serve with the toasts warm or at room temperature alongside. I also like to serve with any vegetables I have laying around that I need to use up (which I think we all can agree is a lot right about now).
*(The bean puree can be made 1 day ahead. Cover in an airtight container and refrigerate. This can be microwaved to heat up if preferred. If not, I recommend pulling out to rest at room temperature 1 hour prior to serving.)
* A few meal options I mentioned:
With cooked pasta: Simply boil your favorite pasta and after draining stir in your white bean dip. I recommend adding 1 extra tablespoon of olive oil to smooth out the consistency. Top with any parmesan and fresh herbs you have on hand.
As a topping for sautéed or steamed vegetables. I recommend making the dip fresh and allowing the person you are serving to spoon over cooked vegetables.
With Rice: I normally serve this as a topping to my Cilantro Rice, similar to how you would eat curry because I find the lemon in both dishes compliments each other well.
Now as my daughter and son will say Eat, Eat. What I would like to say is, from my family to yours, I hope everyone who reads this is happy, healthy and safe!
You may also like
Baby Boy's Black Bean Soup