Special Appetizer: Butternut Squash Hummus

You may not know it, but Easter is right around the corner. Our lives are still in a weird place due to COVID but I do know things are starting to open up so the possibility of seeing people again, especially family is not too far-fetched. If that is the case and a long-overdue small family gathering is what you are looking for, then I am here to help with food! I am not sure about you, but when it comes to Easter, I love to go BIG in regards to the meal. For some extra recipes and to give you a good idea of what I mean, check out last year's recipe lineup which includes my Easy Roasted Lamb, Lemon, and Herb Roasted Cauliflower, or if you are focused more on breakfast, then my Broken Eggs Skillet is the perfect dish for you.
With all the work I put into the meal, I like to keep the appetizers or side dishes easy. By doing this I have found I am not spending all day in the kitchen. While this recipe may seem fancy and intimidating, it is actually so easy. Not only can it be an appetizer, with some small tweaks you could even make it a healthy dessert by swapping out the pita chips with cut strawberries, bananas, or cinnamon toast.
Butternut Squash Hummus
Prep time: 10 minutes
Cook time: 50 minutes
Total time: 60 minutes
What You Need:
1 1/4 pounds butternut squash, peeled and roughly chopped
3 tablespoons extra virgin olive oil
1 teaspoon ground cinnamon
Kosher salt and freshly ground black pepper
1 (15.5-ounce) can chickpeas (2 cups)
1 cup plain whole-milk Greek yogurt
1/3 cup freshly squeezed lemon juice (2 lemons)
4 teaspoons minced garlic (4 cloves)
Toasted pita bread, for serving
1/4 cup chopped walnuts for serving
1 red bell pepper, sliced, for serving
Brown Sugar Drizzle:
2 tablespoons water
1 tablespoon brown sugar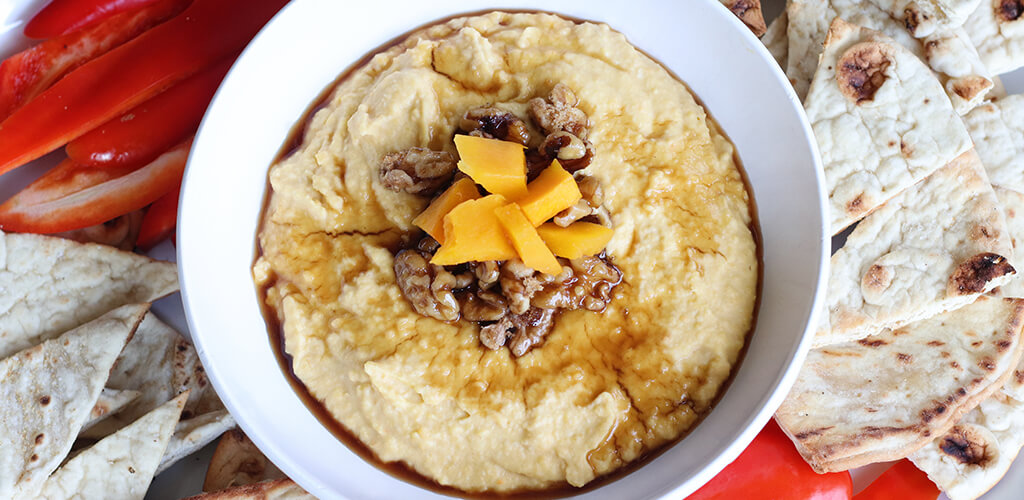 What You Will Do:
Preheat the oven to 400° F.
Cut open the butternut squash. Scoop out the inside (including the seeds) and throw the insides away.
Roughly chop up the butternut squash any way you like. This doesn't have to be uniformly chopped as you will be pureeing in the food processor after it has cooked.
Place the butternut squash on a sheet pan and drizzle with 2 tablespoons of olive oil. Sprinkle with cinnamon, and 2 teaspoons of kosher salt. Toss with your hands, then spread the squash out in one layer on the pan.
Roast for 40 minutes, until tender, and set aside for 10 minutes to cool.
In a small saucepan place 2 tablespoons of water and 1 tablespoon of brown sugar. Bring to a boil while stirring and place aside to cool.
Chop the walnuts and place them aside.
Reserve 1/4 cup of squash for the garnish and transfer the rest to the bowl of a food processor fitted with the steel blade. Add the chickpeas, 1 tablespoon of olive oil, yogurt, lemon juice, garlic, 1 tablespoon salt, and pulse until coarsely processed but not fully pureed.
Now add 1/4 cup of water and pulse a few times to combine. If the hummus is too thick, add more water in a few tablespoons at a time.
Taste for seasonings, you may want to add more lemon juice and salt (I always do).
Transfer to a serving bowl, garnish with the reserved butternut squash, chopped walnuts, drizzle with brown sugar syrup, if desired, and serve at room temperature with toasted pita bread and sliced red pepper.
Recipe Tips:
To know that your Butternut squash is roasted until tender, simply pierce with a fork. The squash is ready if the fork can easily pierce through the flesh of the squash.
To transform this into a desert dip simply use some cut berries, graham crackers, and even low-sodium pretzels for dipping.
Now the last thing you have to do as my daughter would say is Eat, Eat. Or as my son loves to say… Yay, Pumpkin Smash!
You may also like
Fruits and Veggies: Spring Edition