Chorizo and Cauliflower Rice Stuffed Peppers

To say this recipe is beautiful, delicious and low carb is a fact. To say this recipe is hard would be a lie.
This is a perfect option when you need something done fast, like most weeknight dinners, but also want something that tastes good and is satisfying. Personally, I like to make this meal when I am having guest over as the presentation with all the colorful ingredients is stunning.
Chorizo has so many spices and herbs mixed in that I don't need to season this dish that much. I precook the chorizo in a skillet, then add in the riced cauliflower. Next, I sauté everything together for only 2 minutes to allow the rice to really absorb the drippings and flavor from the chorizo. All that is left is just cleaning and cooking the peppers and you are done! What could be simpler?
Because this is so simple, you will really want to try it out. My kids love it and even named it "Pepper Pockets". I think I should have them do some Marketing for me :)
Now to the good stuff.
Chorizo and Cauliflower Rice Stuffed Peppers
Prep time: 10 minutes
Cook time: 25 minutes
Total time: 35 minutes
Servings: 4
What You Need
4 large bell peppers (any colors)
1 head cauliflower, any size
1 tablespoon olive oil
4 cloves fresh garlic, minced finely
3 tablespoons freshly squeezed lemon juice
½ tsp salt, divided
½ tsp pepper, divided
2 Tbsp olive oil, divided
1 lb. chorizo
1 shallot, diced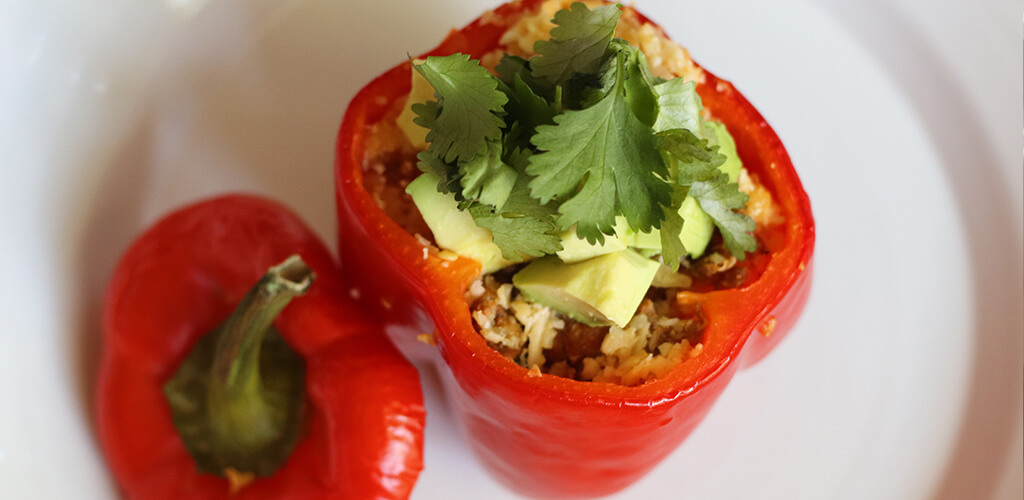 What You Will Do
Preheat oven to 350°F. Cut the tops off the peppers, and remove seeds and membranes. Do your best to keep the peppers whole as that will be your main container for the meal.
Now that they are cleaned, place the peppers with the cut or open sides up on a rimmed baking sheet. Rimmed helps as sometimes water or juices will leave the peppers as you cook, or they may roll. The rim helps keep your oven clean.
Next you will cut the cauliflower into large pieces. Easiest way is to cut the head of cauliflower into quarters, then trim out the inner core from each quarter. Lastly, break apart the cauliflower into large florets with your hands.
Transfer the cauliflower to a food processor fitted with the blade attachment. Don't fill the food processor more than 3/4 full and if necessary, process in two batches.
Pulse the cauliflower until completely broken down and rice like.
Pull out any unprocessed pieces. Some florets or large pieces of cauliflower might remain intact. Pull these out and set them aside (you can use a cheese grater and grate these finer if you like). Transfer the riced cauliflower to another container and either do your second batch or try to re-process any large pieces.
Once you are done processing all of the cauliflower, it is time to cook it. Cooking makes the cauliflower more tender and rice-like.
Warm a tablespoon of olive oil in a large skillet over medium heat. Stir in the freshly minced garlic (3 cloves) and sauté for 2 minutes. Stir in the cauliflower and sprinkle with a little salt. Cover the skillet and cook for 5 to 8 minutes, until it is as tender as you like. Add the 3 tablespoons of lemon juice and toss to warm. Place aside into a large mixing bowl.
Bring a skillet to medium high heat with 1 tablespoon of olive oil. Add in the shallot and garlic (1 clove), and chorizo. Cook on medium-high heat for 5-8 minutes or until Chorizo is browned and easily crumbled. You will want to drain most of the drippings from the pan, but leave least 2 tablespoons behind.
Stir the Cauliflower Rice into the Chorizo mixture and allow to warm, about 2 minutes.
Spoon chorizo mixture into peppers, cover with tin foil and place into the preheated oven.
Bake 20-25 minutes until browned and the peppers have softened.
Remove from oven, remove tin foil, and allow to cool for 5 minutes, uncovered.
Now all you have to do as my daughter would say is Eat, Eat. Please enjoy these children named "Pepper Pockets".
You may also like
Chorizo & Spinach Stuffed Mushrooms Recipe