Broken Eggs Skillet

Nothing is more relaxing and comforting to me than a large breakfast with my family on the weekend because it means we have the entire day to relax. It's a day where we aren't bustling the kids off to preschool, or running to work, or trying to get errands done. We have time to sit as a family and enjoy a hearty fresh meal together and just enjoy. This recipe for Broken Eggs Bake, as my kids call it, is a favorite of mine. The actual traditional name is Huevos Rotos- which is just Broken Eggs in Spanish.
Just a little backstory on this recipe. Variations of this hearty fried egg-and-potato dish can be found throughout Spain. There's always a runny egg, but whether it sits atop fried potato rounds, French fries or crunchy chips varies by region. The potatoes are often served with chorizo sausage, ham, or in this case pancetta. I actually had this dish at the Roman Coliseum many, may years ago (before children) at a quaint family restaurant owned by an adorable retired Spanish couple. All they served was traditional Spanish breakfast all day every day. However, chorizo sausage was out of stock during that time, so my breakfast lacked the salt normally provided by the chorizo or ham. My husband had pancetta on his plate, and I of course as any wife would do, stole some and added it to my dish. Voila this recipe was born.
One tip: pierce the eggs just before serving so the golden yolks coat the potatoes with a glossy sauce. Serve with sautéed greens, fresh tomatoes or a crisp salad dressed with a lemon vinaigrette.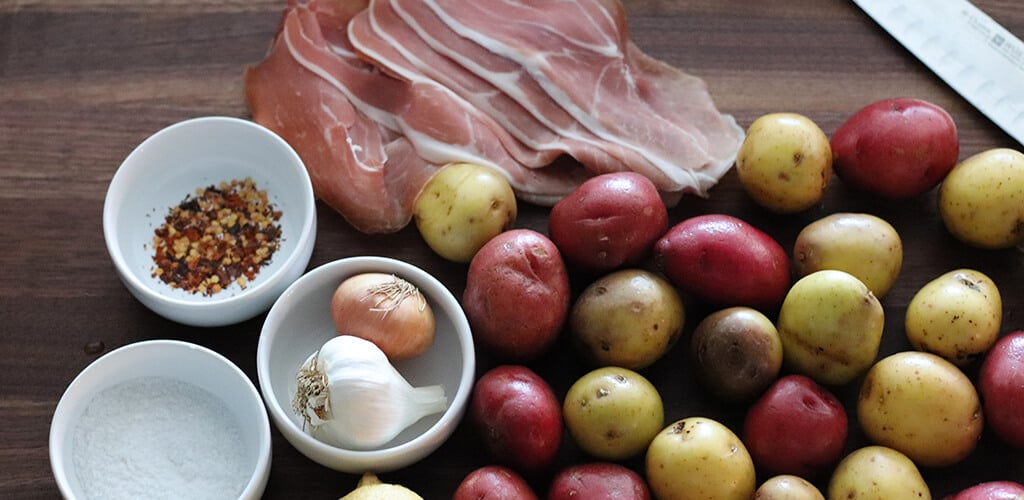 Broken Eggs Skillet
Prep time: 15 minutes
Cook time: 25 minutes
Total time: 40 minutes
What You Need
⅓ cup extra-virgin olive oil, plus more as needed.
1 cup chicken stock (or you may use water if you want this to be vegetarian).
2 teaspoons smoked paprika.
½ teaspoon red-pepper flakes or 1/4 teaspoon ground cayenne, use one or the other. NOT BOTH.
Kosher salt and black pepper to taste.
2 pounds new potatoes, halved.
1 medium shallot, finely chopped.
4 garlic cloves, finely chopped.
4 eggs.
4oz pancetta.
Lemon wedges, for serving.
Flaky sea salt, for serving.
2 tablespoons parmesan cheese to top prior to serving (if you like).
What You Will Do
In a measuring cup, combine the olive oil, paprika, red-pepper flakes, 1 1/2 teaspoons salt, a generous grind of pepper and 1 cup chicken stock. Put the potatoes in a large skillet and pour the olive oil mixture over them. Bring to a boil, then cover and cook on high until the potatoes are fork-tender, 10-15 minutes.
Uncover and turn the heat to low. If the potatoes are sticking or dry, add more olive oil slowly, and a tablespoon at a time. Arrange the potatoes in an even layer, cut side down if halved, then add the shallots and garlic surrounding the potatoes. Cover and cook until the potatoes are golden-brown and the shallots are softened, 4 minutes.
Stir the potatoes (if they're sticking, add more oil). Make 4 nests in the potatoes and crack an egg into each. Season with salt and pepper. Cover and cook until the whites are set and the yolks are still runny, 4 to 6 minutes.
To serve, break the yolks gently with a serving spoon, top with roughly torn (room temperature) pancetta and shaved parmesan cheese and then scoop some potatoes and an egg onto plates or into shallow bowls or simply eat it right out of the skillet or pan, family style. Serve with a squeeze of lemon and flaky salt. I actually also like to add a pinch of dill to my plate to add a bit of freshness.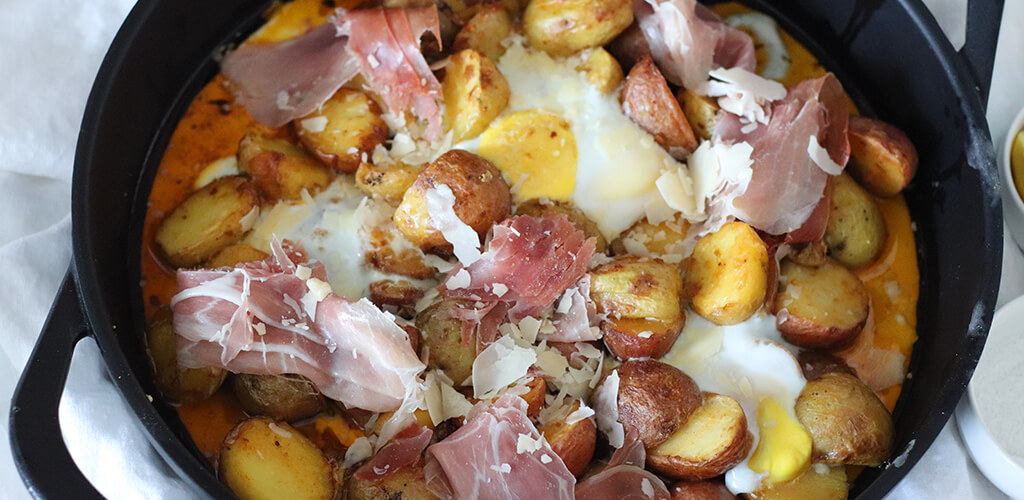 A few notes on this meal: While I understand the potatoes may seem heavy here, you may use the amazing substitute of cauliflower, which is a very mellow and an easy switch. Just cut down your cooking time generously as cauliflower is cooked through within 5-8 minutes on medium heat, follow the rest of the instructions above. I also, as you see, use pancetta. I like to use this instead of bacon to reduce the amounts of fats in this meal as well as the processed nitrates bacon tends to possess. You may make this a vegetarian meal as well. If you choose to do that I recommend tasting before serving as you may want to add a pinch more salt.
Now all you have to do as my CHILDREN would say is EGG, EGG and eat, eat. Enjoy!!!!
You may also like
Good Egg: Better For You Benny Recipe