Easy Roasted Lamb

I don't know about you, but cooking a meal for a large group of my family, not from pantry items is exhilarating! I normally cook this recipe for my family's Easter celebration and we had to miss it due to a mandated Quarantine order here in Florida. When it came time for Father's Day, and the first real time we all could get together safely, I asked everyone what they wanted me to cook and my "Easter Roasted Lamb" was a huge winner. I can't blame them this is one of my favorite entrees to cook, it's just that easy.
Please see below for my dry ingredients substitutes if you need, based on your area's availability during this time.
Roasting lamb is just as easy, if not easier, than roasting a chicken. Seriously, all you need to do is rub the leg of lamb with a mixture of fresh rosemary, garlic powder, salt, pepper and olive oil and throw it in the oven for an hour or two. Bonus points if you roast the meat on top of a bed of potatoes. The primary takeaway from this recipe is that lamb is actually a lot easier to cook than you might think. It is already a really tender cut of meat, so you don't have to do much to it. Just follow the recipe below, and you will have a juicy, tender, and tasty meal each time.
So what should you pair this type of meat with? Since you already have your meat and carbs covered (if you place diced potatoes beneath) all you really need is a veggie side and my Lemony Cauliflower with Garlic and herbs is just the right partner! I also like to serve my Greek Momma Goddess Dip with this lamb as a tangy dipping sauce.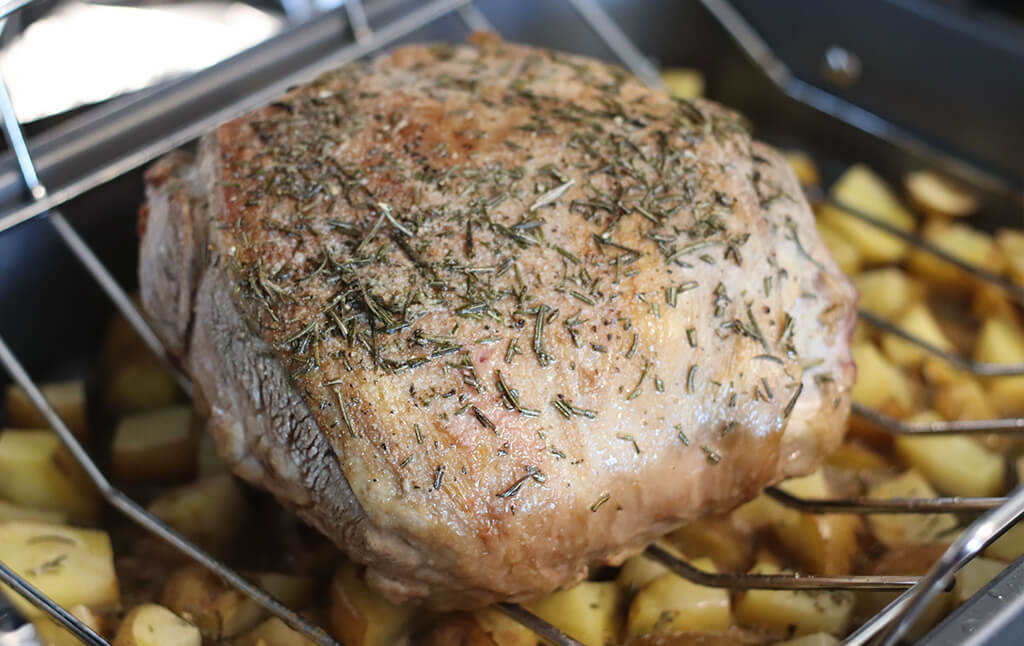 Easy Roasted Lamb
Prep time: 60 minutes
Cook time: 70 + minutes
Total time: 2+ hours
What You Need
1 5-7 lb bone in leg of lamb
2 tablespoons garlic powder
1 tbsp. freshly chopped rosemary (or dried rosemary) finely chopped
1/4th cup extra-virgin olive oil, divided (1/2 for potatoes and ½ for roasted lamb).
Kosher salt
Freshly ground black pepper
2 lb. baby potatoes, halved if large or yellow potatoes diced into small cubes.
2 tbsp. fresh lemon juice or bottled (for potatoes)
1 roasting pan (I use our Thanksgiving one as it has the pan and rack which is very handy for this recipe)
Directions
Take the leg of lamb out of the refrigerator about an hour before cooking so it comes closer to room temperature. This promotes faster, more even cooking.
Dice your potatoes and place in the bottom of the roasting pan. Drizzle over your lemon juice, olive oil and a pinch of salt and pepper.
Place a roasting rack on top of the potatoes in the roasting pan.
Set the lamb on the rack inside the roasting pan. Drizzle with the olive oil and rub all over into the fat and meat. Season generously all over with salt and pepper. Position the lamb so that it is fat-side down. Broil for 5 minutes. Arrange the oven so that the top of the lamb is a few inches from the broiler element. Broil until the surface of the lamb looks seared and browned, about 5 minutes.
Remove the pan from the oven. Now flip the leg over so the fat side is on top and put back under the broiler until the other side is seared, about 5 minutes more.
Take the lamb out of the oven.
Turn off the broiler and set the oven temperature to 325°F. Reposition the oven racks so your lamb will sit in the middle of the oven.
Top the lamb with garlic powder, minced fresh rosemary, and then rub in (make sure the fat side facing up).
Cover the lamb loosely with foil, place back in the oven and roast 1 hour.
After an hour, remove the lamb from the oven and take the temperature. The thermometer should be placed in the thickest part of the meat, but not touching bone. The lamb is ready when the temperature is 135°F or above.

At 135°F the lamb is cooked to rare, but it will continue cooking as it rests, so we recommend taking it out of the oven at 135°F for medium-rare to medium. (Refer to the cooking chart I created below for general roasting times.)

If the lamb is not ready, continue cooking uncovered until it reaches your desired internal temperature, checking the temperature every 30 minutes.

For reference: I had a 7lb leg of lamb and cooked for 2 hours and 20 minutes for it to reach 137 degrees.

Once lamb has reached desired temperature remove from oven, replace the foil if you removed it and let cool for 15 minutes before carving.
Cut the meat into slices across the grain. Make straight, parallel cuts straight down through the thickest part of the meat until you hit the bone. You should be cutting perpendicular to the bone, across the grain of the meat. The slices will still be attached where they meet the bone.
Transfer the slices to a serving platter. Place your potatoes around the lamb to serve as a side.
Cooking Temp Tips:
REMEMBER! These times are only guidelines. Depending on many factors, your lamb leg may roast slower or faster. Check after one hour and then continue roasting, checking frequently, until the lamb reaches your desired internal temperature.
Roasting Temperature: 325°F
Rare: 125°F (about 15 minutes per pound)
Medium-Rare: 130°F to 135°F (about 20 minutes per pound)
Medium: 135°F to 145°F (about 25 minutes per pound)
Well-Done: 155°F to 165°F (about 30 minutes per pound)
I love to cook Lamb as you see with fat side facing up, because as the meat cooks, the fat continues to flavor the entire meat and creates an even roasting temperature through the entire Leg of lamb.
I hope you find this meal as flavorful and easy as I do! Now all you have to do as my daughter would say is Eat, Eat. My son loves to call this football because of the shape and color. So Happy Football Lamb Day.
You may also like
Why Eating Your Greens Really Matters