Lemon and Herb Roasted Cauliflower

There aren't many cauliflower dishes as interesting as this one, especially for how simple it is. However, I will admit that I am a little biased. This recipe tastes best made a day ahead, which I love to do because it makes for easy cooking on the day of any larger meal or event. Prepping a day ahead allows the ingredients a chance to marinate overnight and gives the raw cauliflower time to soften and absorb all of the dressing's bright flavors. Although this salad needs no other seasonings, you can add sliced olives or crumbled feta here for a saltier bite. The pinch of red pepper flakes here is optional depending on your taste but I find it makes this especially good.
I love to serve this as a partner to my Easter Roasted Lamb, as the lemon helps to balance the heavier Lamb flavors.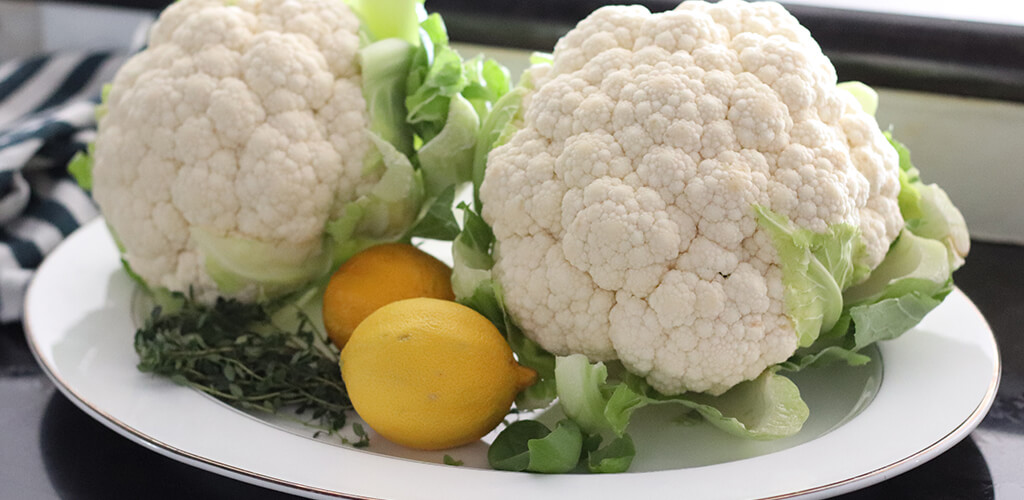 Lemon and Herb Roasted Cauliflower
Prep time: 20 minutes (not including marinate time)
Cook time: 20-30 minutes
Total time: 40-50 minutes
What You Will Need
2 lemons
1 ¼ teaspoon sea salt, plus more to your taste
2 large heads of cauliflower (about 1 3/4 pound each), trimmed and cut into bite-size florets (about 8 cups)
¼ cup chopped fresh basil
2 tablespoons fresh thyme
¾ cup extra-virgin olive oil
2 garlic cloves, finely grated or minced
2 teaspoons whole cumin
1 Large pinch of red pepper flakes (optional)
What You Will Do
Chop up your cauliflower, place to the side.
Finely grate the zest of the lemon into a large heatproof bowl, then halve the lemon and squeeze the juice in with the zest. Add in the salt and whisk to dissolve it. Add cauliflower and half of your basil and thyme, then toss the mixture together to combine.
In a large skillet, add the olive oil and heat until hot, but not smoking. Add garlic, red pepper flakes, cumin, and cook until fragrant, about 1 minute.
Pour the heated olive oil mixture over the cauliflower and toss well. Let everything cool completely, then cover with plastic wrap or place in a sealable container. Refrigerate for at least 2 hours and up to 48 hours to let the flavors mingle.
Day of serving. Heat oven to 375° F. Place the cauliflower mixture on a roasting pan or baking sheet (whatever you have will work). Add about 1 teaspoon more of olive oil and mix.
Place the baking sheet in the oven and bake until the cauliflower browns, about 20 to 30 minutes.
When done remove from oven and allow to cool for 5 minutes. Place in a serving bowl and top with the other half of your fresh basil and thyme. The add more salt, pepper and fresh lemon if you like.
Now the only thing you have to do as my daughter would say is Eat, Eat.
You may also like
Parmesan Roasted Cauliflower