Halloween Special: Pumpkin Hummus

Hummus is a popular appetizer for any party or get together, or really anytime you want a snack. This hummus will not only be tasty and a crowd pleaser for any adult you serve it to, but also any children you have in your home. Serve this hummus with bright and colorful chips, cut up vegetables, or crackers.
This is a very easy hummus to partner with any dish. So, serve with anything you love! I personally serve this as the appetizer to my Weeknight Wonder: Turkey Meatballs recipe. Trust me when I say this will make a beautiful addition to your appetizer menu.
Pumpkin Hummus
Prep time: 5 minutes
Cook time: 5 minutes
Total time: 10 minutes
What You Need
For the Hummus:
1 can, chickpeas, should be 14 ounces, drained and rinsed
1 cup pumpkin puree (not pumpkin pie filling)
2 cloves garlic
1 tablespoon agave
2 tablespoons extra virgin olive oil
1 teaspoon cumin
1/2 teaspoon salt
1/2 teaspoon ground cinnamon
1/4 teaspoon chili powder
1/4 teaspoon Italian seasoning
For The Topping:
1/4 cup pumpkin seeds
2 tablespoons pomegranate seeds
1/4 teaspoon salt
1/4 teaspoon cinnamon
1/2 teaspoon extra virgin olive oil
What You Will Do:
Preheat the oven to 425° F.
Onto a baking sheet, place the pumpkin seeds, salt, cinnamon and extra virgin olive oil. Toss to combine and place in the oven.
Roast in the oven for 5 minutes until golden brown. Remove from the oven and allow to cool and place aside.
Place all of the humus ingredients into a food processor and blend until smooth and creamy.
Add more olive oil if it's too thick.
Taste and adjust the seasonings to your liking. I always add extra salt.
Place the savory pumpkin hummus in your serving dish and top with the pomegranate seeds and toasted pumpkin seeds and serve immediately.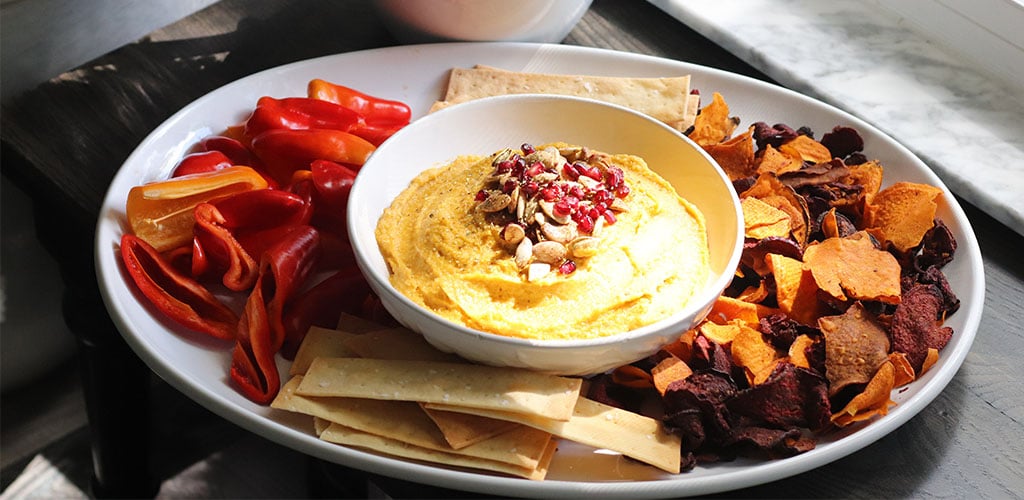 Recipe Tips:
This will last in the refrigerator for 3 days in an airtight container.
Bonus! How to Open a Pomegranate. The right way:
I am giving this tip as many times I used to cut the pomegranate in half and found that this would cut through a hefty amount of the seeds and rupture the fruit.
Place the pomegranate standing up with the flat side down. The pomegranate's blossom end, the one that looks like a crown, should be on top. Cut around and remove the blossom of the pomegranate.
Use your knife to cut vertical lines along the ridges of the outside of the pomegranate just through the red part of the pomegranate skin, from blossom to stem end.
You should make about 6 cuts and then use your fingers to gently pry open the pomegranate. It should open easily, exposing the seeds.
Continue to open the sections, if you've made 6 cuts, you can pry open 6 sections. It helps to work near or over a large bowl, so that as you open the fruit, any loose seeds find their way to the bowl.
Pry the seeds away from the peel into the bowl and rinse off, then pat dry-gently, to place on the hummus.
Now the last thing you have to do as my daughter would say is Eat, Eat.
You may also like
Creamy Pumpkin Pasta