Avocado and Shrimp Cauliflower Rice Bowls

I love when it comes to cooking where recipes are able to intermingle. As you may recognize, I combine a few ingredients from other recipes to create this new dish. This meal combines my Lemon and Garlic Cauliflower Rice as well as the cilantro dressing I use in my Weeknight Special: Shell-Less Taco Salad recipe. Both items pair perfectly with the slightly spicy shrimp, the sweet and juicy corn and the crisp and cool butter lettuce.
Avocado and Shrimp Cauliflower Rice Bowls
Prep time: 15 minutes
Cook time: 15 minutes
Total time: 30 minutes
What You Will Need
For the Cilantro Rice:
1 head cauliflower, any size
1 tablespoon olive oil
3 gloves fresh garlic, minced finely
3 tablespoons freshly squeezed lemon juice, reserving slices for garnish
Salt and pepper to taste
For the Cilantro Dressing:
1/2 shallot
2 cups tightly packed fresh cilantro leaves stems removed (about 4 ounces)
1/2 clove garlic
1 tablespoon Greek yogurt or sour cream
1/2 cup olive oil
2 tablespoons champagne vinegar
1 teaspoon salt and pepper
For the Spicy Shrimp:
1-pound medium sized shrimp peeled and de-veined
1 tablespoon olive oil
1 teaspoon garlic powder
1/2 teaspoon cayenne pepper
1 tablespoon Herbs De Provence
Salt and pepper to taste
For the Toppings:
Cubed Avocados
Fresh corn removed off of the husk
Sliced Butter Lettuce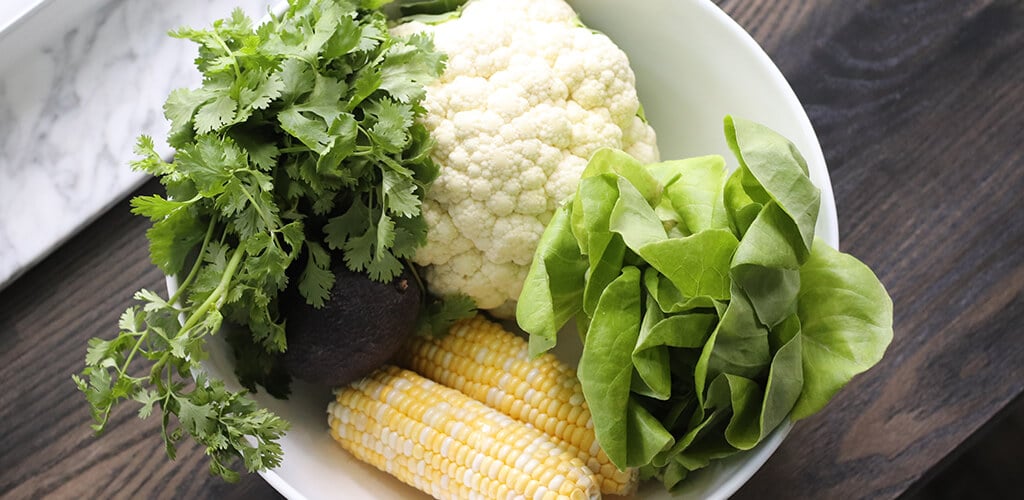 What You Will Do:
For the Cauliflower rice:
Cut the cauliflower into large pieces. Cut the head of cauliflower into quarters, then trim out the inner core from each quarter. Break apart the cauliflower into large florets with your hands.
Transfer the cauliflower to a food processor fitted with the blade attachment. Don't fill the food processor more than 3/4 full; if necessary, process in two batches.
Pulse the cauliflower until completely broken down and rice like.
Pull out any unprocessed pieces. Some florets or large pieces of cauliflower might remain intact. Pull these out and set them aside (you can use a cheese grater and grate these finer if you like). Transfer the cauliflower to another container and re-process any large pieces.
Once you are done processing all of the cauliflower, it is time to cook it. Cooking makes the cauliflower more tender and rice-like.
Warm a tablespoon of olive oil in a large skillet over medium heat. Stir in the freshly minced garlic and sauté for 2 minutes. Stir in the cauliflower and sprinkle with a little salt. Cover the skillet and cook for 5 to 8 minutes, until the couscous is as tender as you like. Add the 3 tablespoons of lemon juice and toss to warm.
For the Cilantro Dressing:
Combine all the ingredients in a blender or food processer and blend for 3 minutes until smooth. Taste and adjust salt and pepper as needed and set aside.
For The Spicy Shrimp:
Bring a sauté pan to medium high heat.
Place in the tablespoon of olive oil and allow to warm.
While the sauté pan is warming. Toss the shrimp into a large Ziploc gallon freezer bag with the cayenne powder, garlic powder, Herbs de Provence, salt and pepper. Shake the bag until all of the shrimp are coated evenly.
Place the shrimp into the sauté pan and cook for about 5 minutes until the shrimp are pink and fully cooked.
For The Sweet Corn:
Place a large pot of heavily salted water to boil.
Place the corn into the large pot and allow to boil for 5 minutes just till the corn deepens in color.
Remove from the hot water and allow to cool.
Using a paring knife remove the kernels from the husk.
To Serve:
Place either onto a large serving platter or into individual bowls.
Lay down a bed of the Lemon and Garlic Cauliflower Rice.
Followed by the chopped-up butter lettuce.
This is followed by the corn.
This is followed by the spicy shrimp.
Next lay on top the chopped avocado, freshly torn cilantro and a few drizzles of the cilantro dressing.
Serve immediately.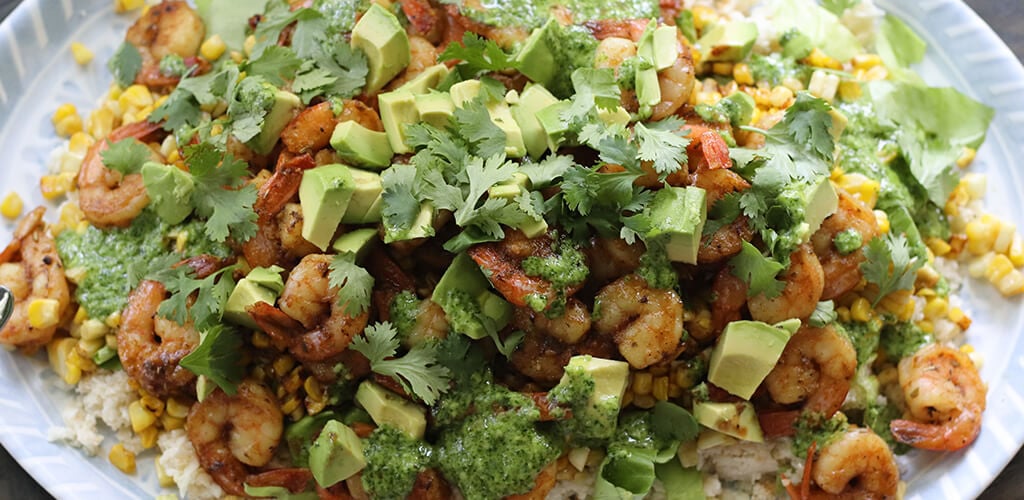 Recipe Tips:
This will stay in the refrigerator for 3 days in an airtight container.
Now the last thing you have to do as my daughter would say is Eat, Eat!
You may also like
Summer Sea Bass and Shrimp Ceviche