Lemon and Garlic Cauliflower Rice

This recipe came about because I got so many questions on the cauliflower rice in my Chorizo and Cauliflower Rice Stuffed Peppers. People seemed to need or want a more in-depth recipe for just this item, so here it is!
Cauliflower rice is super trendy now, and I can see why. It's light and fluffy, only takes five minutes to make, and can replace rice in any dish. Normally I try not to fall into food trends, but after testing this myself, I have come to enjoy it. Maybe you are like me, distrustful of healthy food that is rebranded as "comfort food." I just couldn't make the math work in my head and thought there was no way this crunchy veggie could convince me to pass up a scoop of rice with my dinner. Well sometimes it's nice to be wrong.
Bottom line: Whether you're trying to sneak more vegetables into your day, are avoiding grains or heck, just want another idea for the dinner, cauliflower is something you should try.
Now here is how to make some delicious cauliflower rice.
Lemon and Garlic Cauliflower Rice
Prep time: 10 minutes
Cook time: 10 minutes
Total time: 20 minutes
What You Need
1 head cauliflower, any size
1 tablespoon olive oil
3 gloves fresh garlic, minced finely
3 tablespoons freshly squeezed lemon juice, reserving slices for garnish
Salt and pepper to taste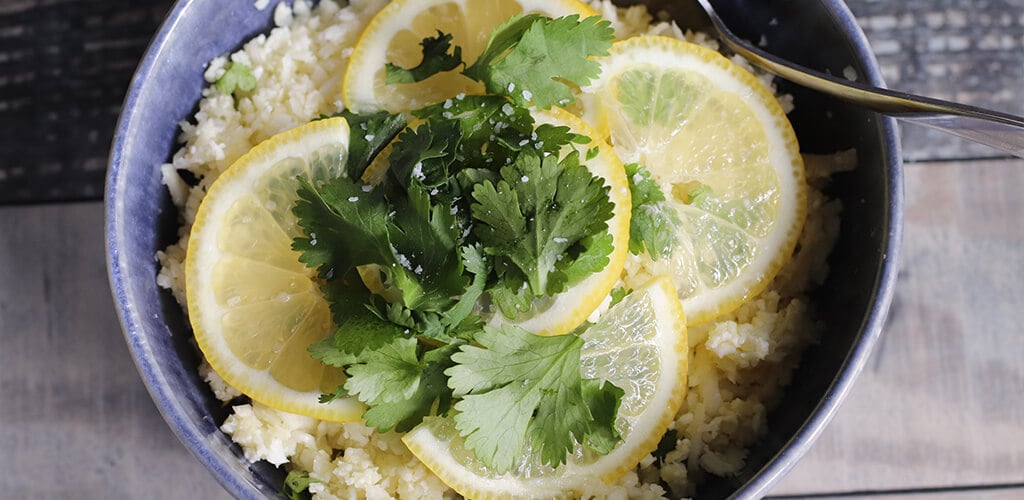 What You Will Do
Cut the cauliflower into large pieces. Cut the head of cauliflower into quarters, then trim out the inner core/stems from each quarter. Break apart the cauliflower into smaller florets with your hands.
Transfer the cauliflower to a food processor fitted with the blade attachment. Don't fill the food processor more than 3/4 full; if necessary, process in two batches.
Pulse the cauliflower until completely broken down and rice like.
Pull out any unprocessed pieces. Some florets or large pieces of cauliflower might remain intact. Just pull these out and set them aside (you can use a cheese grater and grate these finer if you like). Transfer the cauliflower to another container and re-process any large pieces.
Once you are done processing all of the cauliflower, it is time to cook it. Cooking makes the cauliflower more tender and rice-like.
Warm a tablespoon of olive oil in a large skillet over medium heat. Stir in the freshly minced garlic and sauté for 2 minutes. Stir in the cauliflower and sprinkle with a little salt. Cover the skillet and cook for 5 to 8 minutes, until the couscous is as tender as you like. Add the 3 tablespoons of lemon juice and toss to warm.
Season with salt and pepper to taste and garnish with fresh slices of lemon if you prefer.
Serve immediately.
Recipe Notes:
For this recipe I used a food processor to shred or "rice" the cauliflower. If you do not have a food processor you may use a cheese grater as well. This will produce the same result.
The cauliflower rice can also be sealed in airtight containers or bags and frozen for up to 3 months. Thaw on the counter for a few minutes before using or cooking.
Now the last thing you have to do as my daughter would say is Eat, Eat.
You may also like
Parmesan Roasted Cauliflower