Watermelon, Peach & Feta Summer Salad

Tomatoes are normally a staple in all salads, right? However, what if you have a partner that can't stomach them due to the high acidity of the fruit. Well, I can tell you that there is no need to panic.
This is where watermelon makes the perfect substitute and, in the summer, when they are in season, how can you pass them up?
Watermelons have an alkaline forming effect in the body and therefore reduce acidity and inflation of the stomach lining. This means anyone with any diet can eat watermelon. It's almost the perfect food.
So, I know you see the health benefits to eating the watermelon, but I know you may be a little confused about how all of the ingredients combine together. You will have to believe me when I say they do!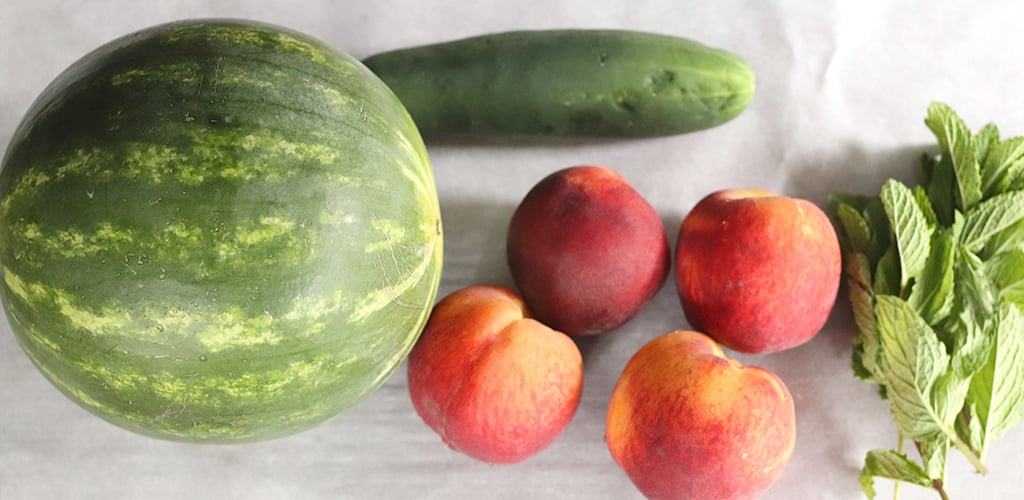 When it comes to summer salads, there is no wrong combination. Somehow everything just combines together perfectly. Since there is an endless amount of fresh produce that is in season you can really get creative.
Most of my summer salads use cucumbers for a nice crunchy texture and as its bland in flavor it doesn't take away anything or distract from the vinaigrette. I like to use chopped up peaches for some sweetness and mint for a palette cleansing effect to finish off the bite. Lastly, when it comes to the cheese, I use Feta as it is the perfect combination to the fresh and clean mint and refreshing watermelon.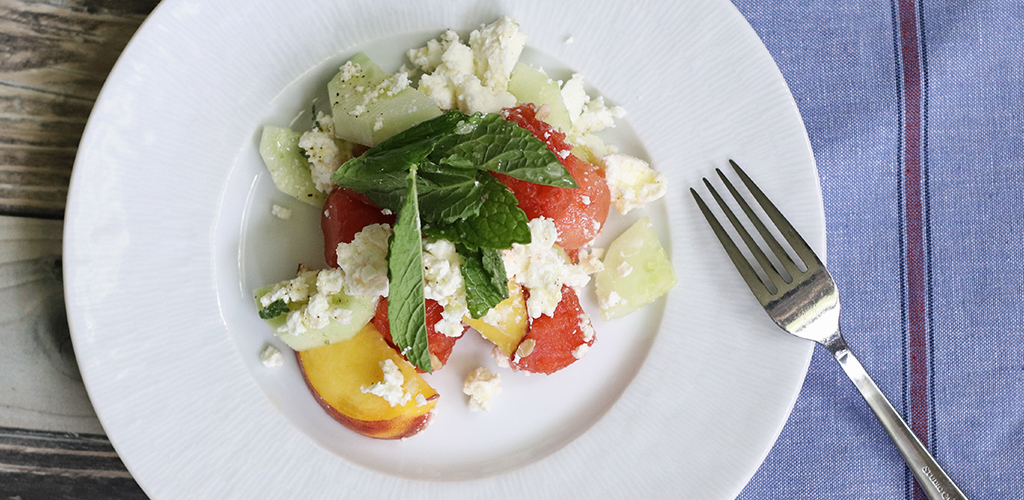 Watermelon, Peach & Feta Summer Salad
Prep time: 15 minutes
Cook time: 0 minutes
Total time: 15 minutes
What You Need
For the Salad:
2 small seedless watermelon, cut into 1-inch cubes or melon balls
3 yellow peaches, sliced
2 cucumbers, sliced into ½ inch thick rounds
1 sheet fresh feta cheese, crumbled
4 tablespoons torn mint plus extra for garnish
Kosher salt and freshly cracked black pepper to taste
For the Vinaigrette:
4 tablespoons olive oil
3 tablespoons citrus champagne vinegar
3 cloves garlic, minced finely or pressed with a garlic press
1/2 teaspoon dried Italian seasoning
Kosher salt and freshly cracked black pepper to taste
What You Will Do
First, I like to cut the watermelon in half and to use a melon baller, or small ice cream scoop and make symmetricall balls. Then, place in bowl to the side.
Next, slice the peaches and set aside.
Chop the cucumber and set aside.
Lastly, tear the mint and set aside.
In a small mixing bowl combine the olive oil, citrus champagne vinegar, fresh garlic, dried Italian seasoning, 1 tablespoon of the freshly torn mint, salt and freshly cracked black pepper. Whisk together until combined and set side.
On a large serving platter first place and arrange the watermelon balls, this is followed by the sliced peaches and then the chopped cucumber.
Take the large sheet of Feta cheese and crumble over the top of the salad with your hands.
Top with the freshly torn mint and drizzle or spoon the vinaigrette over the salad.
Season with freshly cracked pepper and kosher sea salt to your liking and serve immediately!
Now the last thing you have to do as my daughter would say is Eat, Eat!
You may also like
Simply Sweet Lemon Mint Fruit Salad