Weeknight Special: Shell-less Taco Salad

Whose favorite night of the week isn't Taco Tuesdays? I know for sure it is mine. However, I must admit there is always one hang-up for me and that is the number of carbs present in any taco meal. This Taco salad is free of any taco shell, tortilla chips, rice, and therefore low carb making it, in my book, guilt-free.
If you find you need that crunch, I do like to add fresh corn to this recipe. I know corn is not considered low-carb so depending on your diet you can add it or not. Spiced cauliflower or broccoli can also work if corn is not for you – just experiment with the flavors. As always, make this recipe your own! Not only is this dinner a weeknight staple in my house, but it is also fast, easy, and most importantly healthy.
Shell-less Taco Salad
Prep time: 15 minutes
Cook time: 15 minutes
Total time: 30 minutes
What You Need
For the Salad:
1-pound ground chicken
2 teaspoons olive oil
½ small shallot diced
3 tablespoons taco seasoning
1/4 cup water
16 oz butter lettuce
2 cups compari tomatoes halved or quartered
½ cup grated colby jack cheese
2 ears of corn, cooked, and corn sliced off the cob *
2 avocados diced
cilantro leaves
1 cup black olives
1 cup black beans rinsed and drained
* If low-carb do not use. Suggest subbing cauliflower or broccoli.
For the Cilantro Dressing:
1/2 shallot
2 cups tightly packed fresh cilantro leaves stems removed (about 4 ounces)
1/2 clove garlic
1 tablespoon Greek yogurt or sour cream
1/2 cup olive oil
2 tablespoons champagne vinegar
1 teaspoon salt and pepper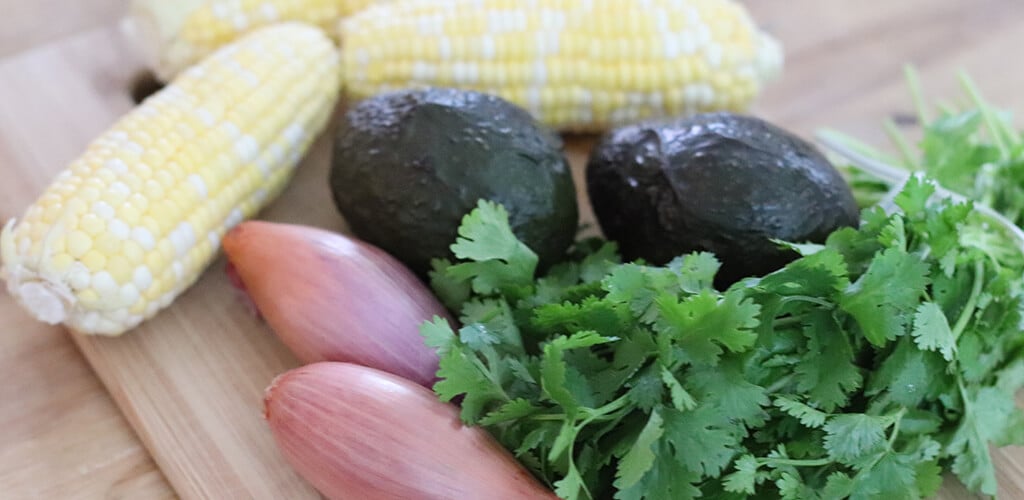 What You Will Do
For the Cilantro Dressing:
Combine all the ingredients in a blender or food processer and blend for 3 minutes until smooth. Taste and adjust with salt and pepper as needed, then set aside.
For the Salad:
Bring a pot of heavily salted (2 tablespoons) water to a rolling boil. Place in the corn and allow to cook for 5 minutes to slightly soften. If on a low carb diet – skip to step 3
Remove from heat and run under cool water. Once cooled cut corn off of the cob and place aside.
Next, place a medium-sized skillet over medium-high heat and add the olive oil.
Add the diced shallot and sauté for 5 minutes until soft.
Add the ground chicken and continue to cook for 6-7 minutes or until fully cooked to your liking.
Add the taco seasoning and the 1/4th cup water and reduce heat to low.
Simmer the mixture for 5 minutes while you assemble the salad.
After 5 minutes put the skillet aside to cool.
Place the butter lettuce in the bottom of your bowl or plate as well as your other ingredients (tomatoes, olives, avocado, black beans) as to your liking.
Top with the meat, shredded cheese, and a few tablespoons of the cilantro dressing as desired. I also like to add a little extra fresh cilantro to the top as a nice garnish.
Serve immediately.
Recipe Tips:
I love to use ground chicken in this recipe as it has less fat and a lighter flavor that balances the spiciness and salt from the taco seasoning very well. You could also use ground turkey or beef. If you do use ground beef, cut the taco seasoning portion down from 3 to 2 tablespoons.
I add 1 tablespoon of Greek yogurt ( or sour cream if you like) to my dressing depending on what I have available in my refrigerator. If you would like to omit this ingredient due to the fat content, do not worry, your dressing will have the same flavor. However, this will make it will be more of a vinaigrette in texture so I recommend tossing the salad a few times before serving.
Now all you have to do as my children would say is Eat, Eat. Or as I would say - Happy Taco Tuesday!! – no matter what day it is. Enjoy!
You may also like
Carefree Chickpea Salad