Toasted Chickpea and Avocado Toast

This recipe is a combination of two of my favorite and easy recipes, Healthy Butter Chicken for the chickpea topping and my The Ultimate Avocado Toast for everything else. I wonder why it took me this long to combine the two together. After you taste this, I think you will agree that this is your new favorite brunch item.
Toasted Chickpea and Avocado Toast
Prep time: 5 minutes
Cook time: 20 minutes
Total time: 25 minutes
What You Need
For The Chickpeas:
1 15 oz can chickpeas, rinsed and drained
1 tablespoon olive oil
1 teaspoon ground cumin
1/2 teaspoon garlic powder
1/2 teaspoon smoked paprika
1/2 teaspoon kosher salt
For The Avocado Toast:
4 slices of bread, I like to use a 5-grain wheat or a hearty thick cut white bread
2 large avocados, I used tropical
3 tablespoons of freshly squeezed lime juice, from 2 limes
Salt and pepper to taste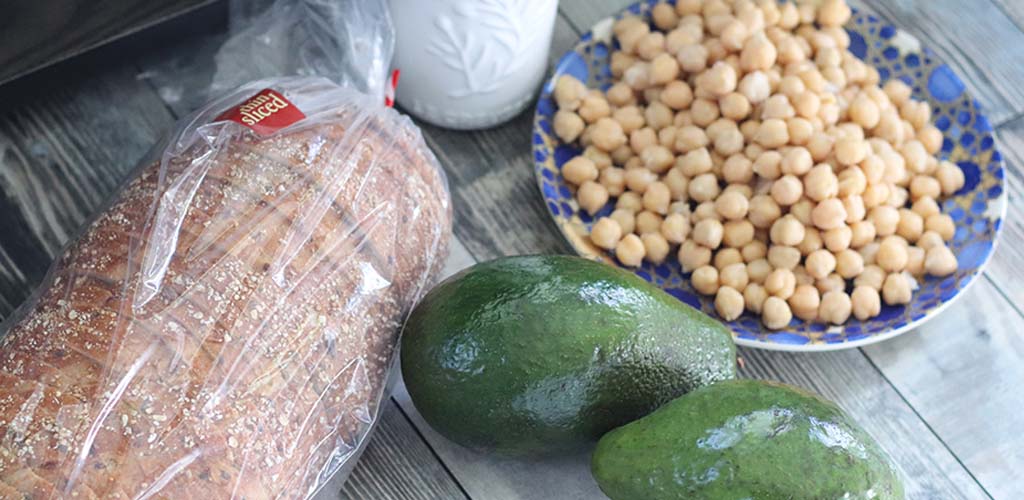 What You Will Do
Preheat the oven to 425° F, drain and rinse your chickpeas.
Spread the chickpeas on a kitchen towel and gently pat them dry. It's essential to make sure they're totally dry before you cook them - damp chickpeas won't crisp up in the oven.
Transfer the chickpeas to a foil-lined or parchment-lined baking sheet and toss them with a drizzle of olive oil, lemon juice, ground cumin and generous pinches of sea salt. Spread evenly on the baking sheet.
Transfer the baking sheet to your preheated oven and roast for 20 minutes, or until crispy.
Remove from the oven and while the chickpeas are still warm, toss with more salt and pepper to taste.
While the chickpeas are roasting, make the mashed avocado.
Remove the pits from the avocados and discard. Scoop out the avocado flesh with a spoon and place into a medium bowl. Add lemon juice, salt and pepper and mash with a fork.
Spread the mashed avocado onto the toast slices. Top with roasted chickpeas and any fresh herbs of your choosing. I like to serve with multiple different options, such as basil, dill, or mint.
Recipe Tips:
The toasted chickpeas will last in an airtight container in the refrigerator for up to 5 days.
Now the last thing you need to do, as my daughter would say, is Eat, Eat.
You may also like
Chickpea Noodle Soup