Healthy Butter Chicken

Butter chicken is an Indian dish of chicken in a mildly spicy tomato-based sauce. You may not have heard of this type of recipe, and to be fair it's traditionally called Chicken Makhan. My kids love this dish and when they wanted to know what it was called, Butter Chicken was easier for them to remember.
I love, love, love Butter Chicken! BUT I do not love the extra fat and carbohydrates that come with the dish. The marinade normally has heavy cream, Ghee (clarified butter) and under the sauce is always white basmati rice. I tested a few things and creating this recipe that mixes things up and allows me to eat this chicken guilt-free! If you have seen my other recipes, one can tell that I am a fan of Chickpeas. Chickpeas are a great addition to soups, stews, salads, and sandwiches. Not only are they an amazing protein source, but they can also add texture to any dish. Now, let's dig in!
Healthy Butter Chicken
Prep time: 40 minutes
Cook time: 20 minutes
Total time: 1 hour
What You Need
2 lbs. boneless, skinless chicken thighs, cut into 1-inch cubes
For the Marinade:
1 cup tomato sauce
1 ½ cup plain Greek yogurt (I use non-fat)
2 teaspoons cumin
2 teaspoons garam masala
1 teaspoon ground coriander
1 teaspoon salt
3/4 teaspoons black pepper
1 teaspoon ground fresh ginger or ginger paste
1/4 teaspoon chili powder
For Cooking:
1 tablespoon olive oil
1 small shallot, minced
5 cloves garlic, minced
1/2 cup chicken stock
For the Chickpeas Base:
30 oz chickpeas
1 tablespoon lemon juice
1 tablespoon extra-virgin olive oil
Salt and pepper to taste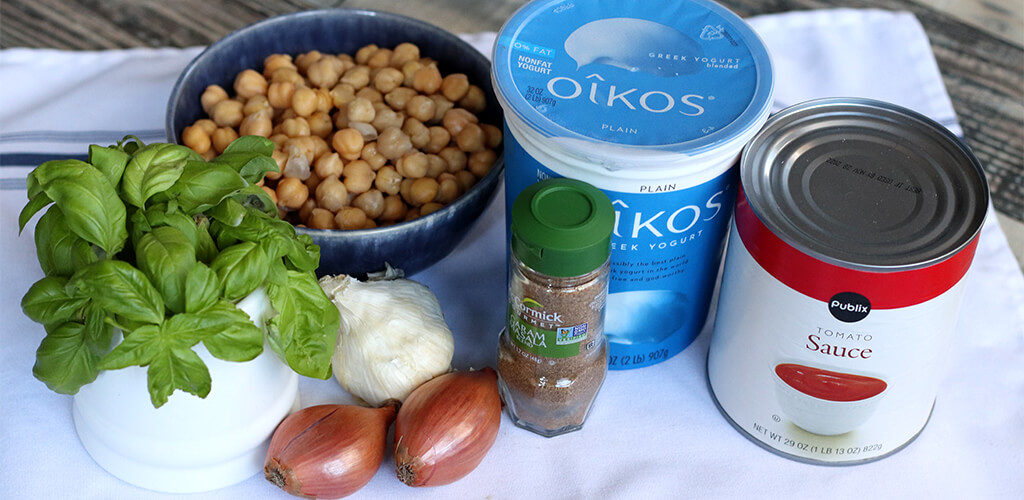 What You Will Do
For the Chickpeas Base:
Preheat the oven to 425° F, drain and rinse your chickpeas.
Spread the chickpeas on a kitchen towel and gently pat them dry. It's essential to make sure they're totally dry before you cook them - damp chickpeas won't crisp up in the oven.
Transfer the chickpeas to a foil-lined or parchment-lined baking sheet and toss them with a drizzle of olive oil, lemon juice, and generous pinches of sea salt. Spread evenly on the baking sheet.
Transfer the baking sheet to your preheated oven and roast for 20 minutes, or until crispy.
Remove from the oven and while the chickpeas are still warm, toss with more salt and pepper to taste.
Place aside and allow to cool while you continue cooking your Butter Chicken.
For the Chicken:
Place the diced chicken into a bowl or an airtight plastic bag.
Next, combine all of the marinade ingredients in a large mixing bowl and stir well.
Pour the marinade ingredients over the chicken and stir to coat all of the chicken. Let the chicken marinate for at least 30 minutes at room temperature or up to 12 hours in an airtight container in the refrigerator.
Heat a large skillet over medium-high heat. Add the olive oil and allow it to heat up, 1-2 min.
Add minced shallot and garlic, then sauté for 3-5 minutes, only until they become aromatic and opaque in color.
Add the marinated chicken to the pan. You will add each piece of chicken individually- saving the marinade for the next step. Sauté for 2-3 minutes on each side.
Now you can add the remaining marinade from the mixing bowl and chicken stock to the pan. Reduce the heat to medium or medium-low, keeping it hot enough to maintain a slow simmer. Let the chicken cook for 20 minutes.
Season to taste with salt and pepper.
Remove the pan from the heat and allow the chicken to cool in the pan for 10 minutes before serving.
In a bowl lay a bed of toasted chickpeas and spoon the chicken and sauce mixture over the top.
Serve with some freshly torn basil or cilantro over the top.
Recipe Tips:
I think this tastes the best when you let the chicken marinate for at least an hour (in the refrigerator). If you've only got 30 minutes, that is okay and will turn out well, I just think an hour gives you a little more flavor.
Garam masala is a tasty blend of ground spices often used in Indian cooking. This is easily found on the spice aisle in any grocery store. If you don't have any, you can almost create your own by combining equal parts curry powder, ground cloves, and cumin.
If you like some more spice to your dish you can increase the amount of chili powder up to 1/2 teaspoon.
If you like a thick sauce, I recommend omitting the chicken stock used. I like the sauce to be a little thinner as I am using chickpeas as the base and I want that toasted texture to come through.
Now the last thing you have to do as my daughter would say is eat, eat. Or as my son would say "Yay Butter Chitchken" … yes, that is really how he says chicken – we are working on it.
You may also like
Carefree Chickpea Salad