The Ultimate Avocado Toast

While you could call this recipe simply "Avocado Toast" I added the "Ultimate" to the beginning for three reasons.
The induction of egg and bacon to this recipe.
The fact that this can be served numerous ways like as a salad, on toast, or served to the side of any meal.
Everyone will Ultimately devour it in any form they want. See what I did there!
I love eggs in any form, honestly, and luckily so do my children. This recipe came to be after Easter Sunday when I had a ton of leftover hard boiled eggs that I wanted to use up but in a new healthier way. The bacon adds even more protein and flavor to the salad while seasoning it with a salty, smoky flavor. The egg and avocado add plenty of healthy fats, so dressing is definitely not needed, just season with a generous dose of lemon in the light vinaigrette and you are done!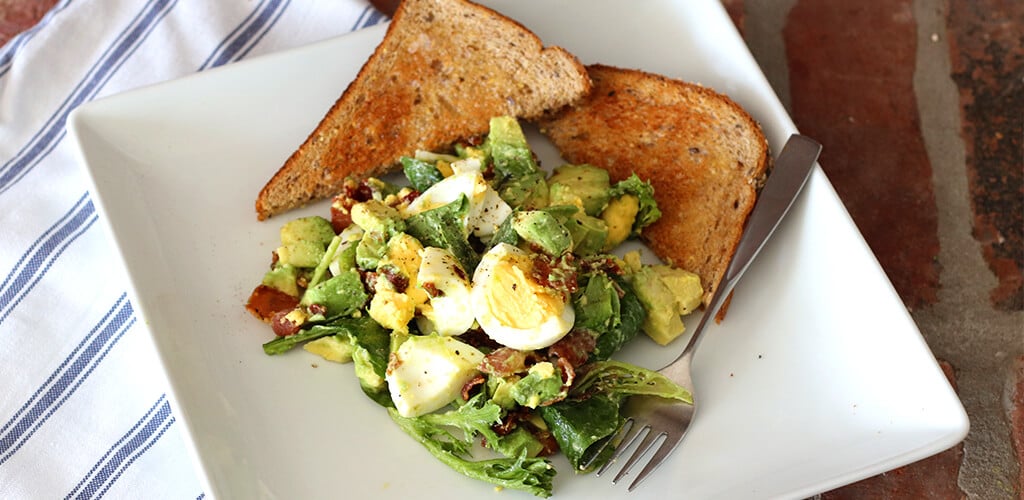 Ultimate Avocado Toast
Prep time: 5 minutes
Cook time: 10 minutes
Total time: 15 minutes
What You Need
12oz bacon (or whatever amount you have) *
8 hard boiled eggs
2 chopped avocados
2 tablespoons olive oil
2 tablespoons fresh lemon juice or 1 full lemon
1 tablespoon champagne vinegar
1 tablespoon dijon mustard
kosher salt and black pepper, to taste
lettuce and buttered toast, for serving
What You Will Do
Place all of the eggs in a medium size pot of boiling hot water. Use a ladle to place the eggs into the boiling water and do not drop in as they will break. Allow to boil for no less than 5 minutes (will be soft-boiled) and no longer than 10 minutes (the yoke will become extremely hard and discolored).
Run cold water over the eggs once done to stop the cooking process and to prevent discoloration. Crack and peel the eggs and then chop into bite sized pieces. Or you may cook the night before and allow to cool in the refrigerator. *
Cook the bacon in a large skillet over medium-high heat, turning once, until browned, 6 to 8 minutes; crumble once cooked and place aside.
Using a sharp chef's knife, slice through the avocados lengthwise until you feel the knife hit the pit. Then rotate the avocado, keeping the knife steady, to make a cut all around the pit. Twist the two halves apart. Remove the pit by aiming your knife at the pit and whack into it, using enough force that the knife won't slip. Twist the knife to pull out the pit. Throw away the pit. Then use your knife's tip to cut into the avocado, making squares, and scoop it out with a spoon.
In a mixing bowl combine the olive oil, fresh lemon juice, champagne vinegar, Dijon mustard, salt and pepper. Whisk together and place aside.
Combine the avocados, bacon, eggs and lettuce or mixed greens in a bowl. Pour your dressing on top of the salad. Mix all ingredients together, stirring not too much, but just enough to make sure that the dressing covers the salad. Do not mix too much or the avocado and egg tend to mush together.
Serve the Ultimate Avocado Toast with the buttered toast on the side or over the toast for the most traditional take, or simply just as a salad. I have done all three.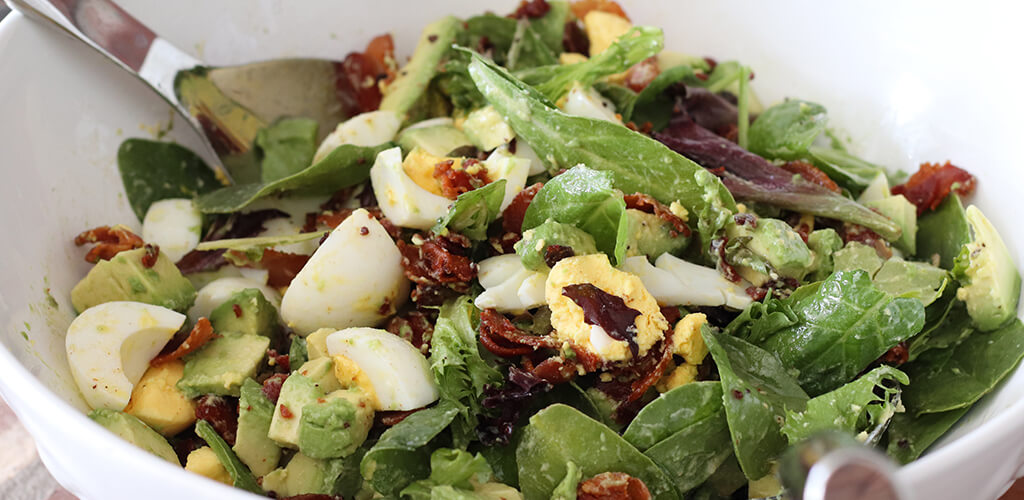 Recipe Tips:
I have made this recipe with only 4 strips of bacon, so really any amount you have on hand works.
Hard boiled eggs are good for up to one week so this recipe can definitely be planned out in advance.
Now the last thing you will have to do as my daughter would say is Eat, Eat!/p>
You may also like
Broken Eggs Skillet