Meatless Monday Special: Chickpea Noodle Soup

Chickpeas are an amazing superfood in my opinion. I use them in so many salads and as a crunchy topping to some of my other meals such as my Healthy Butter Chicken. Chickpeas are an amazing source of plant-based protein – there are 3 grams of protein in a 1-tablespoon serving. This makes for a great "Meatless Monday" meal option for you and your family. The thickness of the broth makes this feel like more of a chili than a soup and therefore I don't miss the normal chicken addition. Any broth may be used as the base, chicken or vegetable, both will be excellent.
Chickpea Noodle Soup
Prep time: 10 minutes
Cook time: 30 minutes
Total time: 40 minutes
What You Need
3 tablespoons olive oil
1 small shallot, roughly chopped
1 carrot, roughly shredded
6 cups vegetable stock or chicken stock
2–15 ounce can chickpeas, drained and rinsed
10 ounces medium shells pasta
3 teaspoons fresh thyme
Kosher salt and black pepper to taste
Freshly shaved parmesan for topping
Freshly torn cilantro for topping
Freshly minced chives for topping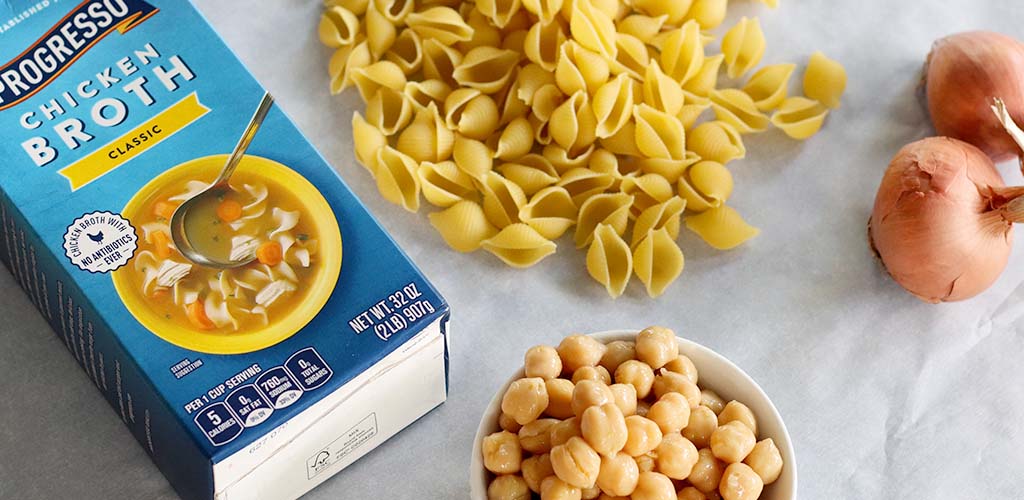 What You Will Do
For The Soup:
Bring a large pot of heavily salted water to a boil and add in the pasta. Cook until al dente, about 5-7 minutes, and place aside.
Heat the oil in a large saucepan over medium heat. Add the shallot, carrots and thyme. Sauté until soft and you can see through the shallots, about 5 minutes.
Add the vegetable or chicken stock and chickpeas and simmer for 5 minutes.
Scoop out half of the chickpeas and puree them in a food processor before stirring back into the pot.
Stir in the pasta and let the soup simmer for 5 minutes so that all of the flavors can combine.
Allow to cool and top with freshly torn cilantro, freshly minced chives and the toasted chickpeas, please see below for details.
For the Chickpea Topping:
Preheat the oven to 425° F, drain and rinse your chickpeas.
Spread the chickpeas on a kitchen towel and gently pat them dry. It's essential to make sure they're totally dry before you cook them - damp chickpeas won't crisp up in the oven.
Transfer the chickpeas to a foil-lined or parchment-lined baking sheet and toss them with a drizzle of olive oil, lemon juice, and generous pinches of sea salt. Spread evenly on the baking sheet.
Transfer the baking sheet to your preheated oven and roast for 20 minutes, or until crispy.
Remove from the oven and while the chickpeas are still warm, toss with more salt and pepper to taste.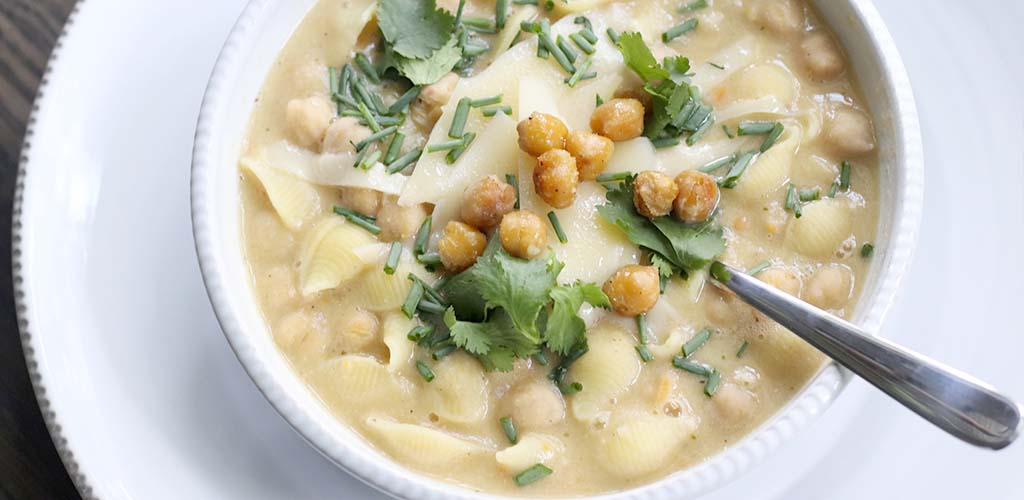 Recipe Tips:
This will last in an airtight container in the refrigerator for the 3 days or in a Ziplock bag in the freezer for 3 months.
To reheat, heat slowly in a sauce pan or pot on the stove over medium high heat.
Now the last thing you have to do, as my daughter would say, is Eat, Eat.
You may also like
Chicken Coconut Curry Soup