Autumn Lemon, Arugula and Herb Potatoes

This side dish is easy and yet extremely flavorful. The baby potatoes are colorful and make the perfect companion to nearly any protein you can think of. Or, as this is so filling, you can just eat it alone, as I sometimes do.
I love to serve these as a side dish to my Easy Roasted Lamb, Fantastic Flank Steak, or my favorite Thanksgiving Miracle: Too Easy Turkey.
As an amazing surprise, baby potatoes (and all potatoes for that matter) are an amazing source of potassium. One small baby potato has 4% of your daily potassium intake. If you are calculating it, you are correct – Potatoes contain more potassium than bananas.
You can eat this side dish knowing you are doing something amazing for your health!
Autumn Lemon, Arugula and Herb Potatoes
Prep time: 5 minutes
Cook time: 10 minutes
Total time: 15 minutes
What You Need
1 lb. of mixed baby potatoes
3 cups baby arugula
3 tablespoons of lemon juice, from 1-2 fresh lemons
2 tablespoons extra virgin olive oil
2 cloves fresh garlic chopped
2 tablespoons chopped fresh chives
1 tablespoon chopped fresh dill
2 tablespoons kosher salt (for boiling water)
Kosher salt and pepper, to taste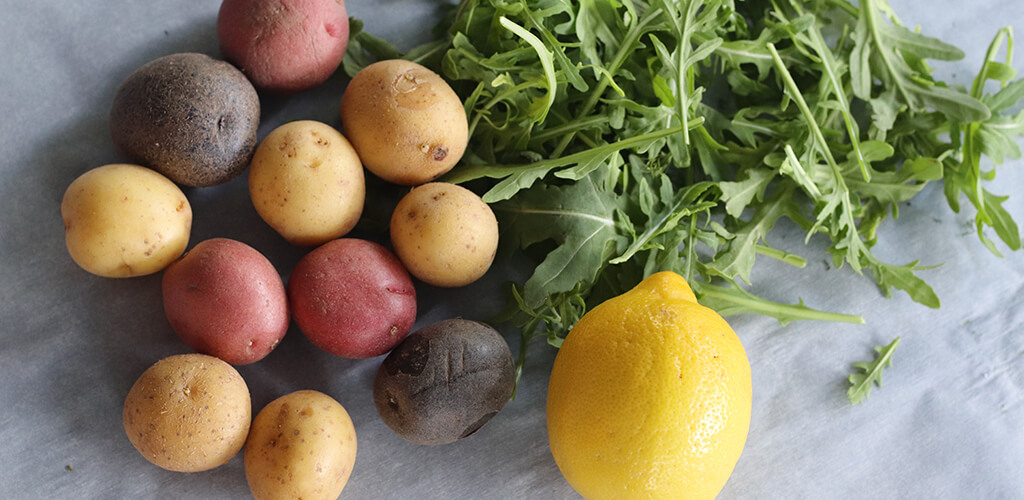 What You Will Do
Bring a large pot of heavily salted (2 tablespoons) water to a boil.
Once the water is boiling place in the baby potatoes.
As the water is boiling, chop up the herbs and the garlic to place aside.
Once the potatoes have finished boiling, you will know this if you can pierce a potato with a fork easily, this will take about 10 minutes.
When the potatoes are done then strain in a colander.
Into the large pot you cooked the potatoes in place in the chopped-up garlic, lemon juice, olive oil, salt and pepper and stir together.
Take the potatoes and pour back into the pot and stir to coat the potatoes with the lemon juice, garlic, olive oil, salt and pepper.
Toss in the arugula and fresh herbs and toss to make sure all of the ingredients are coated.
Move to a large serving platter or bowl and top with more herbs and salt and pepper if you like.
Serve immediately.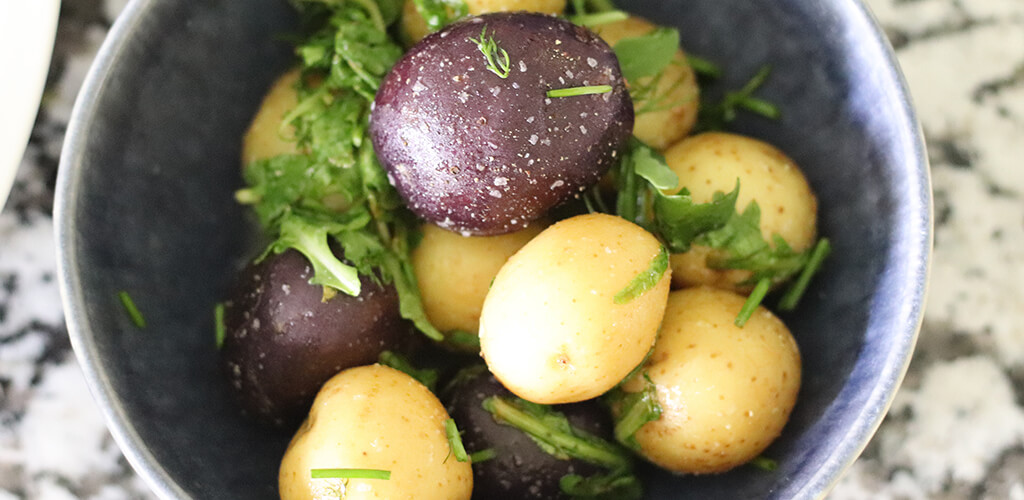 Recipe Tips:
The leftover potatoes will stay in the refrigerator for 5 days in an airtight container.
Now the last thing you have to do as my daughter would say is Eat, Eat.
You may also like
Grill Creations: Feta Cheese Kids Burger