Fit Tip: Getting The Kids Active At Home

If you're a parent like me, you've likely had A LOT of time with your kids at home over this last year. Particularly, as most of the nation's school-aged children transitioned to virtual learning at home. Sometimes all this time at home feels like a blessing, and sometimes feels really inconvenient, but either way, you've probably been searching for things for keeping your kids busy and keep them moving.
Back in August, we talked about "Working Out With Kids." I shared some exercises I regularly do with my 4-year-old and 2 year old. We discussed how important it is for our children to see adults modeling healthy behaviors through exercise, and that they learn physical activity as a normal, healthy part of life, and learn to build it into their routines. I'm a mom of toddlers, and I've felt the daily struggle of both trying to get my workouts in at home, while also trying to get my kids' endless energy out! I've gotten messages from many parents over the last several months experiencing the same struggles but also looking for options for their elementary, middle, and high school-aged children to get some exercise without their regular school gym class.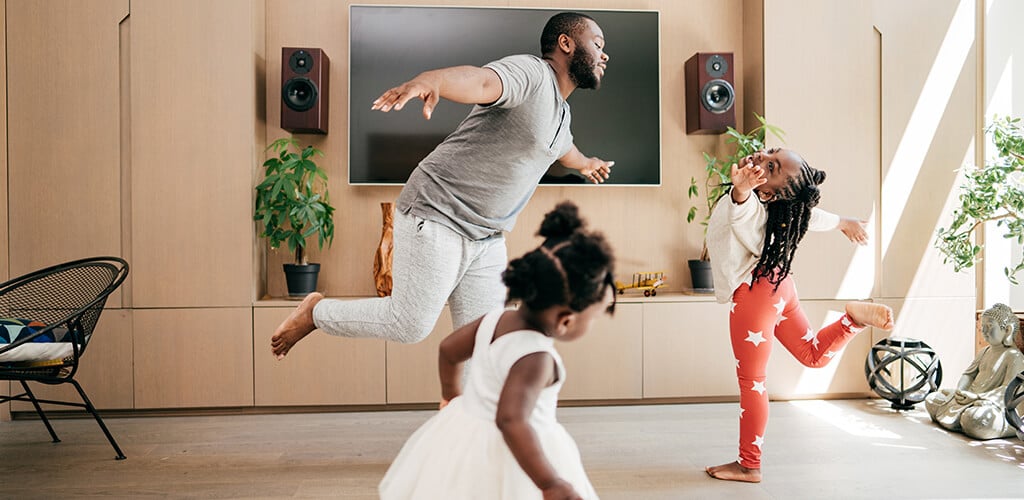 Just as I would tell my adult clients during this time, the primary goal with kids and exercise should be to just get moving. Kids need to play, and kids need to expend energy, and so I look for ways to do both at the same time. The CDC recommends that children ages 6-17 get 60 minutes of physical activity per day. That can be hard to do when school is also on a screen from home.
Here are a few ways to get your kids moving at home.
Focus on basic bodyweight exercises.

Good ole' squats, pushups and planks have long been staples in both school gym classes and workout classes. They are classic and require no equipment, so perfect for at home.

Make it a game.

If you have access to outdoor space, old-fashioned games like Tag, Red Light Green Light, or Relay Races are great ways for younger kids to get movement through play. Middle school and high schoolers usually embrace competition as well, so engage them in a wall sit or plank hold competition, or sports in the yard and see who wins!

Work in movement throughout the day.

Take a family walk or bike ride after dinner, or have a kitchen dance party while doing dishes (this is my family's favorite!) Set a timer or use a fitness tracker to get up and move in between classes.

Workout together!

If you have a regular fitness routine, encourage your kids to join in! Put on your favorite video (perhaps one from the BowFlex YouTube channel!) and have them grab a toy or a water bottle as a weight.
Looking for more ideas? Check out my workout below that incorporates bodyweight exercises along with some fun games for both you and your kids to get active.
Kids Gym Class
Do each for 45 seconds, then repeat.
Squat, Tap & Reach
Hustle & Freeze
Ninja Punch & Jump
Plank Up Downs
Swim & Surf
You may also like
Fit Tip: 7 ways to get your kids moving