Hanukkah Special: My Family's Latke Recipe

Each family has its own blend of traditions and holidays. My children and I celebrate Christmas and Hanukkah which is new for us. Thanks to my fiancés family traditions we were able to make our own, with this fun new healthy spin on an old recipe. I love to use a mix of traditional flour and almond flour to reduce some of the carbs. I also use grapeseed oil, as I find it cooks food very well at high heats without burning. Lastly, instead of a traditional sour cream or applesauce I top each latke with my Low-Fat White Truffle Dip and chopped chives as a way to mix up the flavors and textures of a traditional holiday meal!
My Family's Latke Recipe
Prep time: 15 minutes
Cook time: 15 minutes
Total time: 30 minutes
What you Need
For the Latkes:
1 lb. Russet potatoes, peeled (about 2 large potatoes)
2 large eggs, beaten
3 garlic cloves, peeled
1 shallot
1/8 cup all-purpose flour
1/8 cup almond flour
1 1/2 tsp. kosher salt, divided
1/4 cup grapeseed oil, for frying
2 tbsp. freshly chopped chives
For the Truffle Dip:
2 tbsp. white truffle oil
1/4 cup low-fat sour cream or Greek yogurt
1/4 tsp. garlic powder
1/4 tsp. Italian seasoning
1/4 tsp. onion powder
Salt and pepper to taste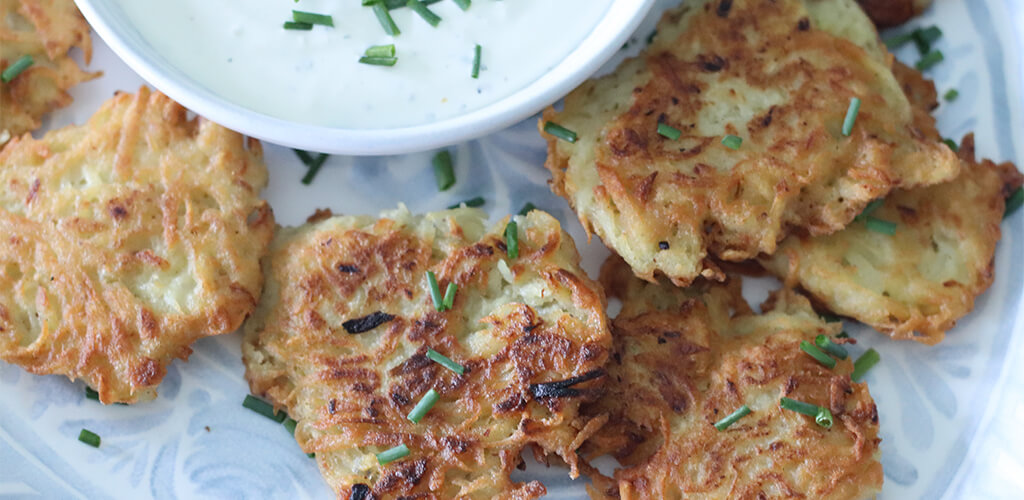 What You Will Do
For the Latkes:
Using a food processor or box grater, grate potatoes, garlic cloves and the shallot. Transfer to colander and rinse. Next pour the mixture into a clean dish towel or paper towel and squeeze out as much liquid as possible.
In a large bowl, combine the potatoes, shallot and garlic mixture with eggs, flour, and 1 teaspoon salt.
In a large skillet over high heat, heat about 1/8 cup grapeseed oil until shimmering. To test if oil is hot enough, add one piece of grated potato. If it begins to bubble the oil is ready.
Add a spoonful of the mixture to your hand and flatten into a patty then place the potato mixture into the oil and pat down to flatten. Fry until crispy and golden, about 3 minutes per side. Transfer to paper towels to drain, then sprinkle with remaining salt.
Serve with chives and the following dip.
For the Truffle Dip:
Combine all ingredients in a small bowl. Mix and blend well.
If the sauce is too thick for your liking, use ¼ teaspoon of water or lemon juice to thin it out. Repeat to your desired liking or thickness.
Serve immediately, place a small spoonful on top of each latke, or place in a small serving dish to the side of each latke.
Recipe Tips:
Now the last thing you have to do, as my daughter would say, is Eat, Eat. I love to serve these to my children with sparkling apple juice to truly celebrate the Holiday!
You may also like
Winter Abundance Salad