National Dessert Day Special: Pumpkin Carrot Cake with a Salted Coconut Caramel Drizzle and Coconut Whip

Happy National Dessert Day Bowflex Family! As a fun way to celebrate this holiday, I wanted to make an old family fall recipe, with my healthy spin of course!
I always loved the smell of my mom's baking on the weekends when I woke up. It took me becoming a mother myself to truly appreciate the love and work that goes into baking. I feel that putting my own healthy spin on these recipes makes them my own! I love to use almond flour in place of regular flour as a way to minimize my carbohydrate intake. Instead of a lot of oil and heavy butter I use 2 cans of pumpkin puree to add moisture and increase the amazing nutrients in this cake. One 1/2 cup serving of Pumpkin Puree supplies 100% of your suggested daily Vitamin A intake. That's amazing!
For the toppings I love to use coconut milk as it is naturally sweet and contains natural fats as opposed to heavy creams, artificial sugars, and milk fats. So not only is the cake delish, its pretty good for you too! You will be amazed at how good this cake tastes!
Pumpkin Carrot Cake with a Salted Coconut Caramel Drizzle and Coconut Whip
Prep time: 20 minutes
Cook time: 40–50 minutes
Total time: 60–70 minutes
What You Need
Pumpkin Carrot Cake:
1 cup brown sugar firmly packed
1/4 cup light extra virgin olive oil
3 large eggs
2 cups almond flour
1 tsp baking soda or baking powder
1 tsp vanilla
1/2 tsp anise flavoring
2 tsp cinnamon
1 tsp nutmeg
1 cup grated carrots
2 cups pumpkin puree
1/2 cup raisins
Salted Coconut Caramel Sauce:
1/4 cup pure maple syrup, do not use imitation
1/4 cup light amber agave
1/3 cup coconut cream only (see tips below for how to get the cream from the can)
1 tablespoon butter
1/2 teaspoon salt or more
1 teaspoon vanilla extract
Dairy-Free Coconut Whip:
13.5-ounce can coconut milk or coconut cream, chilled in the fridge overnight*
1/ 2 teaspoon confectioners' sugar
1/2 teaspoon vanilla extract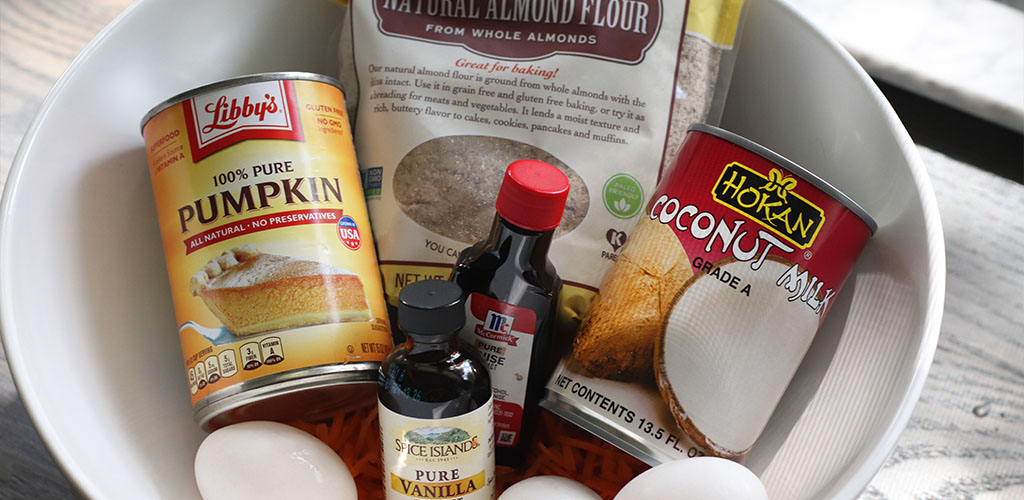 What You Will Do
Pumpkin Carrot Cake:
Preheat the oven to 350° F and make sure the rack is in the middle of the oven.
Place all of the cake ingredients in a large mixing bowl and then mix everything at once until it is completely combined with a wooden spoon. Pour the batter into a greased glass or ceramic cake pan.
Bake in the oven for 40–50 minutes, until you can pierce with a fork and remove it cleanly.
Remove from the oven and allow to cool for 5–10 minutes prior to serving.
Follow with a drizzle of the Salted Coconut Caramel Sauce and topped with the Coconut Whip.
Salted Coconut Caramel Sauce:
In a medium sized saucepan add the pure maple syrup, light agave, coconut cream, butter, vanilla, and salt.
Bring the mixture to a low rolling boil and boil for 1 minute. Reduce heat to low and then remove immediately to cool to room temperature.
Once the Salted Coconut Caramel Sauce has reached room temperature, place in the refrigerator to continue to cool and thicken.
Coconut Whip:
Remove the thick and hardened coconut cream from the can that was kept in the refrigerator.
Place the coconut cream into a mixing bowl and pour in 1/2 teaspoon confectioner sugar and ½ teaspoon vanilla extra and with a fork or whisk, whip to your desired consistency.
Last step is easy. Top the cake and devour.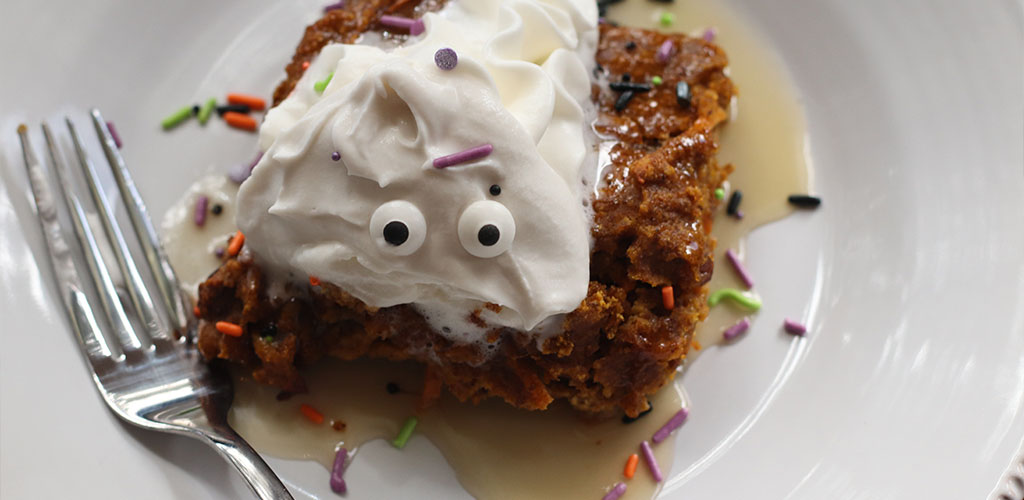 Recipe Tips:
Coconut cream is the thickened cream that is always at the top of the can of every can of coconut milk, simply use a spoon and strain the coconut cream from the top of the can.
The leftovers will keep for 5 days refrigerated in an airtight container.
I found the Halloween sprinkles at the grocery store in the baking aisle. I thought these would be a fun spin on this recipe for children or even for an adult Halloween party.
Now the last thing you have to do as my daughter would say is Eat, Eat. Or as once my son saw the spooky sprinkles he yelled "Yay, Halloween". Enjoy!
You may also like
Harvest-Time Gluten Free Fruit Crisp