Weeknight Wonder: Kale and Sausage Pasta

Let's face it, children love pasta. As a mother of two, I also love it because it's fast, easy, my kids will eat it without a fight, and it's pretty hard to mess up. But just because it's pasta doesn't mean it has to be the same thing every time. I use pasta in multiple recipes, but always change it up and add something new to add a little variety to our diets. So far the kids have not caught on.
The main selling point of this recipe is the fact that it is ready in just under 30 minutes! I know this for sure, as this recipe came about when I picked up my kids from school, ran a few errands, and had to get dinner on the table fast because they were starving.
Kale and Sausage Pasta
Prep time: 5 minutes
Cook time: 20 minutes
Total time: 25 minutes
What You Need
1 pound ground mild Italian sausage
1 leek, white and light green parts only, halved lengthwise, rinsed, and sliced finely
6 cups kale
1 cup chicken stock
1 tablespoon butter
Kosher salt and pepper and red pepper flakes to taste
1 pound Fusilli pasta
2 cups Parmesan finely shredded
1/2 cup chopped basil for serving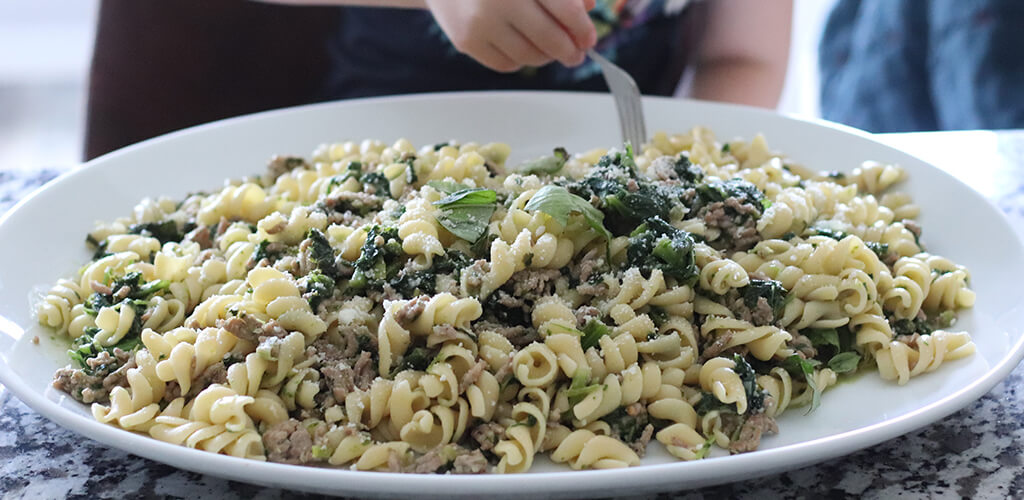 Directions
In a large skillet, bring the pan to medium-high heat and add 1 tablespoon of olive oil.
Add sausage to the pan and sauté over medium-high heat, breaking up the sausage with a wooden spoon, until browned. This takes about 5 minutes.
Add chopped leeks to sausage in skillet and cook until softened, about 5 more minutes. Add kale (1 cup at a time) and cook until wilted. Do not worry it will cook down.
Add chicken stock and cook, stirring frequently and scraping up any brown bits on the bottom of the pan. Stir in butter and season to taste with salt and pepper. Remove the pan from the heat and allow it to sit.
In a large pot of heavily salted (3 tablespoons) boiling water, cook pasta according to package instructions. Typically boil pasta for 8-10 minutes until soft.
Drain the pasta and add to the add sausage mixture, and toss to combine, adding chicken stock as needed to thicken the sauce.
Toss in the shredded Parmesan. Add salt and pepper to taste as well as some freshly chopped Basil.
Serve Immediately.
Recipe Tips:
If you are looking for the pasta to have more color, look no further than my New Years Pasta Primavera recipe for some ideas on other vegetable options to mix in.
Now the last thing you have to do as my daughter would say is Eat, Eat.
You may also like
Lemon Mascarpone Pasta