Winter Abundance Salad

I know that the holidays are going to look a little bit different this year so I want to make sure the food I serve to my family and close friends is special. This salad is at the top of my list and a go-to for what I am serving on my holiday menus. Not only is it beautiful and vibrant, but it is delicious due to the variety of ingredients. Though the list below of what you need will seem long, know that this salad is still somehow not overly difficult or complicated to make.
My favorite part of this salad is the balance of all the flavors. We have the spiciness of the arugula that blends well with the sweet pear and pomegranate. The goat cheese adds a tangy yet smooth bite that really elevates the overall taste so this salad can be served as a side dish or as a meal. This salad will make a beautiful addition to your dinner table, no matter how you spend the holidays this year!
Winter Abundance Salad
Prep time: 15 minutes
Cook time: 0 minutes
Total time: 15 minutes
What You Need
Vinaigrette:
1/2 medium shallot, diced finely, about 2 tablespoons
2 tablespoons champagne vinegar
1 teaspoon lemon juice
1/3 cup extra virgin olive oil
1/4 teaspoon white sugar or agave sweetener
1/4 teaspoon Kosher salt and freshly ground pepper, or more to taste
Salad:
5 cups arugula
2 ripe red pears, cored and cut into quarters
1 cup pomegranate seeds (at least)
3 ounces fresh goat cheese
1/2 cup sliced almonds
Directions
In a small bowl combine the olive oil, shallot, champagne vinegar, lemon juice, sugar/agave, salt, and pepper. Whisk until the salt and sugar/agave are dissolved. Place aside.
Place the arugula in a large serving bowl.
Add the sliced pear, pomegranate seeds, and almonds on top of the bed of arugula.
Crumble the goat cheese over the ingredients in the bowl (this works best if the cheese is very cold).
Whisk the vinaigrette again and add all to the salad.
Gently toss the salad with your hands or salad tongs, coating the ingredients well with the vinaigrette.
Serve immediately.
Recipe Tips
How to Open a Pomegranate: I am giving this tip because I used to cut pomegranate the wrong way which would cut through a hefty amount of the seeds and rupture the fruit.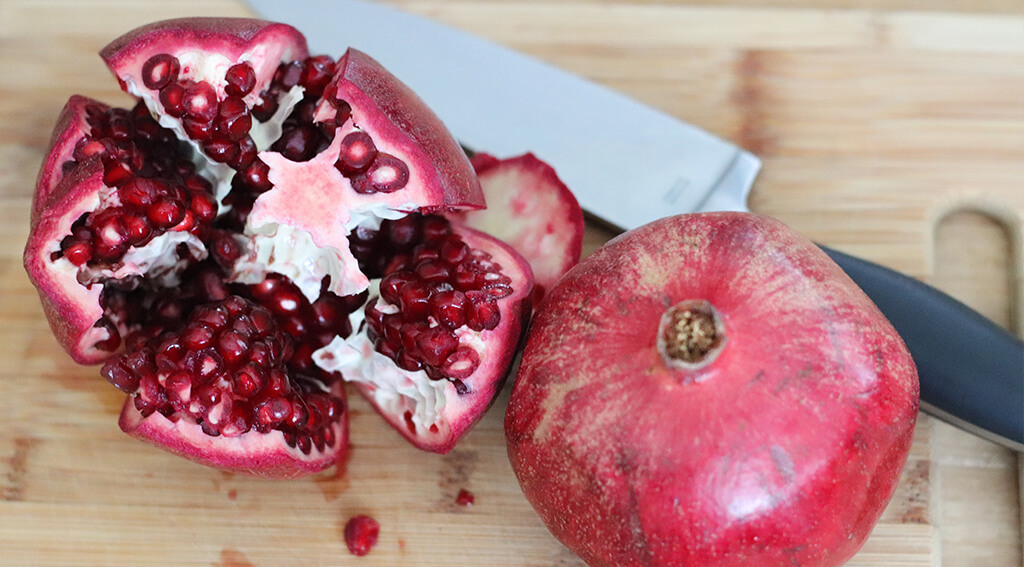 Place the pomegranate standing up with the flat side down. The pomegranate's blossom end, the one that looks like a crown, should be on top. Cut around and remove the blossom of the pomegranate.
Use your knife to cut vertical lines along the ridges of the outside of the pomegranate just through the red part of the pomegranate skin, from blossom to stem end.
You should make about 6 cuts and then use your fingers to gently pry open the pomegranate. It should open easily, exposing the seeds. (Please see photo as a reference).
Continue to open the sections, if you've made 6 cuts, you can pry open 6 sections. It helps to work near or over a large bowl so that as you open the fruit, any loose seeds find their way to the bowl.
Pry the seeds away from the peel into the bowl and rinse off, then pat dry-gently, to place on the salad.
Recipe Substitutions:
If you are not a fan of arugula due to the texture or the flavor, I recommend substituting either Kale or Romaine lettuce.
Any nut may be used in this salad, however, for a similar texture, I recommend either a pine nut or pistachio (finely chopped).
If you cannot find pomegranates in your grocery store, simply use 1 tbsp of pomegranate molasses in your vinaigrette to add the sweetness back in. This can be found on any baking aisle. If you go this route, do not use any other sugar/agave in the dressing as it will be too sweet.
I prefer to use red pears in this salad as I find them sweeter. You can easily use green or yellow pears if that is your preference.
Now all you have to do as my daughter would say is Eat, Eat. Most importantly from my family to yours Happy Holidays, I hope it is a joyous one.
You may also like
Roasted Sweet Potatoes