Halloween Party Elevated Gathering Board

When the school year starts and the holidays come around, I find I focus more on making charcuterie or "gathering boards" for get-togethers. I find these to be a fun and creative way to have your guests and family snack on tasty and beautiful finger foods while catching up.
The joke that is always said is, no matter what you come to my home for, even if you are just stopping by, I will have a charcuterie board ready. I mean who can blame me. They are easy and beautiful, and I hope you will think so too.
I like to bulk out the board and feature my Halloween Special: Pumpkin Hummus in the center of the board.
Halloween Party Gathering Board
Prep time: 15 minutes
Cook time: 0 minutes
Total time: 15 minutes
What You Need
For the Pumpkin Hummus:
1 can, chickpeas, should be 14 ounces, drained and rinsed
1 cup pumpkin puree (not pumpkin pie filling)
2 cloves garlic
1 tablespoon agave
6 ½ teaspoons extra virgin olive oil, divided
1 teaspoon cumin
¾ teaspoon salt, divided
¾ teaspoon ground cinnamon, divided
¼ teaspoon chili powder
¼ teaspoon Italian seasoning
¼ cup pumpkin seeds
2 tablespoons pomegranate seeds
For the Board:
(Servings vary for the size of board you have)
Grape tomatoes on the vine
1-2 red pears
½ cup raspberries
Salami
Prosciutto
Bresaola
1 bunch purple grapes
1 bunch black grapes
Figs
Gorgonzola cheese wedge
Bacon and Gouda cheese wedge
¼ cup sundried tomatoes
Crackers or bread (focaccia works well)
Gherkins
Dried fruit (I used papaya)
Small pumpkin or acorn squash for decoration, optional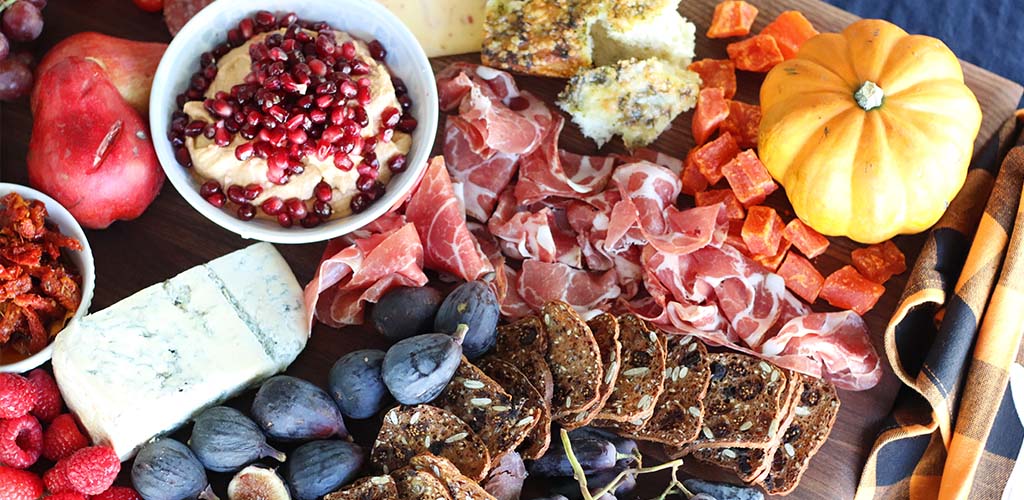 What You Will Do
For the Hummus:
Preheat the oven to 425° F.
Onto a baking sheet, place the pumpkin seeds, ¼ teaspoon salt, ¼ teaspoon cinnamon, and ½ teaspoon extra virgin olive oil. Toss to combine and place in the oven.
Roast in the oven for 5 minutes until golden brown. Remove from the oven and allow to cool and place aside.
Place all of the remaining humus ingredients except the pomegranate seeds into a food processor and blend until smooth and creamy.
Add more olive oil if it's too thick.
Taste and adjust the seasonings to your liking. I always add extra salt.
Place the savory pumpkin hummus in your serving dish and top with the pomegranate seeds and toasted pumpkin seeds and serve immediately.
For the Board:
The way I like to build a board is to focus on the middle of the board and anything that needs to be in a bowl or dish first. Place those onto the board to see the scale and if you have to change your overall board size. Then fill in around the dishes.
If I have a decoration that I want to feature, such as the pumpkin here, I choose that to be my next placement. I always seem to choose a corner so it won't take up too much usable space.
Next, choose your color scheme. I like to keep all of my colors together. Red on one side, blue/purples on another, and so on. Then in between each color I fan the crackers out around the bowls.
There is no such thing as an incorrect board. Go with the flow and you will find it really fun. Simply try to minimize as much visible board space as possible.
Now the last thing you have to do, as my daughter would say is, "Eat, Eat."
You may also like:
Low-Fat White Truffle Dip