Keto Cucumber Boats

These little snacks are light and refreshing, simple, and so easy at just 5 minutes to prepare. These are the perfect snack or small lunch option and they only have about 2 grams of carbs per serving so you can have no guilt while eating them.
This little dish really is an everything bagel without the bagel and without those heavy carbs!
Prep time: 5 minutes
Cook time: 0 minutes
Total time: 5 minutes
What You Need
1 medium cucumber, peeled, raw
1 oz cream cheese, softened
½ tsp salt-free everything bagel seasoning
Chives, freshly minced
Green onions, chopped
Cilantro, freshly torn
Pinch of kosher sea salt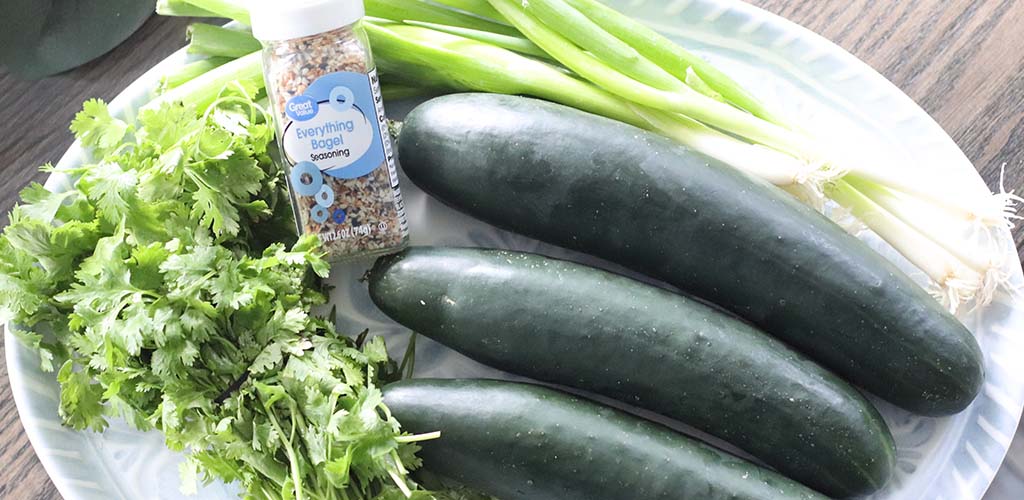 What You Will Do
Peel each cucumber if you are not a fan of the skin.
Slice cucumbers in half lengthwise. Then using a spoon, if you want, de-seed the inside center of the cucumber and place onto a large serving platter.
Spread on cream cheese then sprinkle on everything bagel seasoning.
Top with chives, fresh cilantro, green onions, and kosher sea salt, to taste.
Serve immediately.
Recipe Tips:
If you do not eat dairy, vegan cream cheese can be used as an equal substitute. I have tried it and found many options to be very tasty!
Only make as many as you would like to eat, as I find the exposed cream cheese does not stay overnight well, if it is on the cucumber.
Now the last thing you have to do, as my daughter would say is, "Eat, Eat."
You may also like:
Christmas Morning Keto Casserole