Gluten-Free Gnocchi with Peas, Asparagus, and Mint

I love to think of gnocchi as simply elevated pasta and I use it as such. I sometimes even make simple butter gnocchi for my children. I always purchase the gluten-free gnocchi I find in the store as I find it to be lighter to the bite. Then I cook this recipe in the same traditional way I like to cook gnocchi. First, I boil it to soften it through and then toss it in a little butter and olive oil.
This is similar to the way I cook my other gnocchi recipe, Crisp Gnocchi with Brussels Sprouts.
Gluten-Free Gnocchi with Peas, Asparagus, and Mint
Prep time: 5 minutes
Cook time: 10 minutes
Total time: 15 minutes
What You Need
1 lb store bought gluten-free gnocchi
2 shallots, chopped finely
1 tablespoon olive oil
1 tablespoon butter
8 ounces of fresh or frozen peas
1 bunch chopped asparagus pieces
½ cup parmesan cheese, plus more for garnish
4 cloves garlic, roughly chopped
2 lemons, zested and juiced
handful of fresh mint
kosher salt, freshly cracked black pepper, and red pepper flakes to garnish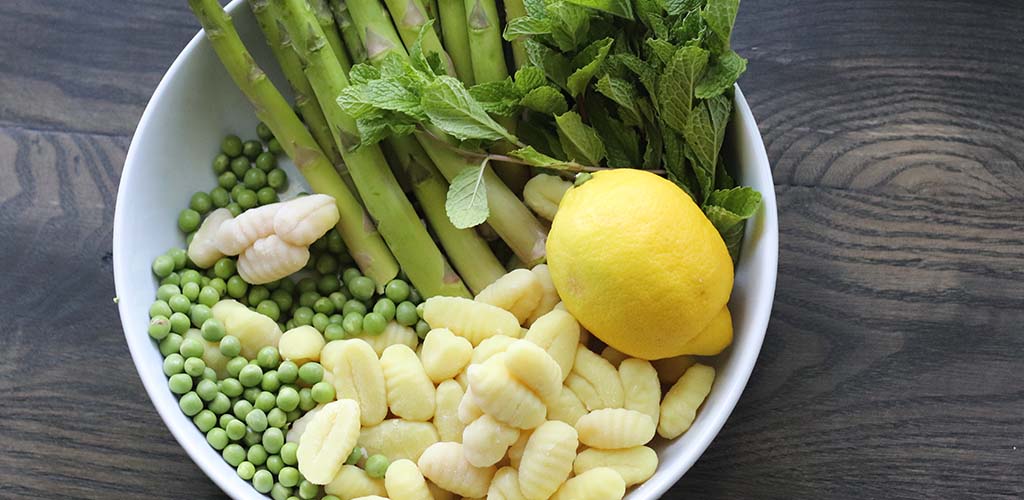 What You Will Do
Bring a large pot of heavily salted (2 tablespoons) water to a boil.
Place the gnocchi into the pot. Cook the gnocchi until they start to rise to the top of the water; this takes about 5-7 minutes.
Once the gnocchi are floating, remove the gnocchi with a slotted spoon and let them dry for a few minutes in a colander.
Leave the pot full of water and add the asparagus pieces and frozen peas to the same boiling water and blanch for 2 minutes until bright green.
Meanwhile, heat a large sauté pan over a medium-high heat and add 1 tablespoon of olive oil and 1 tablespoon of butter.
Add the chopped shallot and chopped garlic to the pan and sauté for 1-2 minutes until fragrant.
Add the gnocchi to the hot sauté pan with a pinch of salt and black pepper and sauté for 1–2 minutes on each side until slightly golden brown.
Add the peas and asparagus along with the lemon juice and toss to combine. Season with salt, pepper and then add the lemon zest and shaved Parmesan cheese.
Garnish with fresh mint, as much as you like, and serve immediately.
Recipe Tips:
This will stay in the refrigerator for up to 2 days in an airtight container.
To reheat, I recommend warming it back up in a sauce pan over medium high heat.
Now the last thing you have to do, as my daughter would say, is "Eat, Eat."
You may also like:
Weeknight Wonder: Kale and Sausage Pasta