Crisp Gnocchi with Brussels Sprouts

I have been missing my dinners out and craving some Italian Gnocchi recently. However, as I will not be eating out anytime soon I was able to appease my cravings with the pantry safe packaged gnocchi. I now make sure to stock up on this as I love the change of pace from traditional rice, or pasta and it's an easy addition to any meal.
I do really love this recipe, it can be ready in 20 minutes and it is so easy to make. The key to this recipe is how you cook the store-bought gnocchi. There is no need to boil it, just sear them until they are crisp and golden on the outside, while their insides will stay chewy. Shelf-stable and refrigerated gnocchi will both work here, but I find that the shelf-stable ones do crisp up better. I have offered alternate cooking options below depending on your families taste preferences and cooking options during this time.
Crisp Gnocchi with Brussels Sprouts
Prep time: 15 minutes
Cook time: about 15 minutes
Total time: 30 minutes
What You Need
1-pound Brussels sprouts
1 lemon, both the zest and the juice
¼ cup extra-virgin olive oil
Kosher salt and black pepper
½ teaspoon red-pepper flakes
1 (18-ounce) package shelf-stable or refrigerated potato gnocchi (you may also substitute cauliflower gnocchi)
3 tablespoons unsalted butter, this allows you to control the salt in your meal
1 teaspoon honey or if this isn't available to you at this time use aged balsamic vinegar (this has a similar sweetness)
Freshly grated Parmesan cheese for serving
What You Will Do
Trim off the ends and halve the Brussels sprouts, toss in a tablespoon of olive oil and a pinch of salt and pepper, place in a bowl and set aside.
Using a cheese grater. Grate the lemon for lemon zest (You should have about 2 teaspoons zest.) Then juice your lemon into the same bowl as your zest. Place aside. This is a separate bowl from the Brussels sprouts. If you do not have fresh lemon during this time, do not worry. Packaged lemon juice will work. Just increase serving to 2 tablespoons lemon juice.
In a large (preferably 12-inch) skillet, heat 3 tablespoons olive oil over medium-high heat, you should see the olive oil start to smoke a little. This is when you know that the pan is ready.
Add the Brussels sprouts to the hot skillet, season with 1/2 teaspoon salt and a few grinds of pepper, then arrange the Brussels sprouts in an even layer, cut-side down. Pour the lemon zest and juice over the top and cook, undisturbed, until the Brussels sprouts are well browned underneath, this will take 3 to 5 minutes. Add the red-pepper flakes, stir and cook until the Brussels sprouts are crisp-tender, about 2 to 3 minutes (this means you should easily pierce with a fork but it not fall apart). Transfer to a medium bowl.
In the same skillet, heat the remaining 1 tablespoon olive oil over medium-high. Break up any gnocchi that are stuck together, add them to the pan and cook, covered and undisturbed, until golden brown on one side, this will take 2 to 4 minutes. Add the butter and honey, season with salt and a generous amount of black pepper, and cook, stirring, until the butter is golden and foaming, cook for 1 to 2 minutes.
Stir in the Brussels sprouts until warmed through.
Dish out into equal portioned bowls or plates and serve with grated Parmesan.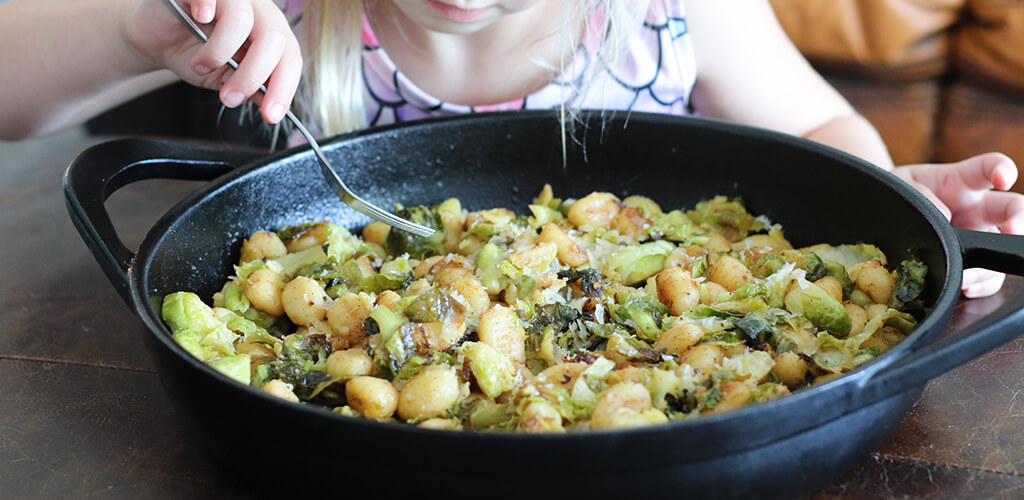 Cooking Substitution ideas
Brussels Sprouts:
If you are uncomfortable cooking the Brussels sprouts in the skillet, I can completely understand this. Simply follow my "Kid Approved Garlic Roasted Brussels Sprouts" recipe linked below.
In this recipe option you cook the Brussels sprouts in the oven. If you choose to go this route then follow these steps.
Cook your Brussels sprouts in the oven first and remove to cool.
Then cook the Gnocchi in the skillet as the Brussels Sprouts are cooling. When the Gnocchi has finished, then stir in the Brussels sprouts with the Lemon juice, red pepper flakes, and salt and pepper as suggested above.
Gnocchi:
This recipe allows you to simply brown the Gnocchi directly from the package.
However, if you prefer the texture of a boiled through Gnocchi. Simply (as the Brussels sprouts are cooking) Boil some heavily salted (2tbsp) water. Add the Gnocchi and boil for 2-3 minutes, only until the Gnocchi start to float to the top of the pot.
Drain and lay out onto a kitchen towel to absorb all of the moisture.
Then continue to brown in the skillet as directed above.
I hope you truly enjoy this meal, as this is one of my favorites as it can be a side dish or an entire meal! Now, the last thing you have to do as my daughter would say is Eat, Eat.
You may also like
Lemon Mascarpone Pasta