Lunchbox Curry Chicken Salad

I came up with this recipe as a way to use my leftover chicken or turkey. I am not a fan of traditional chicken salad as it is loaded with a lot of mayonnaise and mustard. Instead, I love to use sour cream or Greek yogurt and curry powder to lighten up and mix up the flavors. I love this as my meal prep item for work lunches during the week. The vibrant flavors as a lettuce wrap make me feel good about what I am putting in my body, and there is no microwave needed to reheat.
If you are interested in more traditional curry recipes please check out my Weeknight Wonder: Beef Curry recipe or my Chicken Coconut Curry Soup recipe.
Curry Chicken Salad
Prep time: 10 minutes
Cook time: 0 minutes
Total time: 10 minutes
What You Need
2 cups chicken chopped up into small cubes
½ cup sour cream
1 tbsp Dijon mustard
2 tbsp curry powder
2 tsp light amber agave
1 cup chopped celery
½ cup dried cranberries
1 teaspoon salt and pepper
½ cup chopped almonds (optional)
1 cup cilantro (optional)
butter lettuce leaves, for serving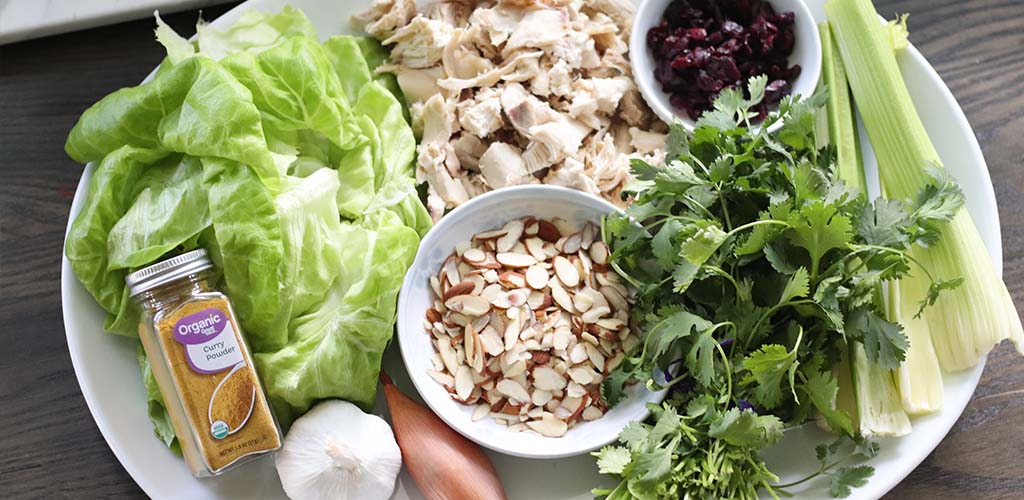 What You Will Do
Add all of the ingredients except for the butter lettuce leaves into a large mixing bowl and combine until uniform.
You can serve immediately or refrigerate for 1 hour before serving.
Spoon the mixture into the butter lettuce leaves to serve immediately.
Garnish with chopped almonds and torn cilantro as optional variations.
Recipe Tips:
When it comes to anything involving curry flavors, I actually love to heat it up first to make sure it is evenly balanced. What I do for this process is combine all of the ingredients except for the celery, butter lettuce leaves, and cranberries in a sauce pan and lightly warm over medium heat. Once warm, I remove from the sauce pan and spoon in the celery and cranberries.
This can be served warm or cold.
This will last in the refrigerator for 3 days in an airtight container.
Now the last thing you have to do, as my daughter would say, is "Eat, Eat."
You may also like:
Chicken and White Bean Lettuce Wraps