Cinco De Mayo Celebration: Chicken Tortilla Soup

First off, Happy Cinco De Mayo everyone! With the holiday coming, I was inspired to test some things out in my own kitchen and this was the result! This my healthy spin on a well-known recipe that allows us to celebrate this holiday, even if we are still staying home.
Do not worry! This recipe might be healthy, but it's not lacking in the flavor or comfort. Being packed full of veggies, it just tastes amazing and delicious. It's can be quick to make or you can use your slow cooker and allow it to boil away all day, totally up to you!
You can eat it as is, or crumble your favorite tortilla chips on top with a dollop of sour cream, which is how we eat it. It's my family's favorite soup and I hope you enjoy it as much as WE do!
As an extra benefit, this soup is also great to serve to a larger group or at a gathering. It's easy to make in any portion, and no worries about it sitting too long. Lastly – it's easy to customize. Just make the soup according to the recipe or your taste, then set out a variety of topping options and that's it!
Now let's get to the recipe:
Chicken Tortilla Soup
Prep time: 15 minutes
Cook time: 1 hour
Total time: 1 hour 15 minutes
What You Need
3 tablespoons olive oil
2 shallots, diced
2 clove garlic, minced
12 oz. mushrooms, sliced
3 ears sweet corn, cut off the cob
6 sweet peppers, diced
15 oz. black beans, drained and rinsed
15 oz. cannellini beans, drained and rinsed
15 oz. tomato sauce
Salt & pepper to taste
1 tablespoon cumin
2 teaspoons smoked paprika
1 tablespoon chili powder
6 cups chicken stock
6 boneless, skinless, chicken thighs
Soup Topping Suggestions
Fresh chopped cilantro
Tortilla strips
Sour cream
Chopped avocado
Shredded cheese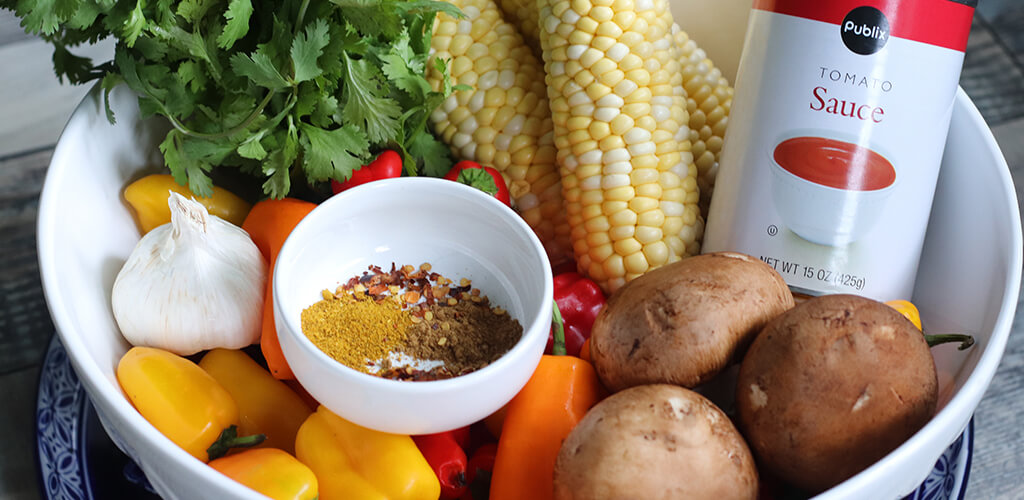 What You Will Do
Place a large pot on the stove over medium heat. Place the 3 tablespoons of olive oil into the pot and allow to warm. This will take about 3 minutes.
Add and sauté the shallots, garlic, sweet peppers, mushrooms and corn. Stir and allow to soften, slightly, for 5 minutes. When you really smell the garlic and see the sweet peppers start to soften, it's done.
Stir in both cans of beans (drained and rinsed), the full can of tomato sauce, and spices (Cumin, salt, pepper, smoked paprika, and chili powder) into the chicken stock, then bring to boil for 5 min.
Reduce to simmer and place whole chicken thighs into the soup. Cover and simmer for 1 hour or until chicken is cooked completely. You will know this if you can easily pull apart the chicken with a fork.
Remove all of the chicken from the pot, place onto a cutting board, shred with a fork and return to soup.
Ladle into bowls and serve with any desired toppings, immediately!
Recipe Tips:
This can stay in a refrigerator for up to 4 days in an airtight container, or in a freezer in a gallon freezer bag for up to 3 months.
Now the last thing you have to do as your daughter would say is Eat, Eat. Or as my son would say "yayyyyyyyy nom nom".
You may also like
Chorizo and Cauliflower Rice Stuffed Peppers