Weeknight Wonder: Beef Curry

Curry is a dish made up of any vegetable or protein of your liking and a coconut milk-based sauce. You can eat the dish over rice as a filling traditional meal or alone as a soup, like my Chicken Coconut Curry Soup.
I love curry and thankfully so do my children. The flavors are diverse and yet light, and there is no way to make it incorrectly. My children tend to love it with either chicken or beef. As I like to mix it up, this is how this beef recipe came about.
While this may take an hour to cook, it is extremely simple as it will just simmer on the stove. You have to give this one a chance! You will not regret it!
Beef Curry
Prep time: 10 minutes
Cook time: 60 minutes
Total time: 70 minutes
What You Need
2 pounds well-trimmed boneless beef stew meat, cut into 1-inch pieces
3 tablespoons coconut oil
2 large shallots, diced
4 large garlic cloves, chopped
1 bay leaf
1/4 teaspoon dried crushed red pepper
4 cups coconut milk
2 tablespoons ground coriander
1, 4-ounce jar Thai red curry paste
3 tablespoons fresh lemon juice
2 tablespoons minced peeled fresh ginger
1 cup fresh snap peas
1 cup carrots chopped, or prechopped as I used
1 1/2 tablespoons curry powder
1/2 teaspoon salt
2 cups jasmine rice or brown rice, cooked
1/4 cup fresh cilantro, finely chopped or torn for garnishing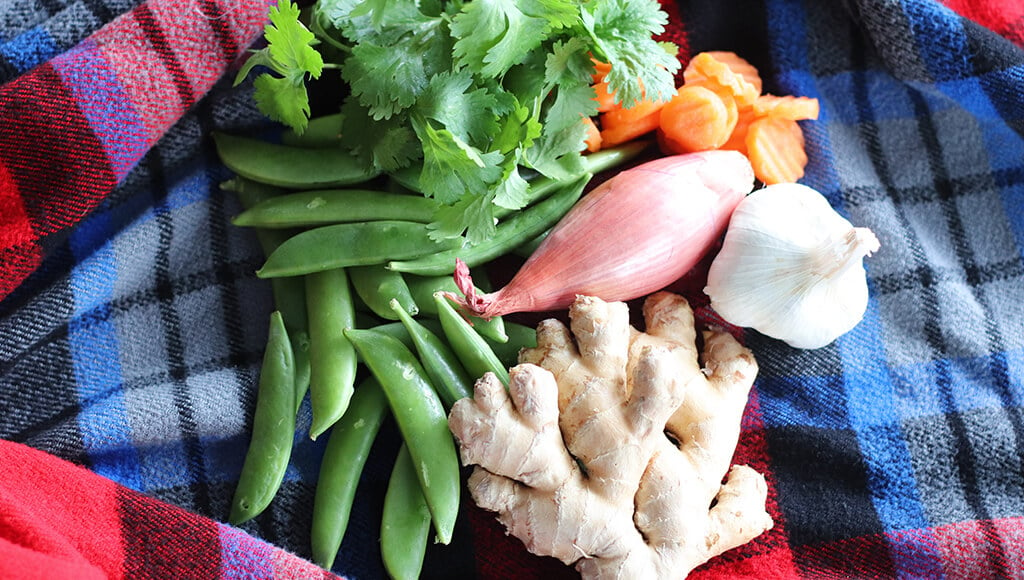 What You Will Do
Heat 2 tablespoons coconut oil in heavy large pot over high heat.
Sprinkle beef with salt and pepper. Working in batches, add beef to pot and brown on all sides. This will take about 10 to 15 minutes.
Remove the beef from the pot and place on a large plate.
In the same pot add 1 tablespoon coconut oil and add the shallots, snap peas, carrots, garlic and ginger. Sauté until the shallots are tender and brown, about 7 minutes. Return beef to pot and stir to combine.
Stir in the coconut milk, Thai red curry paste, lemon juice, curry powder and 1/2 teaspoon salt and bring to boil. Reduce heat, cover and simmer until beef is tender, stirring occasionally, this will take at least 1 hour.
Once the sauce is fully cooked, allow to cool for 10 minutes on the stove before serving.
Meanwhile in a rice cooker or a pot bring 1 and 1/2 cup water to 1 cup jasmine rice or brown rice to a boil and cook thoroughly.
Place a bed of rice into a large soup bowl and spoon the beef curry either over the top or to the side.
Serve with fresh torn cilantro on top.
Recipe Tips:
I love to use coconut oil for this recipe to stay in line with the light flavor of the coconut milk base.
The soup will keep in the refrigerator for up to 5 days in an airtight container or in the freezer for up to 4 months.
You may also serve this over Jasmine rice, or without, and with some Naan bread for more of a traditional Curry meal. The sauce base itself is filling enough as it is.
Now the last thing you have to do, as my daughter would say, is Eat, Eat.
You may also like
Mushroom, Asparagus, Snap Pea and Edamame Stir Fry