Chicken Coconut Curry Soup

Chicken Coconut Curry Soup is one of the simplest, quickest, and tastiest soups I think you will ever eat. This soup is naturally gluten-free and can be made vegetarian or vegan as well so it suits many diets. This Chicken Coconut Curry Soup is an easy one-pot wonder that's ready in 30 minutes.
I stumbled upon this recipe mainly due to my children's love of chicken and my need for something new. I happened to have 2 cans of coconut milk and a carton of chicken stock in my pantry, and voila, instant Chicken Coconut Curry Soup. I am so glad that I did try this because it tastes so good and it is so simple to make, so there is no need to be intimated by the complex flavors. Just try it!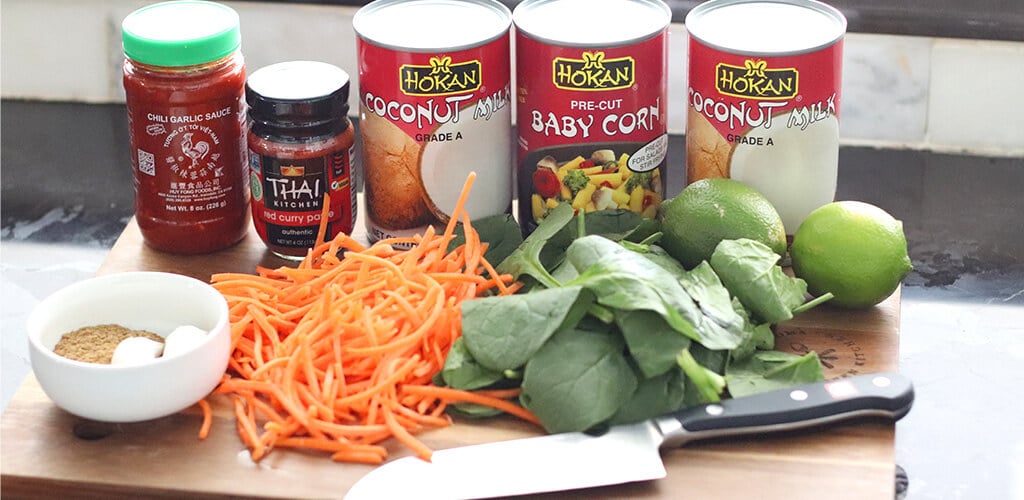 Chicken Coconut Curry Soup
Prep time: 5 minutes
Cook time: 25 minutes
Total time: 30 minutes
What You Need:
1-pound boneless skinless chicken breast, diced into cubes
3 tablespoons olive oil
3 cloves garlic, minced finely
2 tablespoons ground ginger
2 tablespoons ground coriander
2 14-ounce cans coconut milk
1 15-ounce carton or can of chicken stock or vegetable stock
1 cup shredded carrots
1 4-ounce jar Thai red curry paste
3 cups fresh spinach leaves, loosely packed
2 tablespoons lime juice
1 teaspoon salt, or to taste
½ teaspoon pepper, or to taste
1 to 2 tablespoons brown sugar, optional and to taste
1/4 cup fresh cilantro, finely chopped or torn for garnishing
What You Will Do:
To a large pot add the olive oil and allow to warm over high heat. This will only take 1 to 2 minutes.
Add the chicken and cook for about 3 minutes, or until chicken is just cooked on the outside (white but you can see a pink center).
Add the garlic, ginger, and coriander and cook for about 1 minute, or until fragrant while consistently stirring.
Add the Thai curry paste, salt, and pepper then toss to ensure the chicken is evenly coated. Cook for 2 minutes.
Add the coconut milk, chicken stock, carrots, and spinach then stir to combine. Bring the soup to a rolling boil and then maintain this temperature for 2 minutes.
Now, reduce the heat to medium. Allow the soup to gently boil for about 10-15 minutes or until the carrots are soft.
Taste the soup and if you like add in the brown sugar* and more salt/pepper to taste.
Remove from heat. Allow to cool for 5 minutes before serving.
Label into soup bowls and garnish with chopped cilantro right before serving.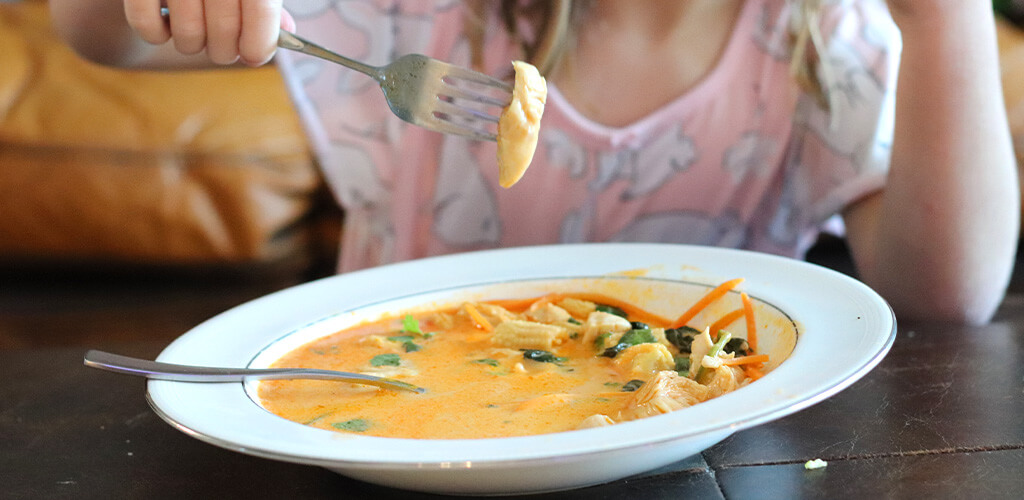 Recipe Tips:
In regards to using brown sugar. I do not feel that this makes the soup sweet in any way. It simply balances out the soup if you find it to have too much heat.
The soup will keep in the refrigerator for up to 5 days in an airtight container or in the freezer for up to 4 months.
You may also serve this over Jasmine rice and with some Naan bread for more of a traditional Curry meal.
Now the last thing you have to do as my daughter would say is Eat, Eat.
You may also like
Fall Fruits and Veggies