Chicken and White Bean Lettuce Wraps

If you need a dinner that can be ready in 30 minutes, then this is it. This dinner is simple and easy to make using shredded chicken breast (or ground chicken/ turkey), white beans, topped with a tasty savory dressing and loaded up on crispy butter lettuce leaves. This recipe is easy to make your own, and so fast to make, I am sure it will become a favorite.
Chicken and White Bean Lettuce Wraps
Prep time: 15 minutes
Cook time: 15 minutes
Total time: 30 minutes
What You Need
2 lbs. chicken breast shredded
1 small shallot finely chopped
2 garlic cloves minced
1/2-inch ginger minced or 1 teaspoon ginger paste
1 can white butter beans
1 medium jalapeno sliced thinly
2 avocados diced
2 tbsp cilantro torn for toppings
1 cup shredded cheese
1 cup low fat sour cream for topping
1 head of butter lettuce, leaves separated
1 tbsp extra virgin olive oil for frying
Cilantro Lime Vinaigrette Dressing:
¼ cup fresh lime juice
2 tablespoons champagne vinegar
¼ teaspoon cayenne pepper
½ teaspoon ground cumin
¼ teaspoon kosher salt
1 tablespoon light amber agave
2 tablespoons chopped cilantro
⅔ cup light olive oil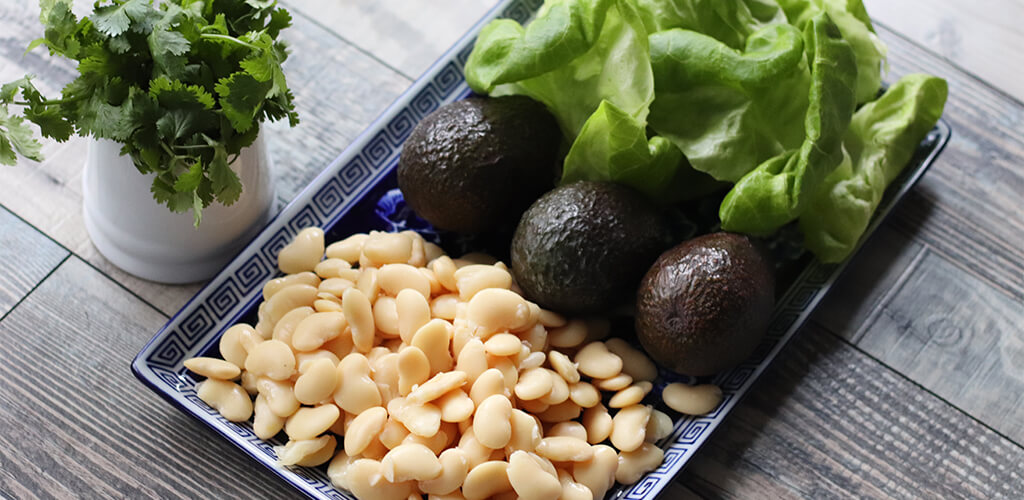 What you will do:
Make sure all of your non-meat ingredients are chopped and ready for assembly of the lettuce wraps.
For this recipe, you are first going to boil the chicken breasts. If you are cooking a larger number of chicken breasts or thighs, you can overlap them slightly. If you have a lot of overlap, I'd suggest upgrading to a larger pot or using two separate pots.
Cover the chicken with 2 cups of chicken broth. Place the pot on the stove and bring the pot to a gentle boil.
Once the liquid is boiling, reduce the heat and let simmer for 8 to 10 minutes.
Check for doneness, the chicken is done when the center reaches 165 degrees F. You can even remove the chicken as soon as it reaches 160 degrees, cover it, and let rest for five more minutes. Check for doneness once more.
Place chicken aside to cool. Once cooled you may cut, or shred the chicken however you like.
Preheat a large ceramic non-stick skillet to medium heat and add olive oil to warm. Add shallot, garlic and ginger and cook for 1 minute, stirring constantly.
Add white butter beans and cook for 5 minutes just to soften.
Add shredded or chopped chicken and cook for 2 minutes just to make sure the mixture is balanced.
In a blender or food processor place in your dressing ingredients: lime juice, champagne vinegar, cayenne pepper, cumin, salt, agave, cilantro and olive oil. Blend until smooth and dressing becomes a light green in color. Pour into a small mixing bowl and set aside.
Assemble the lettuce wraps. First place on the butter lettuce the bed of chicken and white beans. Top with jalapenos, avocado's, cheese, sour cream and dressing to your liking.
Serve the chicken lettuce wraps immediately.
Recipe Tips:
This is a great way to use leftover Thanksgiving Turkey, simply shred the leftover turkey and cook the recipe the same as above.
If the idea of boiling chicken sounds unappealing, I promise this gentle simmer method will turn out for you. As long as you check the chicken and remove it once it reaches the magic temperature, your chicken will be perfect every single time. This removes the need to add extra fat to the chicken to flavor.
If you want to bulk up the recipe this serves really well with Jasmine rice.
Now the last thing you have to do as my daughter would say is Eat, Eat.
You may also like
Weeknight Wonder: Turkey Meatballs