Weeknight Wonder: Carnitas Tacos

Who doesn't want Taco Tuesday, or Thursday, or maybe even Taco Friday to be a mainstay in their homes?
Carnitas tacos are always a favorite of mine whenever I see them on a menu. I always order it even though I make it at home. Carnitas is just so soft and savory and transforms so easily into any meal you make it.
I have a secret for you, Carnitas is just slow cooked and shredded pork shoulder. Its so easy you just throw it in the slow cooker and roast for hours. No excess work needed. To me this is the perfect weeknight meal.
Toast some flour tortillas in a skillet, shred the carnitas and place in a taco and top with some sauteed shallots and garlic, jalapenos, cilantro with some of my Good Guacamole will make this dinner is just perfect. You have to give this recipe a try.
Carnitas Tacos
Prep time: 10 minutes
Cook time: 5–8 hours
Total time: 5–8 hours and 10 minutes
What You Need
Carnitas:
3 pounds pork shoulder
4 cups chicken broth
1 teaspoon chili powder
1 teaspoon chili powder
1 tablespoon cumin
1 tablespoon kosher salt and pepper
Taco and Toppings:
Small flour tortillas
3 garlic cloves chopped
2 shallots chopped
Fresh Cilantro
Sliced Jalapenos
Good Guacamole:
4 ripe medium-sized avocados, I prefer Hass
4 tablespoons chives, finely minced
The juice of 1 lime, about 3 tablespoons
The juice of 1 lemon, about 3 tablespoons
Kosher salt and fresh ground pepper, to taste
Cilantro, for garnish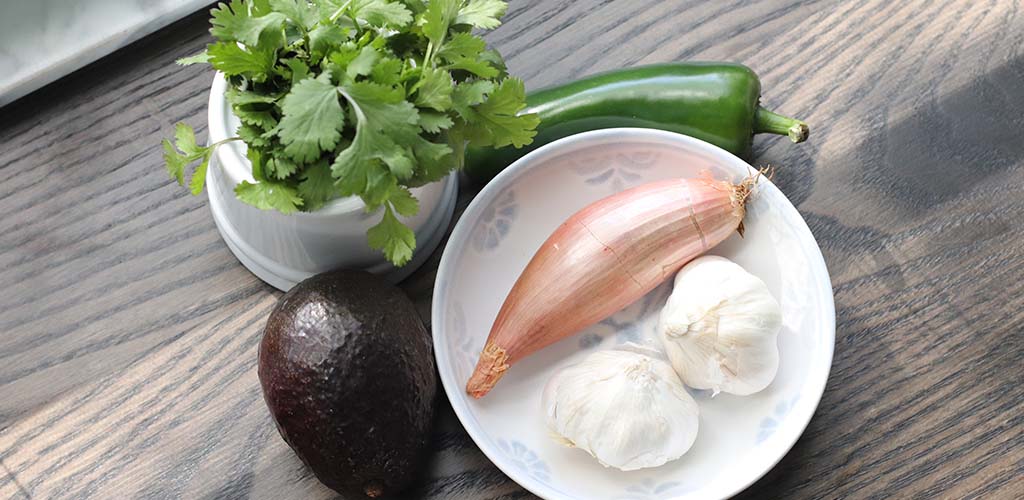 What You Will Do
For The Carnitas:
Place the pork in a large crockpot and cover with the chili powder, garlic powder, cumin, salt and pepper and the chicken broth.
Turn the heat up on the crockpot to High if you would like to cook in 4 hours or on Low for 8 hours.
Parts of the pork should be caramelized and golden brown. Remove the pork from the crockpot and season with salt and pepper as needed. Shred with 2 large forks and place in a large bowl to the side. I spoon 2-3 tablespoons of drippings over the meat to stay moist while it is resting.
For The Guacamole:
First, cut the avocados in half lengthwise. Remove the pit from the avocados and throw away. Scoop out the avocado flesh and place into a medium-sized mixing bowl.
Add lime and lemon juice, then season with salt and pepper.
Mash your mixture together with a large fork until its almost smooth and creamy.
Stir in the minced chives and continue to mash with a fork to your desired texture.
Transfer to your serving bowl.
I like to garnish with a little cilantro and a few extra minced chives, as well as a pinch of salt and pepper.
For The Tacos:
Chop up the garlic and shallots and sauté in 1 teaspoon of extra virgin olive oil with 1/4 of a teaspoon of kosher sea salt and sauté until fragrant and the shallots are translucent. This will take about 3 minutes. Place to the side to cool.
To prepare the tacos, take a small tortilla and place in a skillet on high heat to warm or char. About 2 minutes per side. Remove and place on a plate.
Onto the taco take a few pieces of carnitas and place on top. Add a dollop of guacamole, the shallots and garlic, jalapenos and a sprinkle of cilantro. Serve immediately.
Recipe Tips:
This will stay in the refrigerator in an airtight container for 4 days or 2 days in the crockpot basin in the refrigerator.
If you would like to bulk up the meal a bit. You can serve with my Cilantro Rice Recipe as a bowl or as a filling in the taco.
Now the last thing you have to do, as my daughter would say, is Eat, Eat.
You may also like
Chicken Fajita Salad