Blue and Green Bean Salad

This salad is perfect in any season. Its rich and filling, yet full of a variety of nutrients and textures. This Green bean dish can be served cold as a salad or warm as a side dish. I love it both ways.
This is another spin on my Grandma Josephine's Green Beans which is a non-boring, non-casserole green bean recipe. I love to alternate between these two recipes for Thanksgiving or really as a way to lighten up any meal.
Blue and Green Bean Salad
Prep time: 5 minutes
Cook time: 10 minutes
Total time: 15 minutes
What You Need
16 oz fresh green beans
15 oz can Butter Beans
6 slices of thick cut Bacon
4 oz bleu cheese crumbles
3 tablespoons freshly chopped Chives
3 tablespoons toasted Pine nuts
For the Vinaigrette:
1/2 tablespoon Dijon mustard
2 tablespoon extra-virgin olive oil
1 tablespoon champagne vinegar
1 garlic clove, minced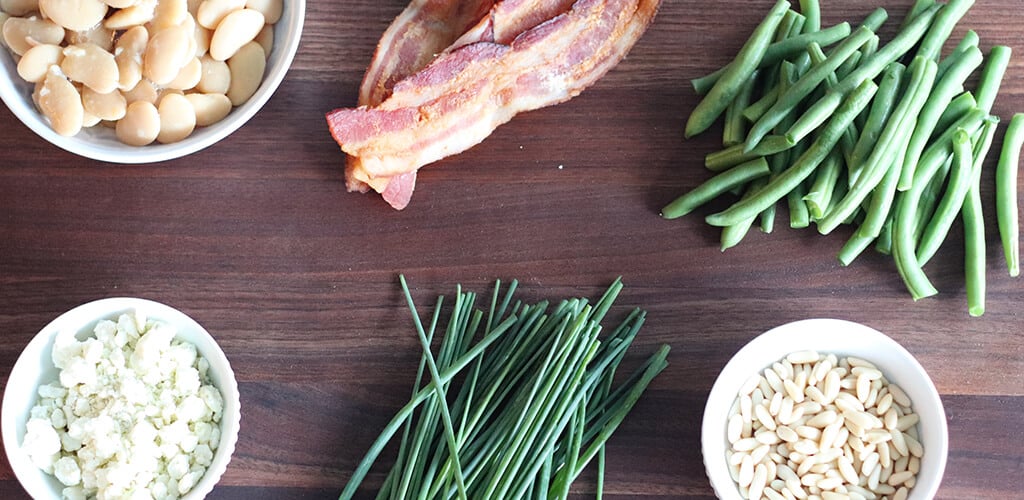 What You Will Do
Place the oven on Broil, high setting. Place the pine nuts onto a baking sheet and place into the oven to toast until brown. This takes 5-8 minutes. Remove when golden brown in color. Leave on the baking sheet to cool.
Open the can of Butter Beans and strain and rinse with water, place aside.
Chop up the previously cooked bacon into 1 inch or less pieces, place aside.
Chop up the chives and place aside.
Combine the vinaigrette ingredients and whisk together until the dressing is all combined and place aside
Bring a medium sized pot of heavily salted (2 tablespoons) water to a boil.
While the water is coming to a boil, chop the Green Beans into halves or thirds depending on the size of the bean.
Place the chopped green beans into the boiling water and boil until dark green. This takes about 3-5 minutes.
Strain the green beans in a colander.
Return the pot to the stove and add in 1 tablespoon of olive oil. Allow to warm.
Add in the green beans, butter beans and bacon and toss to warm to the same temperature. This only takes 2 minutes.
Remove the pot from the stove and spoon the green beans, butter beans and bacon onto a serving dish.
Top with the toasted pine nuts, followed by the blue cheese crumbles and then the chopped chives.
Drizzle the vinegar rate over the salad and top with kosher salt and pepper to your liking.
Serve immediately.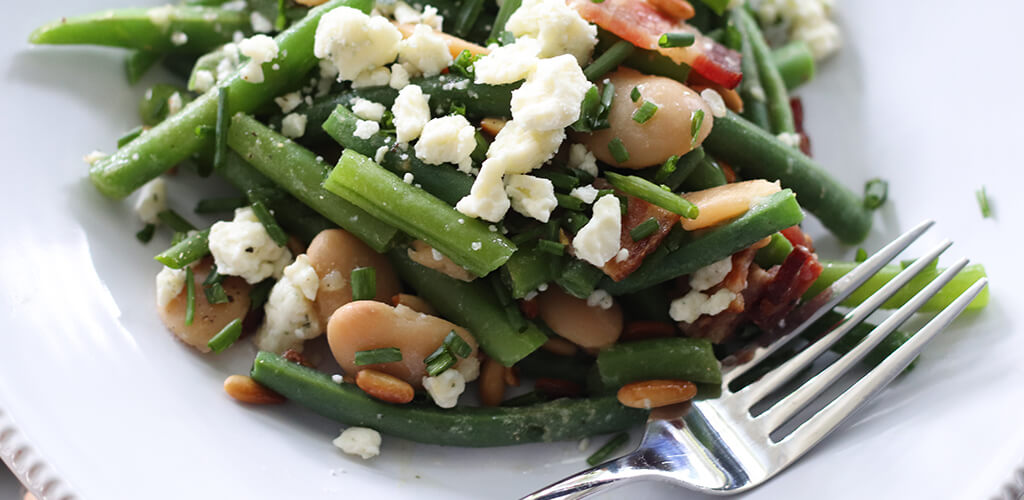 Recipe Tips:
If you would like to serve this recipe cold, it can stay in the refrigerator for up to 3 days in an airtight container.
The reason I recommend bleu cheese crumbles and not a wedge of bleu cheese for this recipe is that you want a sight bite of a saltier cheese and not to have it be too overpowering. A goat cheese or feta would also work as a substitute.
Now the last thing you have to do as my daughter would say is Eat, Eat.
---
You may also like:
Cucumber and Black Bean Salad