Cucumber and Black Bean Salad

Salads have always been a favorite food of mine. With the start of Covid and quarantine I really got into the idea of planning meals around what I could find in my pantry, vs shopping for specific things. Combining canned or packaged ingredients with fresh ingredients is an easy way to bulk up your salad, and stretch your budget. In one of those savaging instances, this recipe was born!
The black beans are high in fiber, low in fat, and are packed with protein so this is a great salad option for vegetarians or kids who are picky eaters. Also a great way to get protein into a salad when you are low on other sources, like chicken, or time.
Cucumber and Black Bean Salad
Prep time: 15 minutes
Cook time: 0 minutes
Total time: 15 minutes
What You Will Need
30oz black beans (2 cans- rinsed and strained)
2 medium seedless cucumbers, diced
2 ears sweet yellow corn, boiled and corn cut off the cob
2 ripe avocadoes, cubed
4 ounces crumbled feta (1 cup)
1/3 cup chopped dill, plus more for serving
1 scallion, minced
1 garlic clove, minced
1/4 cup extra-virgin olive oil
3 tablespoons fresh lime juice
Kosher salt and freshly ground pepper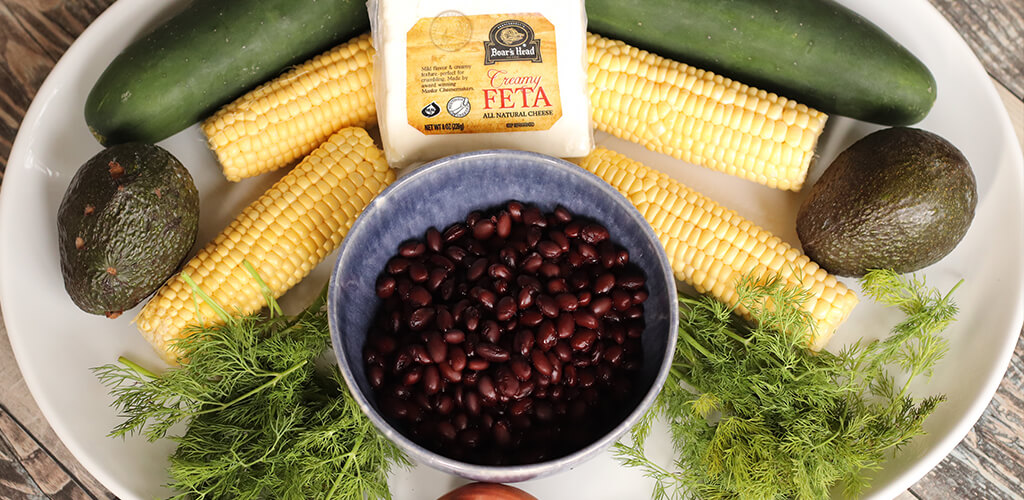 What You Will Do
Open canned black beans and place in a strainer and rinse off. Lay onto a paper towel and pat to dry.
Bring a pot of salted water (1/2 teaspoon) to a boil and add corn. Boil for 3-5 minutes just to allow the corn to soften. Strain corn and run under cold water to cool. Take a pairing knife and remove the corn kernels from the stalk and place aside in a bowl.
Using a large serving platter or large bowl lay down the bed of black beans, then add cucumber, corn, avocado and feta.
In a medium mixing bowl, whisk together the olive oil, scallions, lime juice and garlic until blended. Season with salt and pepper.
Pour dressing over salad and lightly toss.
Serve immediately with more fresh dill and salt and pepper to taste.
Recipe Tips:
Some other ingredients I have used for this recipe depending on what I have on had was 1 to 2 cups arugula, ½ cup halved compare tomatoes, and white cannellini beans.
Skip the feta to make this salad completely vegan. While the feta adds a nice salty bite, the salad does perfectly well without it.
If you would like the dressing to be slightly sweeter, which I do sometimes to balance out the zest of the scallions. You may use ½ teaspoon agave or regular white sugar. DO NOT use honey- it overly sweetens the dressing.
Now all you have to do as my daughter would say is Eat, Eat.
You may also like
Oven Roasted Lemon Cod