Quarantine Cooking: Asian Salad

When it comes to recipes, finding the right ingredients through COVID-19 can be challenging. Sometimes, we simply have to create dishes with what we have on hand. Using what I had available to me, I put together this quick Pantry Asian Salad recipe with sugar snap peas, corn, and edamame. Voila – new recipe! My children like most of the staple ingredients in this dish…and I will just let them guess what the edamame is!
Before we jump in, know that this salad may take a little more time than planned - about 5 more minutes. This is because the edamame and peas are cooked first, then once done you must shell the edamame. If you have the shelled kind on hand, then you won't need that step – just wanted to be clear as availability may vary. I personally eat this as a salad. However, this would be a great side dish to any fish or lighter protein such as chicken or tofu depending on your household diet. This can also be served with rice or over pasta as it mixes well.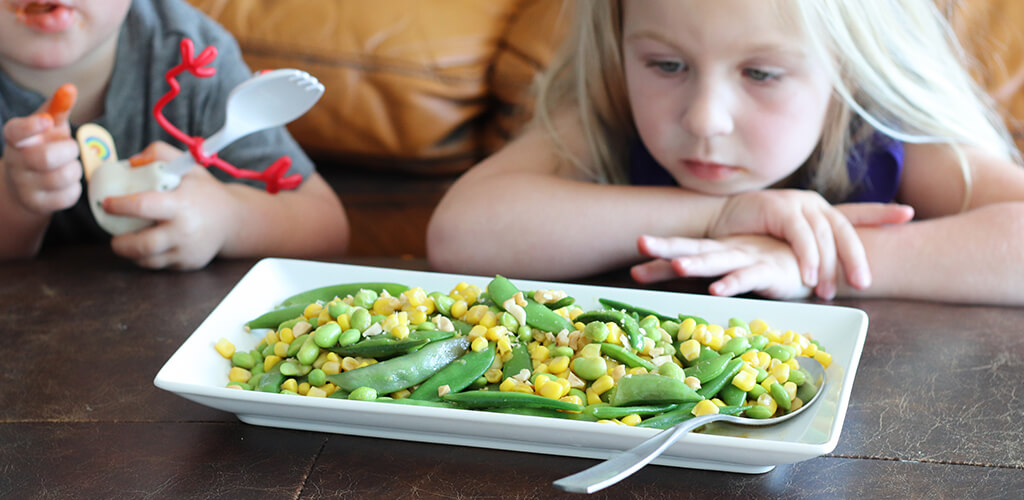 Asian Salad
Prep time: 10 minutes
Cook time: 5 minutes
Total time: 15 minutes
What You Will Need
For the salad
1- 15oz can corn
1- 12oz package shelled or unshelled frozen edamame (cooked to package instructions)
1- 12oz package fresh sugar snap peas
3 tablespoons chopped salted peanuts for garnish (if you like).
You may substitute almonds for a similar crunch if a peanut allergy may be of concern
For the dressing
1/3rd cup rice vinegar
2 tbsp sesame oil
1 tbsp low-sodium soy sauce
1 tbsp Dijon mustard
What You Will Do
In a small bowl, add all of the dressing ingredients. Whisk vigorously until completely mixed and smooth. Place to one side.
Place the sugar snap peas in boiling salted water for about 1-2 minutes (until they are just turning tender but still very crisp) and then immediately drain and rinse under cold water. Allow to dry, then place in a large bowl.
Open the corn and drain. Next rinse under cold water, allow all liquid to drain, then add to the same large bowl with the snap peas.
Cook the edamame (whatever option you may have- shelled or unshelled) per the package instructions. After this is complete, allow to cool and then begin to shell into the large bowl with other ingredients. If they are already shelled, you are lucky that these are in stock. Simply allow to cool prior to adding it to the other ingredients.
At this time all of the ingredients (sugar snap peas, edamame and corn) should all be in a large salad bowl. Pour the dressing on top. You may not need all of the dressing, so I recommend starting with half, toss it into the salad, and then add more as needed. I had about 1/4 left over when I was done.
Top with chopped peanuts or almonds as per preference and serve.
Now the last thing you have to do as my daughter would say is Eat, Eat! I would like to say, once again, from my family to yours. I hope you are all happy, healthy, and most importantly safe!
You may also like
Quarantine Cooking: White Bean Dip