Grandma Josephine's Green Beans

Let's just admit it, the best recipes come from our Grandmothers. At least in our house that's just a fact!
This dish is one of the family favorites that we serve on Thanksgiving as a way to mix up a traditional meal. The recipes namesake, Grandma Josephine, was such a tiny woman who was so full of love and spice that it truly came out in her cooking. Making this each year, especially at Thanksgiving is a nice way to remember her and keep her with us during the holidays.
This recipe is fast, cheap, and delicious. The combination of fresh green beans, bacon, and white mushrooms sautéed together in garlic, and olive oil seems so simple that it should be boring. However, the partnership of all these ingredients creates a balanced and complex flavor combination that my family truly loves.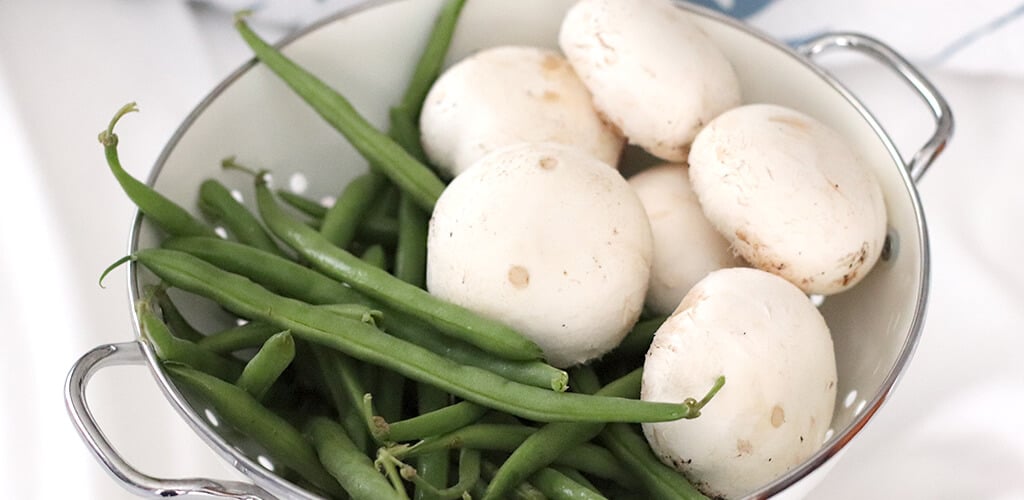 Grandma Josephine's Green Beans
Prep time: 5 minutes
Cook time: 20 minutes
Total time: 25 minutes
What you need:
1 lb green beans, cleaned and trimmed
4 oz bacon, about 6 pieces, diced or cut
4 oz white mushrooms, sliced
2 cloves fresh garlic, minced
1 tablespoon olive oil
1 tablespoon lemon juice
Salt and pepper to taste
Fresh parmesan, for garnish
Fresh basil, for garnish
What you will do:
Cut the bacon into small pieces (I recommend using kitchen shears as I find this makes the process faster and you get a more uniform size than when cutting with a knife).
Place the cut-up bacon into a large skillet and cook over medium-high heat until it starts to get crispy. Remove skillet from the heat, drain off all of the bacon fat, then set bacon aside.
Add the olive oil into the same skillet the bacon was cooked in and warm to medium-high heat.
Add in the green beans and cook for 5 minutes until the color of the green beans starts to deepen to a rich green.
Add in the minced garlic and mushrooms to the green beans and cook until they get soft and colored. This should take 10 minutes longer with both the green beans and mushrooms in the pan.
Reduce the pan's heat to low and add the lemon juice and stir.
Add the bacon back into the pan and season with salt and pepper and stir to combine. Allow it to warm on low heat for 4-5 minutes.
Remove from heat and allow to cool for 3 minutes.
Once the dish has cooled, place the entire contents into a large serving bowl. I recommend garnishing with some more salt and pepper, fresh parmesan, and fresh chopped basil.
Recipe Tips:
This will stay in the refrigerator in an airtight container for 3 days.
Now the last thing you have to do as my daughter would say is Eat, Eat. What I would like to say is that from my family to yours, I hope you have a very Happy Thanksgiving!
You may also like
Parmesan and Rosemary Mashed Potatoes