Mushroom, Asparagus, Snap Pea and Edamame Stir Fry

I love a hearty stir fry that reduces my dependency on meat to add heft to a meal. This stir fry is filling yet full of vibrant flavor, with zesty ginger and fresh vegetables. The mushrooms and fresh fettuccine add a substantial quality to this dish, believe me when I say you won't miss the meat. Also, this healthy dish only takes 25 minutes to cook from start to finish, so it's definitely worth a try on a weeknight when we are all rushing to get dinner on the table.
Mushroom, Asparagus, Snap Pea and Edamame Stir Fry
Prep time: 5 minutes
Cook time: 20 minutes
Total time: 25 minutes
What You Need
8 oz organic fettuccine
2 tablespoons sesame seed oil
1 garlic clove, minced
1 tablespoon minced fresh ginger
8 ounces of white or brown mushrooms, sliced
1 pound asparagus, trimmed and cut into 1-inch pieces
1 cup edamame, fresh or frozen
3 tablespoons low sodium soy sauce
1 teaspoon light brown sugar
1 tablespoon sesame seeds
6 green onions, thinly sliced, green parts only, for topping
2 tablespoons of fresh chives, chopped finely, for topping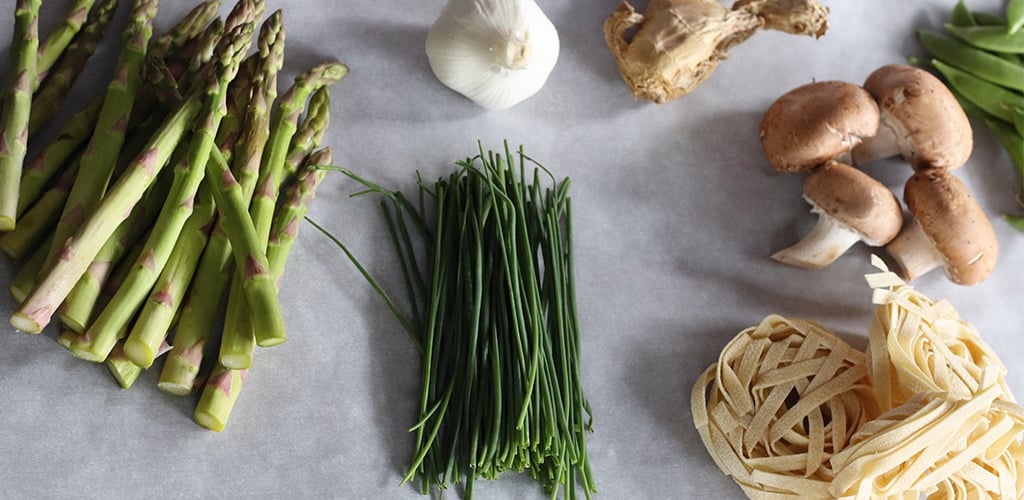 What You Will Do
Bring a large pot of heavily salted water to a roiling boil. Add in the fettuccine and cook until al dente. This will take about 5 minutes. Strain and place to the side.
Heat a large skillet over medium high heat and add the sesame seed oil to warm.
When the oil is shimmering, add the garlic and ginger, Cook until fragrant, about 1 minute.
Add the edamame, mushrooms, asparagus and snap peas and sauté for 5 minutes until the asparagus turns bright green and you can easily pierce with a fork.
Whisk together the soy sauce and brown sugar until it is fully combined.
Pour the sauce over the sautéed vegetables into the pan and stir to combine and let the mixture heat through for a minute.
Toss in the freshly cooked fettuccine noodles and sauté for a few minutes until the noodles are heated through.
Pour the entire stir fry onto a large serving platter or into individual dinner bowls.
Top with sesame seeds, green onions and chives and serve immediately.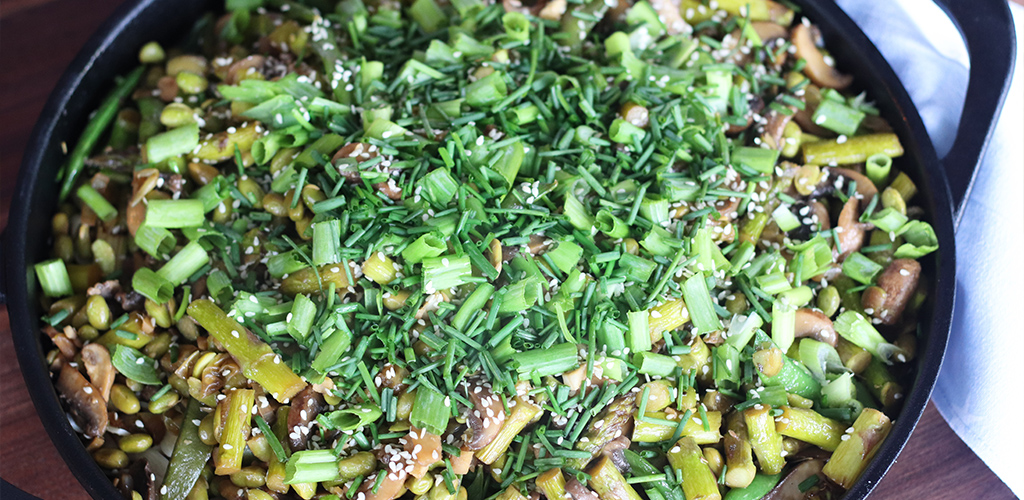 Now the last thing you have to do, as my daughter would say, is Eat, Eat.
You may also like
Weeknight Wonder: Kale and Sausage Pasta