California Tuscan Salad

I like to think my family's favorite recipes are the ones I spend hours perfecting and run through multiple taste tests. For my kids, this may be true however, for my partner this definitely is not the case. He says his favorite recipes are the ones when I come home and frantically look in the fridge or pantry then come up with a meal in less than 15 minutes using what I have.
I find I must agree with him as that is how this recipe for Californian Tuscan Salad came about. It's simple, like all Tuscan meals, using both pantry and fresh ingredients I found on hand. The combination of avocado and burrata cheese adds a delightful creaminess, while the artichokes adds a nice meaty texture. Finish the salad off with some toasted pine nuts, freshly torn Basil, and a splash of balsamic vinegar and extra virgin olive oil and you done! You have a salad full of different textures and flavors that will help you fill up and feel satisfied, even if it is just a salad.
California Tuscan Salad
Prep time: 10 minutes
Cook time: 5 minutes
Total time: 15 minutes
What You Need
15 oz canned or jarred Artichokes hearts
3 sliced avocados
6 oz Burrata (but you can also use 10 pounds because Burrata)
1/4 cup of Pine Nuts
3 tablespoons freshly torn Basil
1 tablespoon Balsamic Vinegar
2 tablespoons Extra Virgin Olive Oil
Salt and Pepper to taste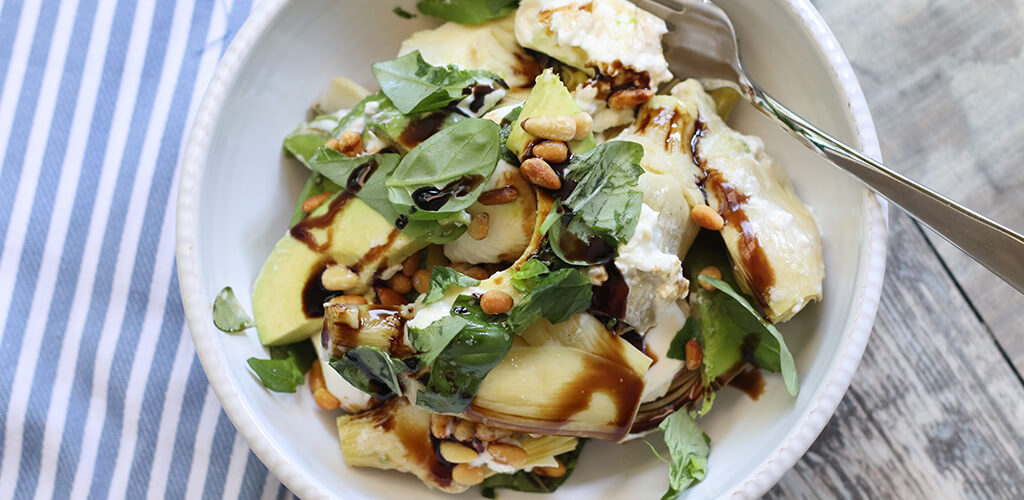 What You Will Do
Preheat your over to Broil on HIGH.
Place the 1/4 cup of pine nuts on a baking sheet and place in oven. Check the pine nuts after 3 minutes and if the pine nuts are not toasted and golden in color allow to continue to brown for no more than 5 minutes total. Remove from oven and allow to cool. Place aside.
Strain the 15oz of artichoke hearts and pat dry lightly with a paper towel. Roughly chop the artichoke hearts in half. Just small enough that it makes each bite easy for your family to eat. Place the artichoke hearts and the bottom of your serving dish or serving bowl.
Using a sharp chef's knife, slice through the avocados lengthwise until you feel the knife hit the pit. Next rotate the avocado, keeping the knife steady, to make a cut all around the pit. Twist the two halves apart. Remove the pit by aiming your knife at the pit and whack into it, using enough force that the knife won't slip. Twist the knife to pull out the pit. Throw away the pit. Then use your knife's tip to cut into the avocado, making slices. Once done, scoop out avocado with spoon into a large serving bowl or onto your large serving dish on top of the artichoke hearts.
Strain the Burrata and simply with your hands tear apart on top of the salad, laying the burrata on top of the avocado and all around the entire dish.
Take the fresh basil and roughly tear with your hands and place on top of the salad.
Move the cooled pine nuts from the baking sheet and sprinkle over the top of the salad.
Drizzle the 1 tablespoon of balsamic dressing over the salad. Then this is followed by drizzling the 2 tablespoons of olive oil over the salad.
Lastly top with salt and pepper to taste.
Serve immediately.
Recipe Tips:
You can always use mozzarella instead of Burrata, but if you do to add more creaminess, I recommend adding ½ a teaspoon of extra olive oil.
Now the last thing you have to do as my daughter would say is Eat, Eat.
You may also like
Quick Kale and Avocado Caesar Salad