Almond Flour Pumpkin Waffles with a Raspberry Reduction

It's that time of year again, PUMPKIN IN EVERYTHING, is back. I know sometimes it goes a little too far. I find less is more when it comes to pumpkin flavoring. Also, with the raspberry reduction it tones down the pumpkin and surprisingly perfectly complements the cinnamon and maple syrup in the batter.
This recipe is actually a slight spin on my Almond Flour Pumpkin Pancakes Recipe. All I do is increase the vanilla extra and a little bit more almond flour. This allows the batter to be a little sweeter and thicker in order to hold up to the heat of the waffle iron.
My children LOVE pancakes and waffles. I love to use almond flour as my children don't even notice the difference and it's perfect if you try to limit carbs in your diet, like me.
These Almond Flour Pumpkin Waffles will become a staple in your home even if you aren't a Pumpkin fanatic like I am. This recipe only takes 10 minutes. 5 minutes to prep and 5 minutes to cook the waffle.
Now that's my idea of an easy weekend breakfast.
Almond Flour Pumpkin Waffles with a Raspberry Reduction
Prep time: 5 minutes
Cook time: 5 minutes
Total time: 10 minutes
What you will need:
For the Waffles:
4 large eggs
1 cup pumpkin puree
1 tablespoon maple syrup*
1 ½ tablespoons vanilla extract
1 teaspoon baking powder
2 cups almond flour
2 tablespoons butter, divided or cooking spray
1 teaspoon cinnamon
For The Raspberry Reduction:
12 ounces raspberries
1 tablespoon agave
½ tablespoon vanilla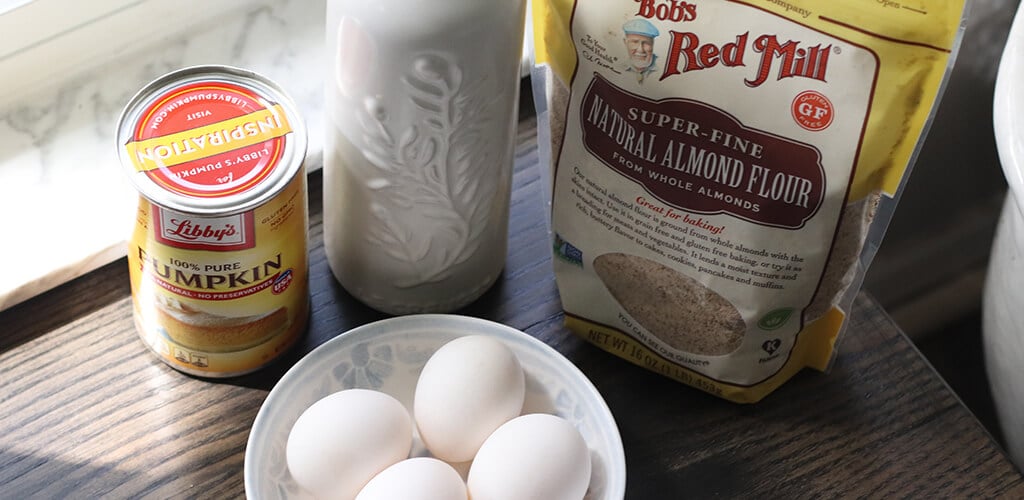 What You will do:
Heat the stove top to medium high heat.
In a small saucepan or pot, place in the raspberries, agave and vanilla and bring to a boil. This will only take 2 minutes. Cover and reduce heat to the lowest setting to stay warm.
In a medium sized bowl or large mixing cup, whisk the 4 eggs.
Once the eggs are whisked smooth add in the pumpkin puree, vanilla extract and maple syrup. Whisk to combine again until smooth.
Add in the almond flour and whisk until smooth.
Now, add in the cinnamon and baking powder, stir until smooth one last time.
Heat the waffle iron to medium high heat. Spray the waffle iron with cooking spray if it is not nonstick.
Spoon 3 tablespoons of batter onto the waffle iron and close immediately.
Allow the waffle to cook through this will only take 3 minutes.
Open the waffle maker slowly and using a fork or spatula remove the waffle from the iron and place onto your plate or serving platter.
Spoon over the raspberry reduction and serve immediately.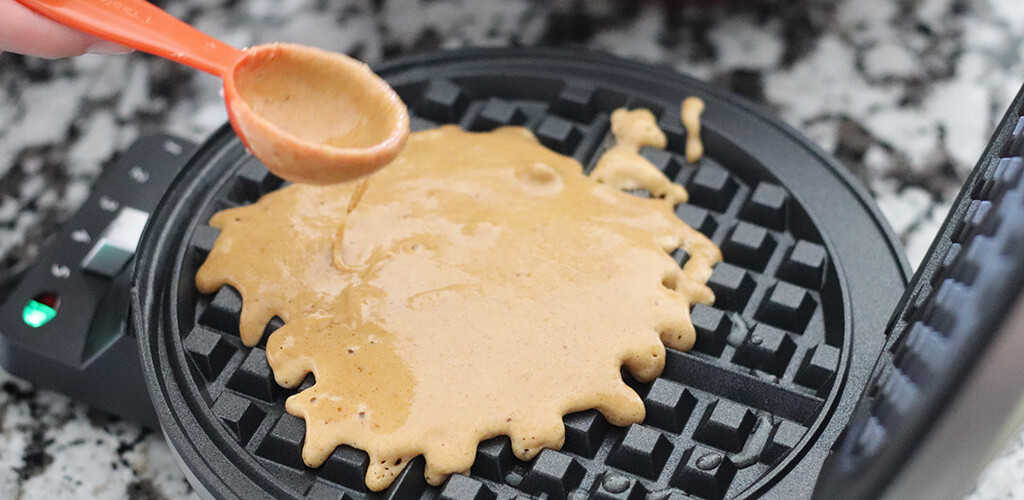 Recipe Tips:
You may use 100% maple syrup or imitation. This is totally up to you and your flavor preference.
I find that this recipe makes 10-12 waffles.
You may save the batter in an airtight container in the refrigerator for 24 hours. I make this on Saturday and Sunday mornings from the same batter.
Now the last thing you have to do as my daughter would say is Eat, Eat. However, my son is the true waffle lover in the household and he always says, "I want a toasty waffle". Soon you will as well.
You may also like
Season Favorite: Pumpkin Pie Oatmeal