Season Favorite: Pumpkin Pie Oatmeal

Nothing is more basic than a stay at home mom's love of PUMPKIN SPICE! Picture me every September and October screaming PUMPKIN SPICE LATTE SEASON like Will Ferrell's joyously bellowing out Santa!
That love has also carried over to foods. So now I am on a steady diet of Pumpkin Spice, joking – kind of. Anyway, this recipe is so easy, that I feel lazy for calling this a recipe. On top of being easy and nodding to my favorite season (yes this spice has a season) this recipe is satisfying, and the kids LOVE it!
Pumpkin Pie Oatmeal
Prep time: 5 minutes
Cook time: 10 minutes
Total time: 15 minutes
What you need
3 cups old fashioned rolled oats
2 cups water
2 cups milk or half and half
1 cup pumpkin puree
1/2 cup brown sugar
1 1/2 teaspoons pumpkin pie spice mix
1/2 teaspoon kosher salt
Optional topping: homemade whipped cream or can whipped cream like I used :)
1 teaspoon vanilla
What you will do
Combine ALL of ingredients in a large saucepan and bring to a boil.
Reduce heat to a simmer and cook over medium-low heat for 5-8 minutes, stirring constantly until the oatmeal has thickened.
Remove from the heat, portion into serving bowls and top with whipped cream (or walnuts and some milk).
That's LITERALLY all you do!
Now all you have to do as my son would say is "Nummies" or as my daughter would translate "Eat, Eat".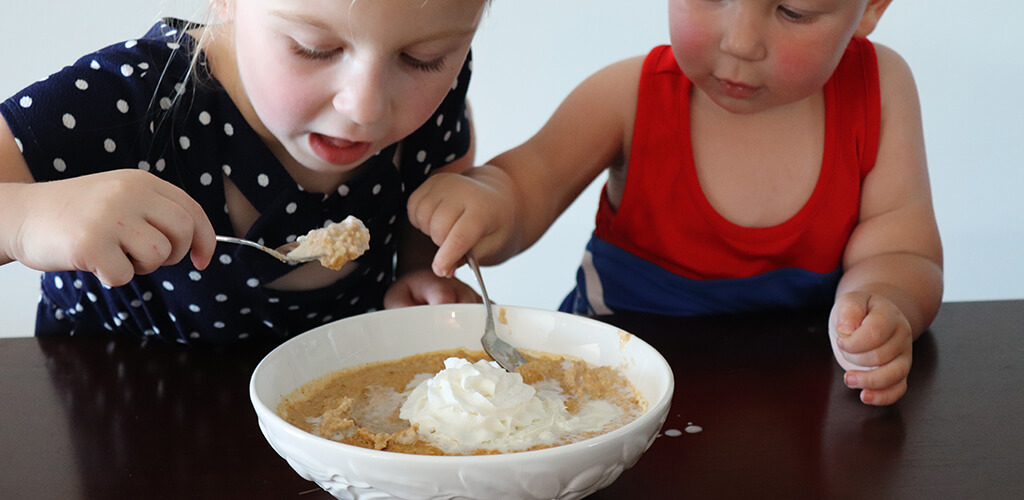 You may also like
Power Pumpkin Spice Cookies